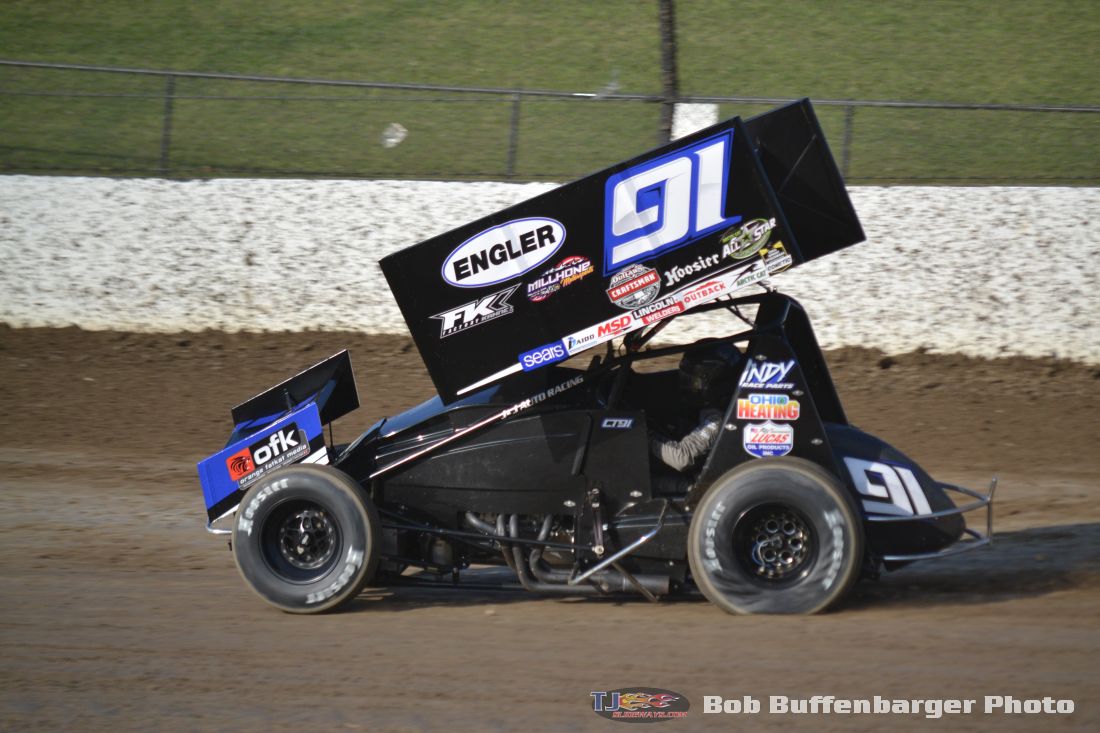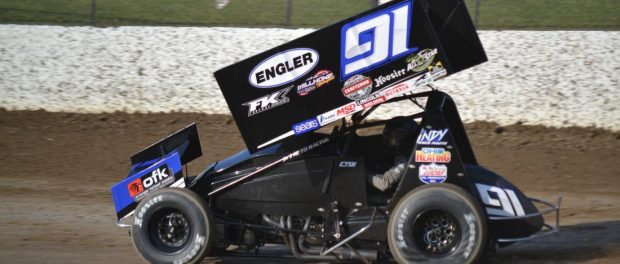 From Brian Liskai
ATTICA, Ohio (Friday, July 21, 2017) – Fairland, Indiana's Cale Thomas scored his first career 410 winged sprint car win Friday, July 21 at Attica Raceway Park. Thomas passed D.J. Foos with 10 laps to go and drove to the win on Central Ohio Farmers/Smith Family Foods/Baumann Auto Group Night.
Steve Kester of Holland, Ohio also scored his first career Attica win in the Summit Racing Equipment UMP Late Models, taking the checkers in the make-up feature from June 16. McClure, Ohio's Rusty Schlenk dominated in the night's regular late model feature, leading all 25 laps for his first Attica win of the year and the 23rd of his career at the track.
Fremont, Ohio's John Ivy took the lead in the Fremont Fence 305 Sprint feature on lap three, surrendered the point to Seth Schneider on lap 17, but regained it a circuit later and drove to his first win of the year at Attica. The victory was Ivy's 15th career 305 sprint win at the track.
There were lots of tears and hugs in the Engine Pro Victory Lane when Thomas pulled in. The 18-year-old has only been driving a sprint car for three years and has been close on numerous occasions to grabbing that victory. After a red flag with 12 laps to go, Thomas drove around Foos in turns three and four to grab the lead on lap 20 and hit his marks perfectly despite knowing eight time track champion Byron Reed was making a charge to the front.
"That was for you," said Thomas as he hugged his dad. "We've had a fast car all year…just no luck. We finally beat Byron Reed at Attica."
"We had that red flag with 12 to go and I rolled by DJ (Foos) just to get in his head a little bit then here comes the five car (Reed) rolling by all of us. I heard the line-up and heard he was in fourth and knew he started in the back. I knew it was slick and he was coming. Got around DJ, moved the wing back and ran the Donnie Schatz line and had clean air and pulled away from there," added Thomas beside his Engler Machine & Tool; Factory Kahne Shocks; J&J Auto Racing; Dave Milhone Motorsports; Ohio Heating backed #91.
For Ivy the win was redemption after he was disqualified for an engine rules violation after taking the checkers at Limaland Motorsports Park the previous week. It was also worth $1,000 thanks to Griff's Engines.
"We worked hard all week. I started up front and that helps. Guy (Meyers) and my brother (Scott) and everyone had this thing rolling pretty good. A couple of times there I saw Seth (Schneider) get under me so I moved up the track a little bit more and it worked out," said Ivy beside his CN Construction Supplies; Ginnever Trucking; Sonny's Machine & Welding; Kistler Racing Products; Rohr Lawn Care; Mr. Appliance; MRE; Sipes Oceola Garage; Dave Story Equipment; L&R Farms; S&S Racing: Kercher Engines; Linder's Speed Equipment; Tiffany's Furniture; Seagate Sandblasting; Keller Hardware; Johnson Hunting & Fishing backed machine.
In the first late model feature, Kester inherited the lead after Ryan Markham and Doug Drown tangled battling for the lead on lap a restart with 16 laps to go. Markham flipped violently but walked away unscathed. Kester led the remaining 16 laps to score his first career Attica win. But, it wasn't easy as there was a restart with two laps to go with Schlenk right on his rear bumper.
"I was not going to let them get me. I have to thank Dave Geist Body Shop, Hyway Fleet Services, Slucket, Jason Brown, my wife, KP Carbs, AccuForce and all the fans," said Kester.
In the night's regular late model feature, Schlenk led all 25 laps and at one time had built a 4.5 second lead when the caution flew with 11 laps to go. A caution on lap 24 set up a one lap shoot out but Schlenk's car was just too good as he drove to the victory.
"We had a little bad luck in the first feature. Anything that could have gone wrong did. We had a fuel leak when we first went out there and I had to come in and fix it and start last. If another car wouldn't have gotten into me there late in the first feature I think we could have won both of them tonight. Hats off to my crew…they busted their butts in the pits. Everything that could have broken on this race car did tonight. This one is for Michelle, my car owner's wife. Her dad passed away yesterday," said Schlenk beside his Rayburn Chassis; Dominator Race Products; Buckeye Concrete Coatings backed #CJ1.
In the Hammer Pallets 410 Sprint Feature, Broc Martin and DJ Foos brought the field to green with Foos grabbing the lead. Foos quickly began to pull away from the field with Martin holding off Justin Peck and Thomas for second. Jody Keegan made hard contact with the front stretch wall with seven laps scored. When the green flew so did Foos as Thomas drove into second.
Justin Peck brought out the caution on lap 13, wiping out Foos' big lead. When the green flew Foos could not shake Thomas as Martin battled with Travis Philo and Reed for third. Trey Jacobs made contact with an infield tire and flip his mount on lap 18. On the ensuing restart Thomas got a run on Foos and took over the top spot on lap 20. Meanwhile a tremendous battle ensued for third involving Foos, Reed and Martin.
As Thomas drove away, Reed took second but ran out of time to catch the leader and settled for second. Rounding out the top five were Foos, Martin and Chris Andrews.
In the make-up late model feature Jim Gingery and Ryan Markham brought the field to green with Markham gaining the advantage over Drown, Kester and Gingery. Markham and Drown immediately waged an entertaining battle for the lead. Gregg Haskell spun right in front of that battle on lap eight. When the green flew the war for the lead resumed with Drown executing a slide job exiting turn two to grab the lead but he and Markham made contact and Markham's mount flipped violently into turn three. Markham walked away and would later take over the seat in Haskell's car for the remainder of the night. Drown went to the pits to change a flat tire, thus putting Kester in the lead over Charlie Duncan, Devin Shiels, Mike Bores and Schlenk who had gone to the pits before the initial green flag to fix a mechanical problem.
Kester began to pull away from the field as Schlenk moved into second with seven laps remaining. Once in second Schlenk began eating away at Kester's lead and with three laps to go the pair was battling each other and lapped cars. Nate Potts made contact with another car right in front of the leaders and smacked the front stretch wall hard bringing out the red with two laps remaining. Kester got a terrific restart as Schlenk had to deal with Duncan to maintain second.
Kester drove to the win with Duncan edging out Schlenk for second. Mike Bores and Drown rounded out the top five.
Following a 10 car pile-up to start the night's regular 25 lap late model feature, Schlenk grabbed the lead and quickly pulled away as Bores and Kester battled for second. Schlenk drove into lapped traffic by the 10th circuit with Kester trying to close with Shiels, Bores, Matt Irey, Markham and Ryan Missler giving chase. Kester's bid for a second win came to an end when he went pit side with 11 laps to go following a caution that wiped out Schlenk's 4.5 second lead.
When the green reappeared, Schlenk once again began pulling away with Shiels, Irey, Bores and Markham in tow. With five laps to go Shiels began eating into Schlenk's lead. Doug Baird and Ben Mott brought out the caution just after Schlenk had taken the white flag, setting up a one lap shoot out. Schlenk was up to the challenge as he got a tremendous restart and drove to the victory over Shiels, Markham, Irey and Drown.
In the 25 lap 305 sprint feature Seth Schneider and Alvin Roepke brought the field to green with Roepke gaining the advantage. Roepke led the first two laps before fourth place starter Ivy drove around him to the point on lap three. Cautions on lap seven, nine and 10 kept Ivy from building a lead as Roepke and Schneider battled for second. With 10 laps to go Schneider was utilizing the bottom groove to close on Ivy. Schneider grabbed the lead on lap 17 only to see Ivy drive back to the point a lap later before a caution flag flew with seven laps remaining.
Ivy blasted away at the cushion on the restart to maintain the lead. Schneider now had his hands full with Jamie Miller as the pair swapped the position nearly every corner. Ivy drove to the win over Schneider, Miller, Nate Dussel and Bobby Clark.
Attica Raceway Park will be back in action Friday, July 28 on Columbus Equipment, Morgan Stanley, American Powersports, Croghan Colonial Bank Night. It will be an All Pro Aluminum Cylinder Heads FAST 410 Championship Series presented by Ohio Logistics point night as well as a JLH General Contractor FAST 305 Championship Series presented by Engine Pro point event. The FAST teams will take on the Ohio Sprint Car Series in another installment of the "North verses South" battle for Ohio sprint car supremacy. It will also be a point night in the Attica Raceway Park/Oakshade Raceway Late Model Series Challenge.
For more information go to www.atticaracewaypark.com or follow the track on Twitter @atticaracewyprk or on Facebook at www.facebook.com/atticaracewaypark and Instagram at attica_raceway_park.
Attica Raceway Park
Friday, July 21, 2017
Starting position [*]
410 Sprints – Hammer Pallets
Qualifying
1.60-Jody Keegan, 12.656; 2.23-DJ Foos, 12.729; 3.83-Broc Martin, 12.808; 4.83M-Broc Martin, 12.808; 5.9X-Thomas Meseraull, 12.878; 6.5X-Justin Peck, 12.882; 7.15H-Mitch Harble, 12.901; 8.ID=48636- , 12.901; 9.45-Trevor Baker, 12.955; 10.91-Cale Thomas, 12.978; 11.16-Chris Andrews, 12.980; 12.7-Shawn Valenti, 13.006; 13.5R-Byron Reed, 13.019; 14.5T-Travis Philo, 13.067; 15.3J-Trey Jacobs, 13.107; 16.9-Jordan Ryan, 13.121; 17.35-Stuart Brubaker, 13.136; 18.8J-Jess Stiger, 13.160; 19.97W-Mitchell Wormall, 13.165; 20.45L-Brian Lay, 13.168; 21.4-Cap Henry, 13.195; 22.92-Sam Ashworth, 13.207; 23.9Z-Duane Zablocki, 13.226; 24.22M-Dan McCarron, 13.313; 25.11X-Brandon Martin, 13.350; 26.71-Ayrton Olson, 13.356; 27.17X-Dain Naida, 13.366; 28.27B-Boston Mead, 13.412; 29.17M-Max McGhee, 13.590; 30.40-Mark Imler, 13.817; 31.5-Jordan Harble, 14.162; 32.1M-Brandon Moore, 14.280; 33.14-Daryl Daugherty, 14.379; 34.7K-Cale Conley, 25.231;
Heat 1, Group A – (8 Laps, top 4 to A)
1. 5T-Travis Philo[3] ; 2. 35-Stuart Brubaker[1] ; 3. 5R-Byron Reed[4] ; 4. 17M-Max McGhee[8] ; 5. 4-Cap Henry[5] ; 6. 3J-Trey Jacobs[2] ; 7. 17X-Dain Naida[7] ; 8. 71-Ayrton Olson[6]
Heat 2, Group B – (8 Laps, top 4 to A)
1. 45L-Brian Lay[1] ; 2. 7-Shawn Valenti[3] ; 3. 91-Cale Thomas[4] ; 4. 8J-Jess Stiger[2] ; 5. 1M-Brandon Moore[7] ; 6. 40-Mark Imler[6] ; 7. 27B-Boston Mead[5] ; 8. 7K-Cale Conley[8]
Heat 3, Group C – (8 Laps, top 4 to A)
1. 16-Chris Andrews[1] ; 2. 5X-Justin Peck[2] ; 3. 9-Jordan Ryan[5] ; 4. 92-Sam Ashworth[6] ; 5. 60-Jody Keegan[4] ; 6. 9Z-Duane Zablocki[7] ; 7. 9X-Thomas Meseraull[3] ; 8. 14-Daryl Daugherty[8]
Heat 4, Group D – (8 Laps, top 4 to A)
1. 45-Trevor Baker[1] ; 2. 23-DJ Foos[4] ; 3. 83-Broc Martin[3] ; 4. 22M-Dan McCarron[6] ; 5. 11X-Brandon Martin[7] ; 6. 97W-Mitchell Wormall[5] ; 7. 15H-Mitch Harble[2] ; 8. 5-Jordan Harble[8]
B-Main 1 – (10 Laps, top 2 to A)
1. 4-Cap Henry[1] ; 2. 3J-Trey Jacobs[3] ; 3. 1M-Brandon Moore[2] ; 4. 17X-Dain Naida[5] ; 5. 40-Mark Imler[4] ; 6. 7K-Cale Conley[7] ; 7. 27B-Boston Mead[6]
B-Main 2 – (10 Laps, top 2 to A)
1. 60-Jody Keegan[1] ; 2. 9Z-Duane Zablocki[3] ; 3. 11X-Brandon Martin[2] ; 4. 9X-Thomas Meseraull[5] ; 5. 97W-Mitchell Wormall[4] ; 6. 15H-Mitch Harble[6] ; 7. 5-Jordan Harble[8] ; 8. 14-Daryl Daugherty[7]
A-Main 1 – (30 Laps)
1. 91-Cale Thomas[5] ; 2. 5R-Byron Reed[11] ; 3. 23-DJ Foos[2] ; 4. 83-Broc Martin[1] ; 5. 16-Chris Andrews[10] ; 6. 4-Cap Henry[17] ; 7. 5T-Travis Philo[7] ; 8. 35-Stuart Brubaker[8] ; 9. 45L-Brian Lay[9] ; 10. 9Z-Duane Zablocki[20] ; 11. 7-Shawn Valenti[3] ; 12. 8J-Jess Stiger[14] ; 13. 9-Jordan Ryan[12] ; 14. 22M-Dan McCarron[16] ; 15. 17M-Max McGhee[13] ; 16. 45-Trevor Baker[6] ; 17. 92-Sam Ashworth[15] ; 18. 3J-Trey Jacobs[19] ; 19. 5X-Justin Peck[4] ; 20. 60-Jody Keegan[18]
Hard Charger: 4-Cap Henry +11
305 Sprints – Fremont Fence
Heat 1 – (8 Laps, top 4 to A)
1. 77I-John Ivy[1] ; 2. 11G-Luke Griffith[2] ; 3. 8-Bobby Clark[6] ; 4. 97-Kyle Peters[8] ; 5. 67M-Matt Ferrell[3] ; 6. 47-Matt Lucius[4] ; 7. 09-Justin Adams[5] ; 8. 70-Rick Donovan[7]
Heat 2 – (8 Laps, top 4 to A)
1. 36-Seth Schneider[2] ; 2. 4*-Tyler Street[1] ; 3. 1-Nate Dussel[6] ; 4. 1W-Paul Weaver[8] ; 5. 12-Kyle Capodice[7] ; 6. 11X-Jordan Ryan[5] ; 7. 19R-Steve Rando[4] ; 8. 39C-Scott Riley[3]
Heat 3 – (8 Laps, top 4 to A)
1. 20I-Kelsey Ivy[1] ; 2. 23-Chase Baker[4] ; 3. 2-Ricky Peterson[6] ; 4. 46AU-Stuart Williams[7] ; 5. 14-Luke Daugherty[3] ; 6. 26-Ryan French[5] ; 7. 63-Tad Peck[8] ; 8. 2L-Landon LaLonde[2]
Heat 4 – (8 Laps, top 4 to A)
1. 66-Jamie Miller[2] ; 2. 99-Alvin Roepke[1] ; 3. 25-Jason Keckler[5] ; 4. 9R-Dustin Rall[4] ; 5. 66D-Chase Dunham[3] ; 6. 94K-Kevin Mingus[6] ; 7. 75-Jerry Dahms[7] ; 8. 66R-Ken Rossey[8]
B-Main 1 – (10 Laps, top 3 to A)
1. 12-Kyle Capodice[2] ; 2. 11X-Jordan Ryan[4] ; 3. 67M-Matt Ferrell[1] ; 4. 47-Matt Lucius[3] ; 5. 09-Justin Adams[5] ; 6. 39C-Scott Riley[8] ; 7. 70-Rick Donovan[7] ; 8. 19R-Steve Rando[6]
B-Main 2 – (10 Laps, top 3 to A)
1. 66D-Chase Dunham[2] ; 2. 26-Ryan French[3] ; 3. 66R-Ken Rossy[8] ; 4. 75-Jerry Dahms[6] ; 5. 63-Tad Peck[5] ; 6. 14-Luke Daugherty[1] ; 7. 94K-Kevin Mingus[4] ; 8. 2L-Landon LaLonde[7]
A-Main 1 – (25 Laps)
1. 77I-John Ivy[4] ; 2. 36-Seth Schneider[1] ; 3. 66-Jamie Miller[8] ; 4. 1-Nate Dussel[11] ; 5. 8-Bobby Clark[6] ; 6. 99-Alvin Roepke[2] ; 7. 2-Ricky Peterson[10] ; 8. 25-Jason Keckler[9] ; 9. 12-Kyle Capodice[17] ; 10. 11X-Jordan Ryan[19] ; 11. 11G-Luke Griffith[3] ; 12. 67M-Matt Ferrell[21] ; 13. 4*-Tyler Street[5] ; 14. 46AU-Stuart Williams[15] ; 15. 9R-Dustin Rall[16] ; 16. 97-Kyle Peters[13] ; 17. 66D-Chase Dunham[18] ; 18. 1W-Paul Weaver[14] ; 19. 23-Chase Baker[12] ; 20. 66R-Ken Rossy[22] ; 21. 20I-Kelsey Ivy[7] ; 22. 26-Ryan French[20]
Hard Charger: 11X-Jordan Ryan +9
Late Models – Summit Racing Equipment
Heat 1 – (8 Laps)
1. 36-Matt Irey[2] ; 2. 15B-Mike Bores[3] ; 3. 77-Steve Kester[4] ; 4. 50Y-Ryan Missler[6] ; 5. 27-Ken Hahn[7] ; 6. 24-Jerry Aber[5] ; 7. 1-Ben Mott[1] ; 8. 59-Larry Bellman[8]
Heat 2 – (8 Laps)
1. CJ1-Rusty Schlenk[1] ; 2. 240-Doug Drown[4] ; 3. 240X-Charlie Duncan[6] ; 4. 19-Cody Scott[3] ; 5. 28-Kent Brewer[5] ; 6. 69R-Doug Baird[7] ; 7. 12M-Bobby Michaels[2]
Heat 3 – (8 Laps)
1. 5M-Ryan Markham[2] ; 2. 51-Devin Shiels[4] ; 3. 71-Dave Hornikel[6] ; 4. 03-Jim Gingery[5] ; 5. 69-Jeff Warnick[1] ; 6. 42*-Bob Mayer[7] ; 7. 30-Nate Potts[3]
A-Main – (25 Laps)
1. CJ1-Rusty Schlenk[2] ; 2. 51-Devin Shiels[12] ; 3. 5M-Ryan Markham[8] ; 4. 36-Matt Irey[6] ; 5. 240-Doug Drown[11] ; 6. 15B-Mike Bores[4] ; 7. 240X-Charlie Duncan[7] ; 8. 50Y-Ryan Missler[10] ; 9. 27-Ken Hahn[13] ; 10. 28-Kent Brewer[14] ; 11. 42*-Bob Mayer[18] ; 12. 69-Jeff Warnick[15] ; 13. 59-Larry Bellman[21] ; 14. 24-Jerry Aber[16] ; 15. 69R-Doug Baird[17] ; 16. 1-Ben Mott[19] ; 17. 19-Cody Scott[9] ; 18. 77-Steve Kester[5] ; 19. 12M-Bobby Michaels[20] ; 20. 03-Jim Gingery[1] ; 21. 71-Dave Hornikel[3]
Hard Charger: 51-Devin Shiels +10
A-Main from June 16 – (25 Laps)
1. 77-Steve Kester[5] ; 2. 240X-Charlie Duncan[6] ; 3. 91-Rusty Schlenk[10] ; 4. 15B-Mike Bores[8] ; 5. 240-Doug Drown[3] ; 6. 19-Cody Scott[11] ; 7. 51-Devin Shiels[4] ; 8. 71-Dave Hornikel[18] ; 9. 36-Matt Irey[9] ; 10. 59-Larry Bellman[15] ; 11. 03-Jim Gingery[1] ; 12. 69-Jeff Warnick[7] ; 13. 42*-Bob Mayer[13] ; 14. 24-Jerry Aber[21] ; 15. 30-Nate Potts[16] ; 16. RH21-Gregg Haskell[12] ; 17. 28-Kent Brewer[14] ; 18. 5M-Ryan Markham[2] ; 19. 27-Ken Hahn[17] ; 20. 69R-Doug Baird[20]
Hard Charger: 71-Dave Hornikel +10