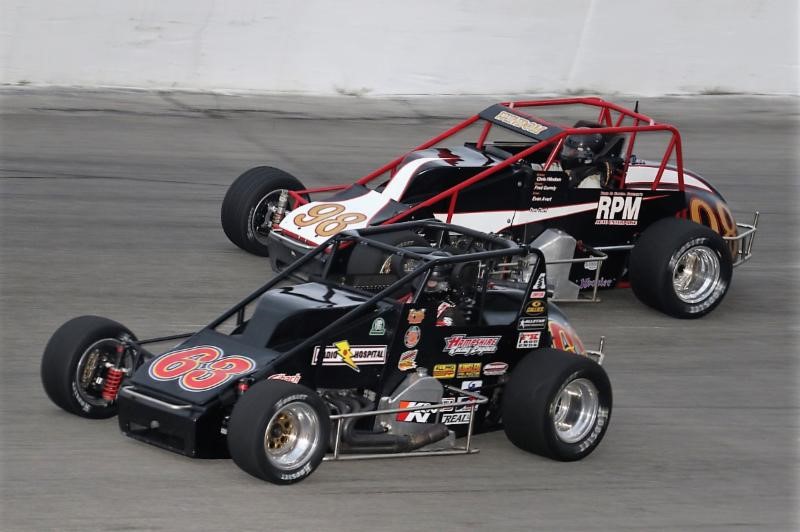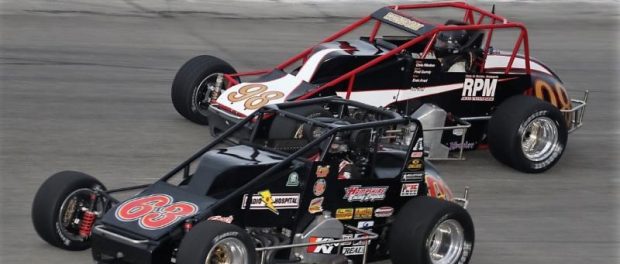 From Richie Murray
SALAM, Ind. (August 9, 2071) — The hills are calling. And when you hear them, you have to answer. There's no place like Indiana's Salem Speedway on the USAC Silver Crown schedule. Thirty-three degrees of steeply banked turns around a .555-mile paved oval built for pure speed. High speed.
After 58-straight years of the Sprint Cars taking center stage for the famed Discover Scott County "Joe James/Pat O'Connor Memorial" presented by the Kentuckiana Ford Dealers, USAC's Silver Crown Champ Car Series made its debut in the race one year ago. This Saturday, August 12, reigning race winner Kody Swanson of Kingsburg, California has the opportunity to become the fifth different driver to win the event twice in a row: Parnelli Jones (1960-61), Greg Leffler (1979-80) and Brian Gerster (2014-15).
He still has ways to go to reach the four-straight victories achieved by Pancho Carter in 1974-75-76-77. Also on Swanson's horizon is an 18th series win, which would move him past Brian Tyler and into sole possession of second on the USAC Silver Crown Series presented by TRAXXAS all-time win list. Jack Hewitt leads all drivers with 23 career Silver Crown wins.
Swanson was a victor on the pavement in May at Brownsburg, Indiana's Lucas Oil Raceway in the seat of the DePalma Motorsports No. 63, but the one to beat on the hardtop of late has been Bobby Santos. The Franklin, Massachusetts native has won the last two in the series at Lucas Oil Raceway on July 20 and Toledo (OH) Speedway on July 28. In April of this year, he was also a winner at Phoenix. Santos, who finished 4th in last year's event, has six career USAC starts at Salem with a best of third in the midget in both 2005 and 2006.
Tucson, Arizona's USAC Triple Crown champ Jerry Coons, Jr. – 3rd in points – finished 3rd last year in the sunshine yellow Gene Nolen Racing No. 20 and has made more starts at Salem than any other current pavement Silver Crown competitor since his 1999 debut there in a midget. Boise, Idaho's Davey Hamilton hasn't made a USAC start at Salem since the mid-1990s, but is entered this Saturday in Fred Gormly's No. 99.
Chris Windom took Gormly's No. 98 to a 2nd place Salem finish and a Silver Crown title in 2016. The Canton, Illinois native has driven to one victory thus far in the Gene Kazmark No. 92 in 2017, the season-opening "Sumar Classic" at the Terre Haute (Ind.) Action Track, but is yet to win on the pavement in the series. Crawfordsville, Indiana's Jacob Wilson was victorious the first time he ever turned a wheel on the banks in a USAC Sprint Car at the 2008 "Joe James/Pat O'Connor Memorial" in the Wilson Brothers Racing No. 07.
USAC AMSOIL National Sprint Car point leader Justin Grant made his first Salem start last season with a solid top-five run. Grant, of Ione, California, hopes to turn around a rocky year aboard the Hemelgarn/Carli No. 91 Silver Crown car, in which he has yet to crack the top-five. David Byrne, driver of his own silver No. 40, finished 7th last year at Salem and the Shullsburg, Wisconsin driver has the speed to get the job done, finishing 3rd after leading 69 of the 100 laps at Phoenix's "Copper Cup."
Swanson, one of the great dominators of the series in recent years, lost the lead earlier in last year' main event when Aaron Pierce got by on lap 11 before leading the next 50 laps. With just 15 laps to go, as he bid for his first Silver Crown victory since a 2007 at Darlington (S.C.) Raceway, the back end of Pierce's car snapped around between turns three and four, though he did manage to keep the car off the concrete during his spin and recovered to finish 6th.
Swanson led the remaining 15 laps for his first Salem win after beginning the night's proceedings in qualifying by laying down the first sub-16-second Silver Crown lap at Salem, breaking Rich Vogler's 28-year-old one-lap track record.
Shortly after this joint opened 70 years ago, the first "Joe James Memorial" was held, honoring the 1952 AAA Midwest Sprint Car champ and Salem winner who lost his life in a champ car at the Santa Clara County Fairgrounds in California later that November. Larry Crockett was victorious in the inaugural memorial race held the following year.
Throughout the 1950s, during the first several years of the "Joe James Memorial," Pat O'Connor was at the top of his game, winning the event at Salem twice in both 1954 and 1957 in addition to AAA Midwest Sprint Car titles in 1953 and 1954, plus a USAC Midwest Sprint Car championship in 1956. O'Connor perished in a crash on the first lap of the 1958 Indianapolis 500. In honor of his legendary career, O'Connor's name was added alongside James on the race's marquee to become the "Joe James/Pat O'Connor Memorial" as it remains today.
In the six decades since, the race has been a staple of Salem's paved .555-mile oval, with two exceptions when it was held on the dirt. Charlestown (Ind.) Speedway hosted the event in 1981 with Eddie Leavitt picking up the victory while Larry Rice captured the crown in 1982 at the Terre Haute (Ind.) Action Track.
The 60th running of the "Joe James/Pat O'Connor Memorial" gets underway this Saturday with pits opening at 1pm, front gates opening at 3pm, practice at 3:30pm, ProSource Qualifying at 5:45pm and racing beginning at 7pm (All Times Subject to Change).