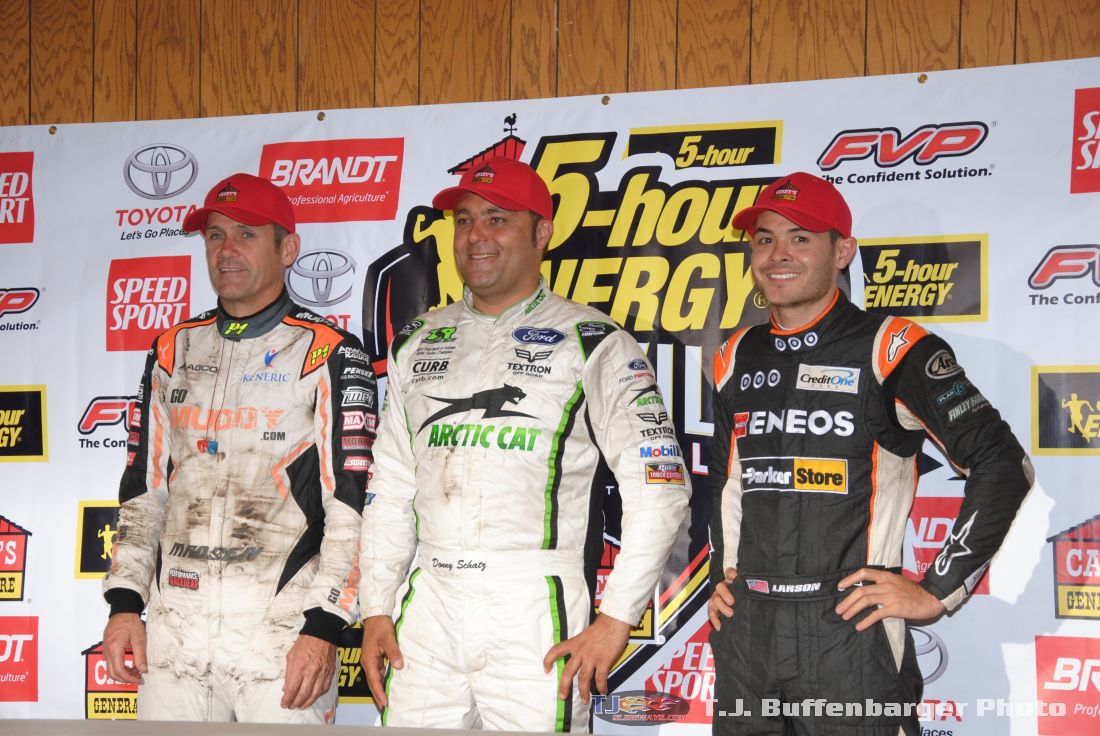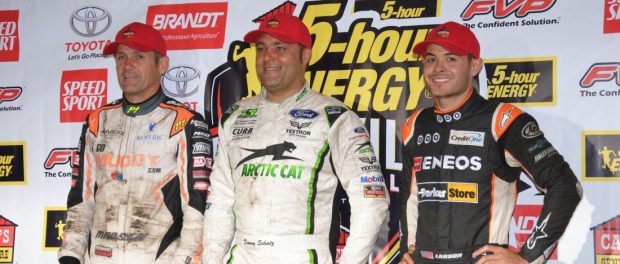 By T.J. Buffenbarger
KNOXVILLE, Iowa (August 12, 2017) – The headlines all week were about Chip Ganassi letting Kyle Larson race and David Gravel's perfect score, but in the end Donny Schatz was the driver pulling his car into victory lane at Knoxville Raceway.
Schatz held off a late surge by Kyle Larson to win the 57th Annual 5-Hour ENERGY Knoxville Nationals presented by Casey's General Stores. Schatz inherited the lead when David Gravel experienced mechanical problems and negotiated heavy lapped traffic at the end to edge out Larson.
The victory was the 10th Knoxville Nationals title of Schatz's career, but wasn't easy with Larson looming
"I was off the pace so long I knew somebody was going to be coming," said Schatz. "That stoppage Kyle was second and he normally finds everything there is in a race car so you have to stay on your toes with him. He's an awesome sprint car driver."
Gravel and Schatz started on the front row for the 50-lap finale. Gravel took the lead with Schatz and Kerry Madsen. That trio pulled away from the rest of the field. Behind them Larson was immediately on the move up to sixth position by lap three.
Gravel continued to pull away until encountering slower traffic on lap five. By lap nine Gravel's lead had dissipated and had Schatz and Madsen on his back bumper. On lap 10 Gravel stumbled a bit driving off turn two and allowed Schatz to challenge for the lead.
On lap 16 Schatz made a move to pass Gravel for the lead in turns three and four, but Gravel turns his car to the bottom and drove back by Schatz to retain the lead. Schatz tried another slide job on Gravel on lap 18 that was unsuccessful and allowed Madsen to close in to challenge for second.
On lap 19 the first caution flag of the event appeared when Austin McCarl's engine expired in smoke and flames between turns one and two.
Gravel pulled away again during the restart. Further back in the pack the defending Nationals champion Jason Johnson moved up from 17th to 9th. Johnson continued his march through the field up to 8th, but later dropped back through the field after the mid-race break.
Gravel seemed to have things under control until lap 22 when his car rolled to a stop in turn four to bring out the caution flag. The issue was terminal and Gravel took his car pit side. For Schatz, he could see how hard Gravel was running and wondered what the outcome might be.
"Early in the race David (Gravel) ran so hard I didn't know what was going to happen. It kind of chopped up at the top there on the top. A couple of times I saw him off the ground there and the tires light up. When he broke I thought it might be something from running so hard."
Schatz pulled away on the restart as Larson moved past Brown and Sweet to move into third spot. On lap 24 the caution appeared for Terry McCarl hitting the wall between turns three and four. At that point race officials called the mid-race break. Teams took three minutes to complete adjustments to their cars before the final 26 laps.
After the restart Madsen tries to slide Schatz but could not make the pass. This allowed Larson to pass Madsen for the second position.
Schatz continued to pull away as the lead trio blasted through the rough spots in turns three and four. With 15 laps to go lapped traffic started to come into play and allowed Larson to slowly close in on Schatz.
The final caution came out on lap 38 when Greg Hodnett slowed in turn four. This gave Larson one more shot at Schatz. Larson tried a slide job during the restart, but did not have enough momentum to complete the pass.
With five laps to go Schatz was boxed in by slower traffic racing side by side for position. This is the chance Larson needed and pulled right up on Schatz's back bumper. On the final lap going into turn three Larson dove to the inside in a last-ditch effort to catch Schatz, but came up short as Schatz raced away to his 10th Nationals title. Larson held on for second with Madsen rounding out the podium.
"These guys built me an awesome race car. Its durable, it does its job every night, and we just won the Knoxville Nationals."
57th Annual 5-Hour ENERGY Knoxville Nationals
Knoxville Raceway
Knoxville, IA
Saturday August 12, 2017
A-Main (50 Laps): 1. 15 – Donny Schatz, 2. 57 – Kyle Larson, 3. 2M – Kerry Madsen, 4. 2 – Shane Stewart, 5. 49 – Brad Sweet, 6. 21 – Brian Brown, 7. 87 – Aaron Reutzel, 8. 24R – Rico Abreu, 9. 9 – Daryn Pittman, 10. 18 – Ian Madsen, 11. 41 – Jason Johnson, 12. 13JT – Mark Dobmeier, 13. 4 – Paul McMahan, 14. 55 – Brooke Tatnell, 15. 24 – Terry McCarl, 16. 7S – Jason Sides, 17. 5H – Cory Eliason, 18. 44S – Trey Starks, 19. 27 – Greg Hodnett, 20. 1S – Logan Schuchart, 21. 5 – David Gravel, 22. 2KS – Austin McCarl, 23. 2C – Wayne Johnson, 24. 49X – Tim Shaffer.