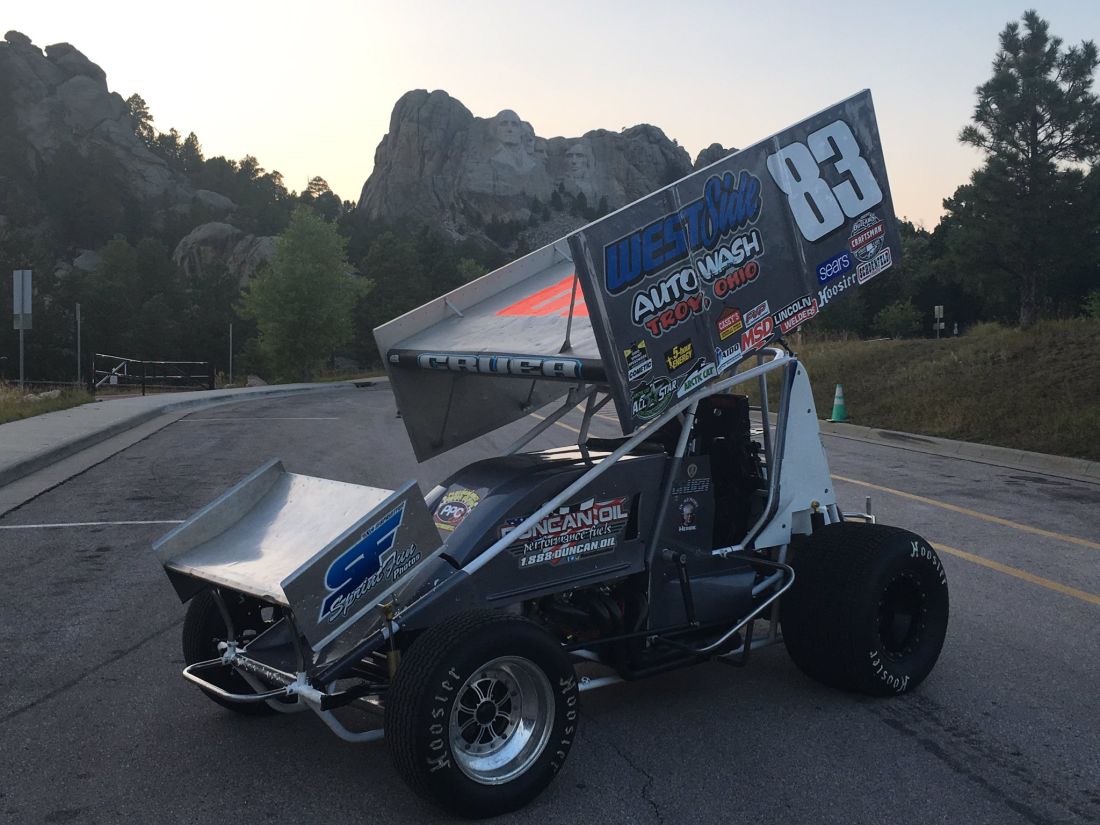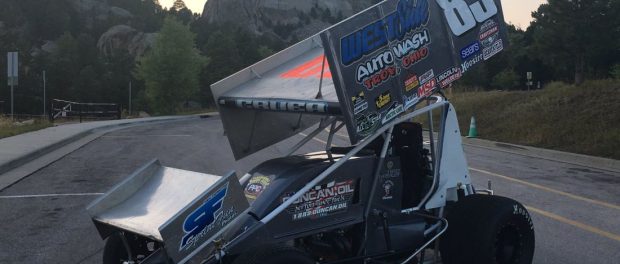 By T.J. Buffenbarger
Today's world of motorsports for the weekend warrior is a highly professional endeavor with press releases, trade shows, and a lot of time spent trying to maintain a racing program that may only see one or two race tracks a year. Often these endeavors are at the expense of having fun. For Adam Cruea and his race team having fun is still the primary object, no matter how far they venture from home.
This past weekend Cruea and his team traveled over 3,500 miles to compete with the World of Outlaws Craftsman Sprint Car Series in Montana. For a team that picked up their first career victory earlier this year at Butler Motor Speedway a trip to Montana may seem like a tall order. For Cruea and his race team it was just another chance to have a "race-cation". Quite the adventure for a relatively small race team with two cars (one 90% complete in Cruea's own words) and one engine.
Most of Cruea's trips far away from his Troy, Ohio base are centered around side trips to baseball stadiums or a product of bad weather in the Buckeye state. The idea for the Montana trip was hatched by Cruea's wife.
My wife had that week off from work and looked to see if there was a race in that area. Once she found the racing in Billings she asked if I wanted to race it," said Cruea.
From there the plan was put into motion that if the team did well enough at the Knoxville Nationals and didn't hurt any equipment that they would make the trip to Montana with their pickup truck and trailer.
"This was a big deal for us. Going this far from home I was a little worried about my truck," said Cruea. "This was the furthest we've been from home towing a race car."
Leaving Thursday night Cruea crammed his wife, his brother, his brother's wife, and brother's son into the truck while two of the remaining crew guys drove separately in a car from Troy, Ohio to middle America. After the marathon driving between himself and his brother Cruea and the crew squeezed in some sightseeing on their adventure.
"We managed to see the Mt Rushmore, the Badlands, and on the way back we stopped at Teddy Roosevelt National Park."
At some of the locations Cruea and the team managed to roll out their car for some scenic pictures with the race car that created quite a bit of buzz on social media. Some of the shoots were planned while others were the product of pure luck.
"The photo at the Badlands wasn't hard," said Cruea. "You had a gap between the people and found a scenic outlook you could pop in there and we had a game plan. We just rolled the car out, made the wing look normal, and could get the photo. We probably took 20-30 photos in four minutes and loaded it back up before anyone could say anything."
The images from Mt. Rushmore were a byproduct of good parking.
"Mt Rushmore was pure luck because we were not sure if we could get the truck and trailer in there. When we pulled in the guy doing the parking waved us through bus parking around the hill. Once we got out and looked we could see Mt. Rushmore is there totally visible in the back of the lot," said Cruea. "It was a little bit of a chore, but we rolled the car out that hill and put it in the middle of traffic and started taking photos for about 3-4 minutes. Then when the rest of the crew came we loaded it up."
One of the more adventurous sightseeing excursions was at late evening visit to Devil's Tower.
"We went there after we left Mt. Rushmore and it was dark when we left," said Cruea. "My wife wanted to see it, so I figured we were going to try. We drove back up in there and there was no light, it was raining, and I would rather run the top of Eldora blindfolded than drive those roads again. There wasn't a light within 100 miles of that place. "
After the drive and the sightseeing, the team did make it to Billings Motorsports Park to accomplish an item on Creua's bucket list, making his first career World of Outlaws feature.
"It was a dream come true to roll around in the four-wide with the Outlaws," said Cruea."
On the way home Cruea and his team were already tossing around ideas for their next racing adventure.
"We were just kicking around the idea of hitting up Skagit Speedway and running one night there, one night in Oregon, and going to the Gold Cup. Then vacation the rest of the days and head home. That's all tentative though, that's a year away."
For Cruea, his family, and team they were still contemplating the whirlwind trip over the past five days that left him feeling like Clark Griswold from the Vacation movies. In a world of race teams that take the sport seriously but may not have any fun, Cruea made memories on this trip that will last a lifetime.
"The adventure, depending on who you talk to in the truck, was more fun than the racing."
For more on Adam's story listen to Ross Wece and Justin Fiedler on this week's edition of Open Red by clicking here.