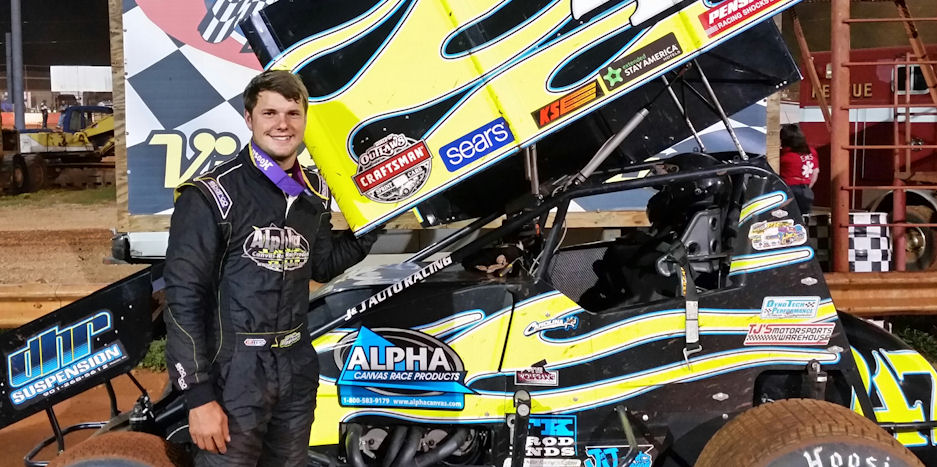 By Pete Walton
WOODSTOCK, GA – September 9, 2017-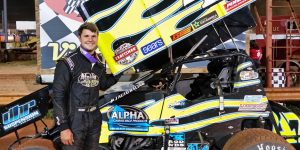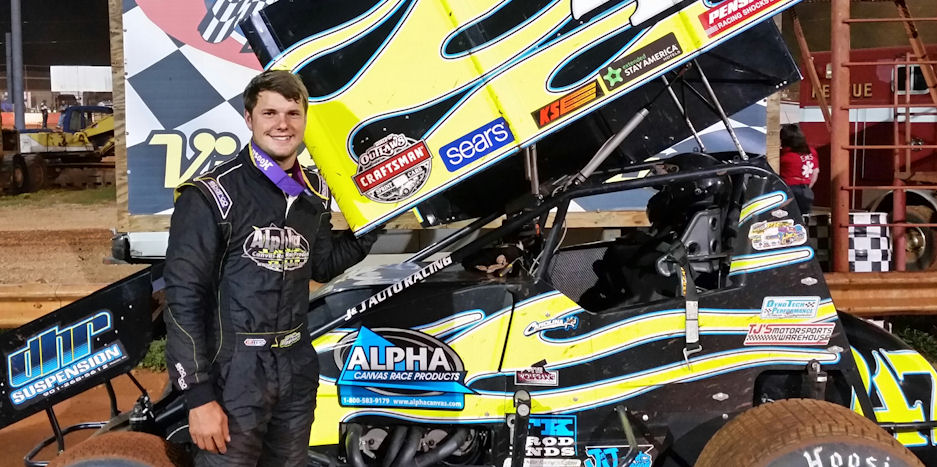 The Carolina Kid led wire-to-wire from his outside front row starting spot to park his Apha Canvas #47 in the www.rockauto.com USCS Victory Lane.Itwas Riggins' second USCS career win at Dixie Speedway in a caution-free race.
Riggins held as much as a half straightaway lead during the race, but in the closing laps, the race leader encountered heavy lapped traffic, and the defending and two-time USCS National Champion Morgan Turpen of Cordova, TN closed in to challenge for the lead. Riggins wouldn't give up the preferred inside groove, and held on for the victory.
"Dixie Speedway has been very good to me, as I got my first USCS win here," Riggins said. "I really had to slow my pace in lapped traffic, as it seemed everyone wanted the bottom groove, but as long as we covered it, I figured it would be tough to pass me."
Turpen had to settle for the second spot in her #10m Terry Gray Racing mount. Third place went to K&N Filters Pole Award Winner Joey Schmidt of Ellisville, MS. USCS point leader Jordon Mallett of Greenbrier, AR finished fourth, and sprint car rookie driver Scott Hunter of Concord, MS started eighth and took the fifth spot to earn the Wilwood Disc Brakes Hard Charger of the Race Award.
Jake McLain of Indian Trail, NC finished sixth and seventh went to Brian Thomas of Pendergrass, GA. The 2012 USCS Rookie of the Year, Jeff Willingham of Ripley, MS took the eighth spot and Joe Larkin of Suwanee, GA was ninth. Bo Barber of Clarksville, TN rounded out the top ten.
In preliminary action, Hunter won the six-lap Hoosier Speed Dash and Gray won the Engler Machine and Tool first eight-lap heat race. Willingham won the Brown and Martin Racing Solutions second eight-lap heat race.
Riggins took the lead from his outside front row starting spot at the start of the race followed by Schmidt, Mallett, Turpen, and McLain. Turpen went to the inside groove to drive Mallett coming off the fourth turn of the opening lap to take over the third spot. While Riggins began to pull away, Turpen closed in on Schmidt to challenge for the second spot by lap five.
Turpen was able to get an inside run on Schmidt coming off the second turn on lap nine, and scooted by to take over the second position. By this time, Riggins had opened up a half straightaway lead on the field. With ten laps to go, Riggins moved up on a tight three-car battle for sixth among McLain, Thomas, and Willingham.
While Riggins slowed his fast pace as the race leader to carefully and methodically find a way to put the three cars in front of him a lap down, Turpen charged to the rear nerf bar of Riggins sprint car to challenge for the lead on lap 24. Riggins just kept covering the bottom groove of Dixie Speedway, and Turpen had no other groove available to successfully make a pass for the lead.
The caution flag was not needed for the 30-lap race, just the green, white and checkered, as Riggins hung on to take a five car-length margin of victory under the checkered flag and into the winner's circle. While the Carolina Kid whistles Dixie, the next two USCS races will be on his home turf.
The USCS Outlaw Thunder Tour Presented By K&N Filters races scheduled for Bubba Raceway Park in Ocala, FL on September 15 and 16 have been postponed due to Hurricane Irma, and will be rescheduled for some time in November on dates to be announced.
So, the next two USCS Outlaw Thunder Tour Presented By K&N Filters races will take place at Carolina Speedway in Gastonia, NC on Friday night, September 22, and at Cherokee Speedway in Gaffney, SC on Saturday night, September 23.
For rules and updated schedule information about the United Sprint Car Series Outlaw Thunder Tour, please visit www.uscsracing.com or call the series office at 770-460-7223 or 770-865-6097. You can also like the United Sprint Car Series Facebook page at USCS Racing.
OFFICIAL FINISH AT DIXIE IN WOODSTOCKGA ON 9/9/17:
30-LAP S A-MAIN for the USCS Outlaw Thunder Tour presented by K&N Fiters:
POS STRT CAR # DRIVER HOMETOWN
1. 2 47 Eric Riggins Jr. Charlotte, NC
2. 3 10m Morgan Turpen Cordova, TN
3. 1 1s Joey Schmidt Ellisville, TN
4. 4 14 Jordon Mallett Greenbrier, AR
5. 8 1x Scott Hunter Concord, NC
6. 7 67m Jake McLain Indian Trail, NC
7. 9 67t Brian Thomas Pendergrass, GA
8. 5 28 Jeff Willingham Ripley, MS
9. 12 33 Joe Larkin Suwanee, GA
10. 11 14b Bo Barber Clarksville, TN
11. 10 25 Ray Bugg Iuka, MS
12. 13 07 Brandon Taylor Cumming, GA
13. 6 10 Terry Gray Bartlett, TN DNS
USCS Sprint Car Series Race Awards:
Hoosier Tire Speed Dash: Hunter
Engler Machine and Tool First Heat: Gray
Brown and Miller Racing Solutions Second Heat: Willingham
K&N Filters Pole Award: Schmidt
JE Pistons Top Guns Award: (4th Place): Mallett
PRO Shocks Champion Choice Award (5th Place): Hunter
K&N Filters Podium (3rd place) Award: Schmidt
Wilwood Disc Brakes Hard Charger Award: Hunter (started 8th and finished 5th)
Saldana Racing Products Super Sixth Award: McLain
Pyrotect Racing Cells Lucky Seven Award: Thomas
DHR Suspension Eighth Place Award: Willingham
DMI/Bulldog Rear Ends Top Ten Award: Barber
Hoosier Tire Speed Dash (6 Laps): 1. Hunter; 2. Mallett; 3. Riggins; 4. Schmidt; 5. Willingham; 6. Taylor DNS.
Engler Machine and Tool First Heat (8 Laps): 1. Gray; 2. Riggins; 3. Turpen; 4. Hunter; 5. Thomas; 6. Barber; 7. Larkin DNS.
Brown and Miller Racing Solutions Second Heat (8 Laps): 1. Willingham; 2. Mallett; 3. Schmidt; 4. McLain; 5. Bugg; 6. Taylor DNS.