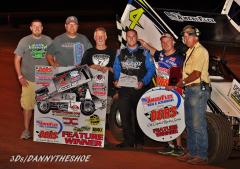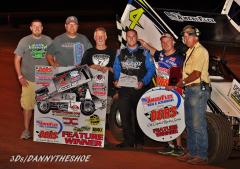 By John Lemon
Ada Okla. (September 16, 2017)- Shane Sellers won the 11th Annual Oklahoma State Championship sprint car race at the Oklahoma Sports Park Saturday night. The annual event sanctioned by the Ameri-Flex / OCRS sprint car series began in 2007 and has been a key event for the series ever since. By virtue of winning, Sellers will have his name added on the annual trophy for future OSC races to come. His father Robert, also a 2-time champion of the series, won the OSC race last year.
Sellers started on the pole for the 25-lap affair with series points leader Zach Chappell starting along side. At the drop of the green flag, official starter J.D. Etter called the start back as the front row starters were not aligned to his liking. On the second attempt at the start, Sellers won the drag race to turns one and two and with the exception of lapped cars, Sellers would never see a rear bumper for the entire distance in the all green event. Sellers' winning car is a XXX chassis with Brand Racing Engines power and is backed by Courtney Farms, Select Coating, Two-Six racing Products, Outlaw Wings and David Grace Motorsports.
"The car was really good tonight," expressed Sellers. "It ran great in the heat race and we felt we had a great car for the feature. It just worked out well for us". When asked about having his name etched next to his fathers as a winner of the event, Sellers said, "That's really awesome. I have learned a lot from him (Robert) and to have won this race as he has is really special."
Chappell gave it his all in the Ameri-Flex Hose & Accessories / Smiley Racing Products / Metro Fire Protection / Crazy Cow Trucking Maxim / DSO powered 50z car. At times Chappell would be 1/2 to 2/3 of a straight away behind and then close in at other times when the leaders would encounter lapped traffic. In the end, Chappell would hold onto the runner-up position and gain valuable points towards earning his first ever Harold Leep Championship Trophy.
Sheldon Barksdale would finish third and often would close in on Chappell closer than Chappell could get to Sellers. The driver from Norman just couldn't a chance to get along side to make a passing attempt. Local favorite Gary Owens would finish fourth with 2008 winner Danny Smith having a solid run to finish in the top five.
Rounding out the top 10 were: 3-time winner Whit Gastineau, Morgan Fletcher (in his best career Ameri-Flex / OCRS finish), Johnny Kent, Amsoil Hard Charger Shayla Waddell and Joe Bob Lee.
Ameri-Flex / OCRS Race Results
11th Annual Oklahoma State Championship
Oklahoma Sports Park
September 16, 2017
Car Count: 16
(Pos-Car-Driver-Start)
Car & Fleet Heat (8-laps)
1. Gary Owens [2] 2.Sheldon Barksdale [6] 3.Johnny Kent [4] 4.Danny Smith [5] 5.Morgan Fletcher [3] 6.Joe Bob Lee [8] 7.Brian McClelland [1] 8. Frank Taft [7]
A1 Machine Shop Heat (8-laps)
1. Zach Chappell [3] 2. Whit Gastineau [6] 3. Shane Sellers [5] 4.Robert Sellers [7] 5.Cameron Hagin [1] 6.Joseph Miller [2] 7.Shayla Waddell [4] 8.Larry Bratti [9] 9.Jeff Garnett [8]
Ameri-Flex Hose & Accessories A-Feature (25-laps)
1.Shane Sellers [1] 2.Zach Chappell [2] 3.Sheldon Barksdale [4] 4.Gary Owens [3] 5.Danny Smith [5] 6.Whit Gastineau [6] 7.Morgan Fletcher [10] 8.Johnny Kent [7] 9.Shayla Waddell [13] 10.Joe Bob Lee [9] 11.Cameron Hagin [11] 12.Brian McClelland [14] 13.Frank Taft [16] 14.Joseph Miller [12] 15.Robert Sellers [8] 16.Jeff Garnett [15] 17.Larry Bratti 17]