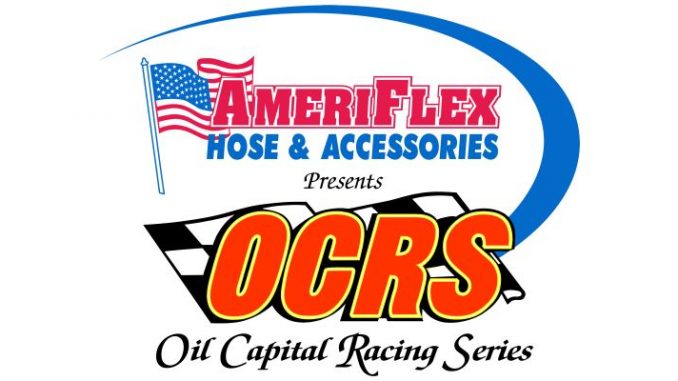 By John Lemon
Tulsa Okla, (October 3, 2017) – As the 16th racing season continues its wind down for the Ameri-Flex / OCRS sprint car series, a couple of special events are to take place this weekend that will be a thrill for both race fans and competitors alike and it will all begin with a special announcement regarding the future of the series at the Enid Speedway.
The sprint car series will return to the Enid Speedway for the first time since 2010 for "Ameri-Flex Hose & Accessories" night. This Saturday night will also be the continuation of the $5,000 "Truck Lungs High Plains Shootout", a three race mini series within the Ameri-Flex / OCRS schedule. The top 10 drivers that earn championship points from the Thunderbird Speedway race last August, Enid Speedway this Saturday and at the 81 Speedway on October 14th will split a $5,000 point fund courtesy of Truck Lungs, a manufacture of onboard air systems for trucks and SUV's. To earn a share of the prize money, a driver must compete in all 3 of the slated events.
In addition, the series has been fortunate to have received support from a group of "Lap Sponsors" for the 25-lap main event. The top 8 drivers per lap will earn a share of the $2,500 that as been raised for "lap money". It is possible for the winner of the event to bankroll $2,000 and it is also possible for the 8th place finisher to stuff $525 into their pockets.
Enid Speedway is a 3/8-mile track with lots of racing room. While the racing action is set for a 6pm start, fans are invited to come out early and take in the classic rock music performances of the "Backhand Band" beginning at 2:30pm. For the racers, there will be a practice night on Friday with gates opening at 5pm for the practice session. Pit Passes for this night will be $30 (driver) and $15 (non-drivers). Fans get FREE admission into the grandstands on Friday night.
Then the following day, it's a special Sunday race at the Red Dirt Raceway in Meeker Oklahoma (formerly Brill's Motor Speedway). Owners Cody & Melissa Brewer have named the event "Salute To State Fair Speedway", which was the former Oklahoma City Fairgrounds track that ceased operations after the 2009 season. There will be a Classic Car Show beginning at 2pm which will have multiple race cars from the past on display. Some will even see track-time during the program. In addition, there will be a fan autograph session where fans can get autographs from some of the drivers that assisted in creating the racing nostalgia we have come to embrace.
The Brewers have reshaped the track from a 3/8-mile oval to a 1/4-mile. The track has produced some very close racing on the new configuration this season and there seems to be more such racing action waiting to be seen. Racing will begin at 4pm (hot laps at 3:30). The evening will climax with a 40-LAP sprint car main event. Fans can stake a claim to a favorite seat in the new grandstands or bring your favorite lawn chair and camp out on the lawn and relax while taking in the show "front and center".
NOTE: Sprint cars with a Racesaver 305 package are invited to race at both venues this weekend with some modifications. Those modifications can be viewed on the OCRS website at: ocrsracing.net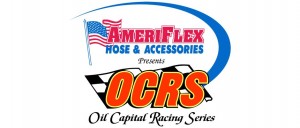 NUTZ n' BOLTZ
Truck Lungs Act II
Saturday night will be positioning night for the drivers that competed in the first leg of the Truck Lungs High Plains Shootout. With a win at the Thunderbird Speedway, Whit Gastineau has the early advantage for the $1,000 top prize of the $5,000 point fund. Andrew deal sits just 5 markers back in second (105-100) with Shane Sellers only 2 points back of Deal (98 pts) then its Zach Chappell with 96pts and Alex Sewell with 93 tokens. The balance of the top ten are: Mickey Walker (90), Sheldon Barksdale (85), Sean McClelland (82), Danny Smith (77) & Brett Wilson (74).
The Ameri-Flex / OCRS series is honored to have Truck Lungs on board for this program. Truck Lungs has an outstanding product and once you see one, it goes straight to the top of everyone's Birthday wishes. To view their product and to research what the system can do for you, visit their website at: trucklungs.com
Record Rookie Crop In 2018?
The series has been fielding a lot of inquiries the past 60 days from race teams in other divisions of racing about next season. If a certain percentage of those inquiries show up with cars to run in the series next season, it stands to reason that there would be more rookies in one season than ever before. Seems the catalyst to the inquiries are due to a particular track sitting dormant thus leaving these teams to look for options. Welcome mat is out for everyone.
Girl Power
A few years ago when Harli White won her championship with the series, there were a handful of occasions when at least 3 female drivers were racing on a given night. 2018 could see that happen again and quite possibly a quadruple set of lady racers on multiple nights depending on what decisions are made soon. There is likely to be 3 gals racing the final 3 events of the season as well.
Fans Are The Best
When the scheduled race last week at Caney Valley Speedway was called off due to the track having a blanket of water over it, we received a few Facebook messages and emails from fans wanting to know if there was anyway to race and/or could they themselves assist so the race could happen? Very flattering gestures indeed which leaves us appreciating their support more and more all the time. We wish to say "Thank You" to those that contacted us and we hope you can make these remaining shows of the season.
The Finale Is Near
After this special weekend of events, the Ameri-Flex / OCRS series will conduct the final race of 2017 on October 14th at C-Ray's Joint, the famed 81 Speedway in Park City Kansas. It will be a great night racing as Rick Salem brings his URSS sprint car series to town and Mark Brill (co-promoter of Enid Speedway) will have have his Sooner Late Model series on hand as well. Hoping to see several Okies in the stands that evening as we will see who earns the Harold Leep Championship Trophy for the series title.
The itinerary for Enid Speedway:
What: AMERI-FLEX / OCRS Sprint Cars: Ameri-Flex Hose & Accessories Night and "Truck Lungs High Plains Shootout"
Where: Enid Speedway / Enid Oklahoma
When: Saturday October 7, 2017 (Practice night Friday October 6th. Free grandstand admission)
Time: Hot Laps 5pm / Race time 6pm / OCRS drivers meeting 4:15pm
The Backhand Band will perform free on stage beginning at 2:30pm.
Note: Sprint cars will pit outside of turn 4 (Do NOT pull into the infield)
Tickets: Adults: $15 / Seniors Military, & Kids 12-15: $12 / 11yrs & Under are Free / Pit Passes $30
Contact Info: Kip Hughes (580) 554.2451
Track Website: www.enidspeedway.net
The racetrack is located on the Garfield County Fairgrounds
Address is: 305 East Oxford Enid Oklahoma 73701
​**************************************************************************************​
The itinerary for Red Dirt Raceway:
What: AMERI-FLEX / OCRS Sprint Cars "Salute To State Fair Speedway" & Vintage car Show
Where: Red Dirt Raceway / Meeker Oklahoma
When: Sunday October 8, 2017
Time: Hot Laps 3:30pm / Race time 4pm / OCRS drivers meeting 3pm
Vintage car show and fan autograph session will begin at 2pm.
Note: Lawn chairs are welcomed in the lawn area of the track.
Tickets: Ages 11 & up are $15 / Kids 10 & under are Free.
Track Phone: (405) 318.0198
Track Website: www.reddirtraceway.com
The racetrack is located on Highway 18 in Meeker Oklahoma
Address is: 990871 S Hwy 18, Meeker, OK 74855