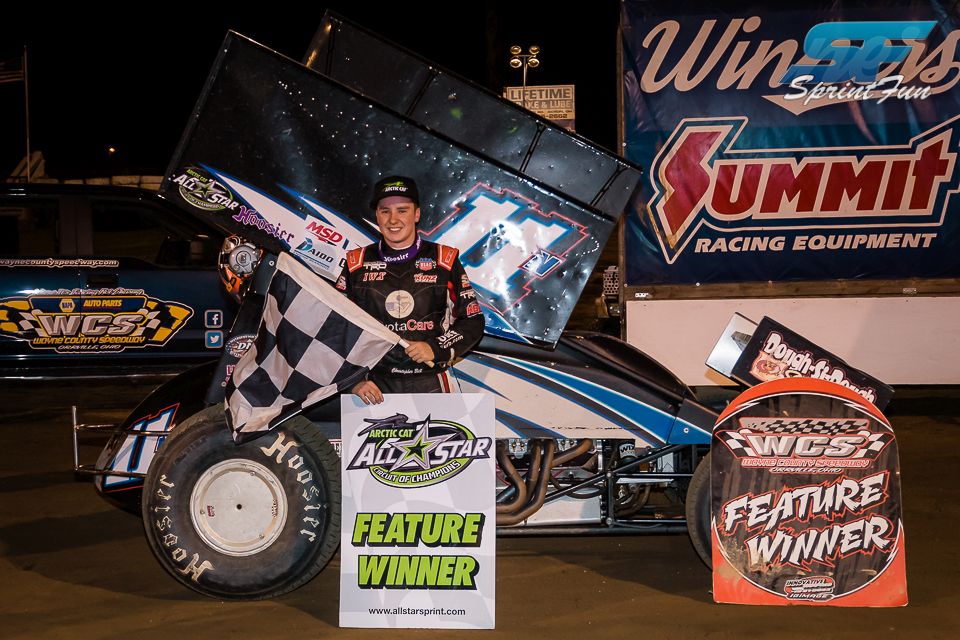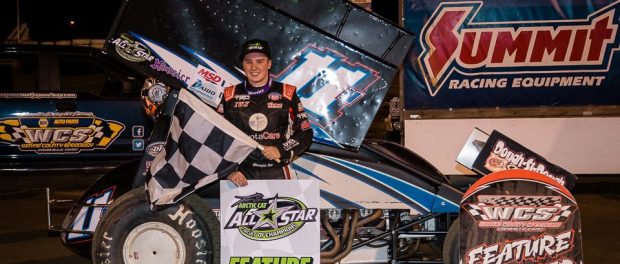 From Tyler Altmeyer
ORRVILLE, OH (October 7, 2017) – Becoming the fifth different Arctic Cat All Star Circuit of Champions winner in five starts at "Orrville's Historic Oval," Norman, Oklahoma's Christopher Bell hard charged from the inside of row six to score $5,000 on Saturday night at Wayne County Speedway. Bell took command for the first time on lap 22, surviving a battle with rising star, Spencer Bayston, the circuit prior. Knoxville (IA) Raceway track champion, Ian Madsen, chased Bell to the final checkers, followed by Broc Martin, Cole Duncan and Rob Chaney.
For Bell, the Arctic Cat All Star Circuit of Champions triumph was the second of his 2017 season and the third of his career, last visiting victory lane during an appearance at Sharon (OH) Speedway on July 8.
"I'm just really thankful for the opportunity to drive this car for Ed Neumeister and the Linders," said Christopher Bell, pilot of the Dough-Si-Dough/Linder's Speed Equipment/DMI/Fisher Racing Engines/No. 11N. "It's a true privilege to drive this thing."
Findlay, Ohio's Caleb Helms and the KCP Racing entry of Ian Madsen led the 26 starters to green on Saturday night at Wayne County Speedway. Madsen earned the early advantage, leading Caleb Helms and Brad Haudenschild by the flag stand to complete lap one.
A red flag on lap two slowed action for the first time. When green flag conditions resumed, it was Madsen returning to the top spot, now with the Swindell Speedlab entry of Spencer Bayston, who started eighth, and Wooster, Ohio's Broc Martin in tow. The top three raced nose-to-tail for the next six circuits until caution flags returned to the speedway on lap nine, ultimately resulting in an open red flag stop.
After a short pause while medics tended to a fan, Madsen led the field back to green, still in charge over Bayston and Martin. On lap 13, Christopher Bell, who charged ahead from the 11th position, drove around Martin to take third, now setting aim on Bayston and Ian Madsen.
By the midpoint of the 30-lapper, the three front-runners found themselves in a bumper-to-bumper battle for the lead. Soon enough, utilizing a textbook slider through turns three and four, Bayston made a bold move and drove under Madsen to take command on lap 17. One circuit later, Bell also found room and cruised by Madsen with a perfect slide job, this time through turns one and two.
Within two laps, Bell started to apply pressure on Bayston for the top spot, chasing the Lebanon, Indiana, native into traffic on lap 21. As the pair drag raced toward the flag stand to complete lap 22, Bell and Bayston made incidental contact causing the No. 39 of Bayston to flip wildly down the front straightaway. Bayston would walk away unharmed, but would not return to the speedway.
With little damage after the incidental contact with Bayston, a broken right rear shock, Christopher Bell drove on to score the Arctic Cat All Star Circuit of Champions victory unchallenged, leading laps 22 to 30 with Madsen and Martin in tow at the finish.
"I'm really disappointed that Spencer (Bayston) and I didn't get a chance to race that out," Bell said in victory lane. "It was going to be a really good race. He's a talented guy."
"The car wasn't the funnest to drive after that, but I had clean air," Bell said in regards to his car after the incident. "That's really big at a place like this, especially here because the corners are so tight. Being out front made it a lot easier even with the damage."
The Arctic Cat All Star Circuit of Champions will conclude their 2017 season with a full weekend of competition on Friday and Saturday, October 13-14. Ending the year in the Buckeye State, the Arctic Cat All Star Circuit of Champions will launch their final weekend of action with a visit to Mansfield Motor Speedway in Mansfield on October 13, followed by a stop at the World's Greatest Dirt Track; the Eldora Speedway in Rossburg, Ohio, on Saturday, October 14.
The Friday night visit to Mansfield Motor Speedway will feature double main events, as the Series' first visit in May was halted early due to Mother Nature. More news and information will be posted in the coming days. Please stay tuned online at www.allstarsprint.com.
Contingency Awards/Results: Wayne County Speedway- Saturday, October 7, 2017:
EMi Driver's Meeting: 34 entries
State Water Heaters Warm-Ups: Christopher Bell – 14.848 seconds
Lincoln Electric Fast Qualifier: Cale Conley – 14.552 seconds
Ford Performance Heat #1: Chad Kemenah
All Pro Aluminum Cylinder Heads Heat #2: Max Stambaugh
Hunt Brothers Pizza Heat #3: Broc Martin
Daido Engine Bearings Heat #4: Ian Madsen
JE Pistons Dash #1: Caleb Helms
Kistler Racing Products Dash #2: Ian Madsen
Classic Ink USA B-Main: Cap Henry
Daido Engine Bearings Main Event Winner: Christopher Bell
MSD Performance Hard Charger Award: Christopher Bell (+10)
Outback Steakhouse A-Main 5th Place Finisher: Max Stambaugh (6th)
Outback Steakhouse A-Main 10th Place Finisher: Cap Henry
Outback Steakhouse A-Main 15th Place Finisher: Brent Matus
(Lincoln Electric, Daido Engine Bearings, MSD Performance, Outback Steakhouse: Need decal to qualify for contingency award)
Qualifying
Group (A)
1. 7K-Cale Conley, 14.552; 2. 39-Spencer Bayston, 14.612; 3. 22C-Cole Duncan, 14.681; 4. 10H-Chad Kemenah, 14.73; 5. 45-Trevor Baker, 14.751; 6. 4-Cap Henry, 14.752; 7. 7C-Caleb Armstrong, 14.757; 8. 51-John Garvin, 15.081; 9. 95-Hunter Mackison, 99.99
Group (B)
1. 57X-Andrew Palker, 14.688; 2. 11n-Christopher Bell, 14.762; 3. 33M-Max Stambaugh, 14.838; 4. 1080-Jordan Mackison, 14.928; 5. 8M-TJ Michael, 15.038; 6. 13-Brandon Matus, 15.108; 7. 16-Danny Mumaw, 15.157; 8. 35s-Stuart Brubaker, 15.226; 9. 9C-Roger Campbell, 15.572
Group ( C )
1. 59-Ryan Smith, 14.798; 2. 81-Lee Jacobs, 14.872; 3. 97-Broc Martin, 14.932; 4. 38K-Brad Haudenschild, 15.274; 5. 35-Travis Esh, 16.389; 6. 33-Brent Matus, 16.609; 7. 22M-Ray Miller, 16.945; 8. 33D-Tyler Dunn, 99
Group (D)
1. 22B-Ryan Broughton, 14.895; 2. 83-Rob Chaney, 14.941; 3. 18-Ian Madsen, 14.948; 4. 17-Caleb Helms, 15.022; 5. 22-Brandon Spithaler, 15.085; 6. D12-Jason Dolick, 15.109; 7. 27-Brad Lamberson, 15.471; 8. 5-Jordan Harble, 16.226
Heat #1 – Group (A) (8 Laps) – Top 5 Transfer
1. 10H-Chad Kemenah [1]; 2. 22C-Cole Duncan [2]; 3. 39-Spencer Bayston [3]; 4. 7K-Cale Conley [4]; 5. 7C-Caleb Armstrong [7]; 6. 45-Trevor Baker [5]; 7. 4-Cap Henry [6]; 8. 51-John Garvin [8]
Heat #2 – Group (B) (8 Laps) – Top 5 Transfer
1. 33M-Max Stambaugh [2]; 2. 57X-Andrew Palker [4]; 3. 11N-Christopher Bell [3]; 4. 1080-Jordan Mackison [1]; 5. 16-Danny Mumaw [7]; 6. 13-Brandon Matus [6]; 7. 8M-TJ Michael [5]; 8. 35S-Stuart Brubaker [8]; 9. 9C-Roger Campbell [9]
Heat #3 – Group ( C ) (8 Laps) – Top 5 Transfer
1. 97-Broc Martin [2]; 2. 38K-Brad Haudenschild [1]; 3. 81-Lee Jacobs [3]; 4. 59-Ryan Smith [4]; 5. 33-Brent Matus [6]; 6. 22M-Ray Miller [7]; 7. 35-Travis Esh [5]
Heat #4 – Group (D) (8 Laps) – Top 5 Transfer
1. 18-Ian Madsen [2]; 2. 17-Caleb Helms [1]; 3. 83-Rob Chaney [3]; 4. 22-Brandon Spithaler [5]; 5. 22B-Ryan Broughton [4]; 6. D12-Jason Dolick [6]; 7. 27-Brad Lamberson [7]; 8. 5-Jordan Harble [8]
Dash #1 (4 Laps)
1. 17-Caleb Helms [1]; 2. 97-Broc Martin [4]; 3. 57X-Andrew Palker [5]; 4. 33M-Max Stambaugh [3]; 5. 7K-Cale Conley [2]
Dash #2 (4 Laps)
1. 18-Ian Madsen [1]; 2. 10H-Chad Kemenah [3]; 3. 38K-Brad Haudenschild [2]; 4. 39-Spencer Bayston [4]; 5. 22C-Cole Duncan [5]
B-Main (12 Laps) – Top 4 Transfer
1. 4-Cap Henry [2]; 2. 45-Trevor Baker [1]; 3. 35S-Stuart Brubaker [7]; 4. 5-Jordan Harble [10]; 5. 8M-TJ Michael [3]; 6. 51-John Garvin [4]; 7. 13-Brandon Matus [5]; 8. 9C-Roger Campbell [9]; 9. 22M-Ray Miller [12]; 10. 27-Brad Lamberson [8]; 11. D12-Jason Dolick [6]; 12. 35-Travis Esh [11]; 13. 33D-Tyler Dunn [13]; 14. 95-Hunter Mackison [14]
A-Main (30 Laps)
1. 11N-Christopher Bell [11]; 2. 18-Ian Madsen [2]; 3. 97-Broc Martin [3]; 4. 22C-Cole Duncan [10]; 5. 83-Rob Chaney [13]; 6. 33M-Max Stambaugh [7]; 7. 10H-Chad Kemenah [4]; 8. 57X-Andrew Palker [5]; 9. 59-Ryan Smith [14]; 10. 4-Cap Henry [21]; 11. 16-Danny Mumaw [19]; 12. 81-Lee Jacobs [12]; 13. 45-Trevor Baker [22]; 14. 22-Brandon Spithaler [16]; 15. 33-Brent Matus [20]; 16. 39-Spencer Bayston [8]; 17. 38K-Brad Haudenschild [6]; 18. 13-Brandon Matus [26]; 19. 5-Jordan Harble [24]; 20. 22B-Ryan Broughton [18]; 21. 35-Travis Esh [25]; 22. 17-Caleb Helms [1]; 23. 7C-Caleb Armstrong [17]; 24. 35S-Stuart Brubaker [23]; 25. 7K-Cale Conley [9]; 26. 1080-Jordan Mackison [15] Lap Leaders: Ian Madsen [1-16]; Spencer Bayston [17-21]; Christopher Bell [22-30]