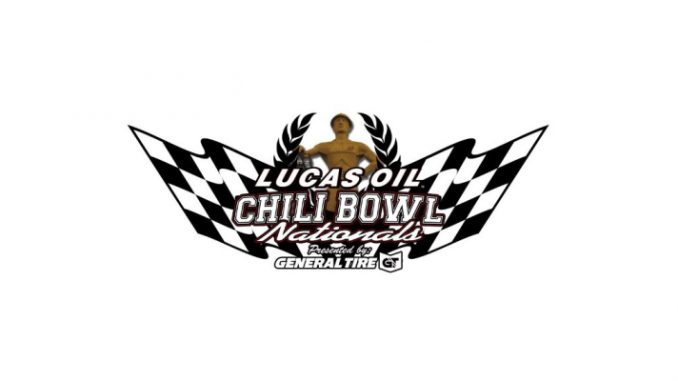 From Bryan Hulbert
TULSA, Okla. (December 12, 2017) – Construction of the Tulsa Expo Raceway is underway with the first loads of clay hitting the floor of the River Spirit Expo Center on Wednesday, December 12, 2017. As the quarter-mile oval take shape, the list of drivers seeking the conquer the 32nd Lucas Oil Chili Bowl Nationals presented by General Tire, happening January 9-13, 2018, continues to grow with over 200 entries already turned into the Chili Bowl office; just two day ahead of the entry deadline for teams to save $50.
Currently, $150 to enter, After Thursday, December 14, 2017, the cost to enter the Lucas Oil Chili Bowl Nationals presented by General Tire will move to $200. Included in the latest round of entries is Chili Bowl Champion's Tim McCreadie and Damion Gardner.
McCreadie, a Late Model ace from Watertown, N.Y. chased the Lucas Oil Late Model Dirt Series in 2017 with five wins that garnered a runner-up result in the final standings to Josh Richards. Driving for three-time winning car owner, Andy Bondio, Tim's Chili Bowl triumph came in 2006 for Steve Smith.
Scoring a Chili Bowl win for the late Jason Leffler, the driver known as "The Demon" rolled to four wins while racing up and down the west coast. For Gardner, the 2018 Lucas Oil Chili Bowl Nationals presented by General Tire will be his 16th visit.
At the time of press, 211 entries have been turned in with 20 of those still in search of a driver. Of the confirmed drivers, the list includes a melting pot of talent from 162 cities, 32 states, and five countries.
Among the latest list of Chili Bowl Rookies is California's, Kyle Hirst. Opening up the 2017 Gold Cup Race of Champions at Silver Dollar Speedway with a win against the World of Outlaws Craftsman Sprint Car Series, the California shoe chased points with the King of the West-NARC Sprint Car Series with a pair of wins and a fifth-place finish in the 2017 final standings.
Updated almost daily at http://www.chilibowl.com, the list of teams so far is as follows:
32nd Lucas Oil Chili Bowl Nationals presented by General Tire
Entries as of December 12, 2017
Car# – Name (Hometown, State) (R) denotes rookie status
* 0K-Don O'Keefe, Jr. (Pittsboro, Indiana)
* 00-Tristan Lee (Biloxi, Mississippi)
* 00C-Grady Chandler (Edmond, Oklahoma)
* 1-Sammy Swindell (Germantown, Tennessee)
* 1C (R)-Clayton Christensen (Spencer, Iowa)
* 1G-Holly Porter (Delhi, Ontario, Canada)
* 1K-Brayton Lynch (Springfield, Illinois)
* 1R-Thomas Meseraull (San Jose, California)
* 1T-Tony Roney (Herculaneum, Missouri)
* 2-Ryan Hall (Midlothian, Texas)
* 2A-TBA
* 2B -Jason Grady (Farmington, New Mexico)
* 2BX-Brett Becker (Odessa, Texas)
* 2D-Matt Sherrell (Owasso, Oklahoma)
* 2DB (R)-Dusty Ballenger (Harrisburg, South Dakota)
* 2DG-Dustin Gilbert (Tonganoxie, Kansas)
* 2G-Terry Goodwin (Laveen, Arizona)
* 2ND-Jeb Sessums (Burleson, Texas)
* 2T-TBA
* 2W-Wyatt Burks (Topeka, Kansas)
* 2X-Brent Beauchamp (Avon, Indiana)
* 03-Shayle Bade (Lincoln, Nebraska)
* 3A-Bill Allen (Independence, Missouri)
* 3B-Austin Blair (St. Louis, Missouri)
* 3F-Austin Liggett (Tracy, California)
* 3N-Jake Neuman (New Berlin, Illinois)
* 3S-Brian Shirley (Chatham, Illinois)
* 3T-Tim Barber (Sonoma, California)
* 3U-Mark Lowrey (Concord, North Carolina)
* 3W-Brandon Waelti (Sun Prairie, Wisconsin)
* 4-Tom Harris (Banbury, OXF, England)
* 4A-Chad Boespflug (Hanford, California)
* 4B-Ty Hulsey (Owasso, Oklahoma)
* 4D-Robert Dalby (Anaheim, California)
* 4F-Chad Frewaldt (Kansas City, Kansas)
* 4J-Tim Crawley (Benton, Arkansas)
* 4M (R)-Alison Slaton (Edmond, Oklahoma)
* 4MR (R)-Jake Morgan (Fair Oaks, California)
* 4P-Paul McMahan (Hendersonville, Tennessee)
* 5-Jerry Coons, Jr. (Tucson, Arizona)
* 5B-Bobby Brewer (Cabot, Arkansas)
* 5C -Colten Cottle (Kansas, Illinois)
* 5D-Zach Daum (Pocahontas, Illinois)
* 5E-TBA
* 5F-Danny Frye III (St. Peters, Missouri)
* 5J-Jeff Crook (Garden City, Kansas)
* 5M-TBA
* 5T (R)-Presley Truedson (Kennedy, Minnesota)
* 5X-Stevie Sussex (Tempe, Arizona)
* 6M-Ray Seach (Beloit, Wisconsin)
* 7-Shannon McQueen (Tehachapi, California)
* 7AUS (R)-Mark Cooper (Sydney, NSW, Australia)
* 7BC-TBA
* 7CB-Clinton Boyles (Greenwood, Missouri)
* 7CG-John Ivy (Fremont, Ohio)
* 7CH (R)-Kelsey Ivy (Fremont, Ohio)
* 7D-Michelle Decker (Guthrie, Oklahoma)
* 7JR-J.D. Black (Grain Valley, Missouri)
* 7K-TBA
* 7M-TBA
* 7MF-Chance Morton (Coweta, Oklahoma)
* 7RS-Merril Lamb (Iola, Kansas)
* 7S-Pat Schudy (Springfield, Missouri)
* 7W-Scott Walton (Inola, Oklahoma)
* 7WS-Wade Seiler (Alton, Illinois)
* 7X-Gage Walker (Fairland, Indiana)
* 08-Kurt Blackaby (Bentonville, Arkansas)
* 8-Alex Sewell (Broken Arrow, Oklahoma)
* 8J-Jonathan Beason (Broken Arrow, Oklahoma)
* 8JR-A.J. Johnson (Oskaloosa, Iowa)
* 8K-Chase Jones (Indianapolis, Indiana)
* 8M-Kade Morton (Coweta, Oklahoma)
* 9$-Kyle Clark (Sapulpa, Oklahoma)
* 9-Matt Moore (Oklahoma City, Oklahoma)
* 9D-Sean Dodenhoff (Reno, Nevada)
* 9E-Rick Shuman (Queen Creek, Arizona)
* 9F (R)-Zac Forster (Bakersfield, California)
* 9JR-Derek Hagar (Marion, Arkansas)
* 9K-Kyle Schuett (Philo, Illinois)
* 9P-Parker Price-Miller (Kokomo, Indiana)
* 10J-Kyle Bellm (Nixa, Missouri)
* 10K (R)-Dale Johnston (Colorado Springs, Colorado)
* 11-Katlynn Leer (Ankeny, Iowa)
* 11C-Chett Gehrke (Shepherdsville, Kentucky)
* 11E-Cory Elliott (Bakersfield, California)
* 11J-Justin Melton (Lewisville, Texas)
* 14H-Harley Hollan (Broken Arrow, Oklahoma)
* 14JR (R)-Holley Hollan (Broken Arrow, Oklahoma)
* 14R-Jody Rosenboom (Rock Rapids, Iowa)
* 14S (R)-Rick Young (Lee's Summit, Missouri)
* 14T-Tony Rossi (Brighton, Colorado)
* 15-TBA
* 15C (R)-Carson Garrett (Littleton, Colorado)
* 15D-Andrew Deal (Caney, Kansas)
* 17BC-TBA
* 17E-Blake Edwards (Coweta, Oklahoma)
* 17G-Dustin Golobic (Fremont, California)
* 17R-Alex Schutte (Vista, California)
* 17RB (R)-Ryan Bickett (Ramona, South Dakota)
* 17W-TBA
* 18-Tony Bruce, Jr. (Liberal, Kansas)
* 18S-Danny Smith (Chillicothe, Ohio)
* 19N-Nick O'Neal (Wagoner, Oklahoma)
* 20-Tadd Holliman (Murray, Nebraska)
* 21-Daryn Pittman (Owasso, Oklahoma)
* 21M-Michelle Melton (Flower Mound, Texas)
* 21R (R)-Kaylee Bryson (Muskogee, Oklahoma)
* 21X-TBA
* 22A-Andy Malpocker (St. Charles, Missouri)
* 22D-David Stephenson (Porter, Oklahoma)
* 22E-Shane Stewart (Bixby, Oklahoma)
* 22M-Chris Cochran (McCloud, Oklahoma)
* 23L (R)-Lee Lengel (Wellsville, Kansas)
* 23M-David Budres (Beloit, Wisconsin)
* 23P (R)-Patrick Lawson (Edwardsville, Illinois)
* 24-Tracy Hines (Wilkinson, Indiana)
* 24F-Hunter Fischer (Broken Arrow, Oklahoma)
* 24S-Landon Simon (Brownsburg, Indiana)
* 25P-Dylan Peterson (Sioux Falls, South Dakota)
* 25S-Alex Schriever (Sioux Falls, South Dakota)
* 27K-Kevin Thomas, Jr. (Cullman, Alabama)
* 27Z-Zane Hendricks (Stillwater, Oklahoma)
* 28-Kory Schudy (Battlefield, Missouri)
* 28A-Ace McCarthy (Tahlequah, Oklahoma)
* 29-Anthony Nocella (Marlboro, Massachusetts)
* 29J-Logan Jarrett (Kokomo, Indiana)
* 29S-Timmy Buckwalter (Douglasville, Pennsylvania)
* 30T-Larry Bratti (Springdale, Arkansas)
* 31-Travis Berryhill (American Canyon, California)
* 31J-James Burke (Arkadelphia, Arkansas)
* 32-Casey Shuman (Rattlesnake Bend, Arizona)
* 32D-Kody Swanson (Kingsburg, California)
* D33-Jacob Patton (Bethalto, Illinois)
* 33J-Jackie Burke (Houston, Texas)
* 35-Tyler Robbins (Collinsville, Illinois)
* 35L-Cody Ledger (Omaha, Nebraska)
* 35TE-Chris Windom (Canton, Illinois)
* 37M-Matt Mitchell (Orange, California)
* 39-Michael Pickens (Auckland, New Zealand )
* 39BC-TBA
* 41-TBA
* 44-Jared Sewell (Broken Arrow, Oklahoma)
* 44D-Phillip Dietz (Lake Ozark, Missouri)
* 44X-Wesley Smith (Nixa, Missouri)
* 45H-Harli White (Lindsay, Oklahoma)
* 45X-Bricen James (Albany, Oregon)
* 46-Kenney Johnson (Bethany, Connecticut)
* 46X (R)-Robert Spino (Wallingford, Connecticut)
* 47-Danny Stratton (Riverside, California)
* 47M-TBA
* 47X-Tim McCreadie (Watertown, New York)
* 47W-Dylan Westbrook (Scotland, Ontario, Canada)
* 49ER-Caleb Armstrong (New Castle, Indiana)
* 49JR (R)-Andy Bradley (Bloomington, Indiana)
* 50-Daniel Adler (St. Louis, Missouri)
* 51M (R)-Mark Maliepaard (Ripon, California)
* 52-Blake Hahn (Sapulpa, Oklahoma)
* 52X (R)-Craig Oaks (Marshall, Texas)
* 55DK-Nick Knepper (Belleville, Illinois)
* 55D-Nick Drake (Mooresville, North Carolina)
* 55X-C.J. Leary (Greenfield, Indiana)
* 56AP-Travis Young (Casey, Illinois)
* 57-Maria Cofer (Macdoel, California)
* 57B-Bill Balog (North Pole, Alaska)
* 57J-Jake Bubak (Arvada, Colorado)
* 57K-Kevin Studley (Brownsburg, Indiana)
* 67Z-Kasey Kahne (Enumclaw, Washington)
* 68B (R)-Blain Petersen (Essex, Iowa)
* 71G-Damion Gardner (Concord, California)
* 71H (R)-Hudson O'Neal (Martinsville, Indiana)
* 71R-Chase Johnson (Penngrove, California)
* 71T-Zac Taylor (Green River, Wyoming)
* 71WG-Weston Gorham (Colleyville, Texas)
* 73-Jac Haudenschild (Wooster, Ohio)
* 73K (R)-Kyle Hirst (Sacramento, California)
* 73S-Sheldon Haudenschild (Wooster, Ohio)
* 74HD (R)-Drew Rader (Findlay, Ohio)
* 75-TBA
* 75X-TBA
* 76E-TBA
* 76G-David Gravel (Watertown, Connecticut)
* 76J-Davey Jones (Warrendale, Pennsylvania)
* 76M-Brady Bacon (Broken Arrow, Oklahoma)
* 77J-John Klabunde (Ft. Calhoun, Nebraska)
* 80-Josh Hawkins (Whitehouse, Texas)
* 82M-Steven Shebester (Pauls Valley, Oklahoma)
* 83G-Matt Gilbert (Merriam, Kansas)
* 84-TBA
* 84S-Shaun Shapel (Wichita, Kansas)
* 85-Matt Johnson (Edmond, Oklahoma)
* 88-Scottie McDonald (Porter, Texas)
* 88N-D.J. Netto (Hanford, California)
* 88T-Tyler Nelson (Indianapolis, Indiana)
* 88W-Dustin Weland (Parker, Colorado)
* 91-Jeff Stasa (Kingman, Kansas)
* 91A-Chris Andrews (Sandusky, Ohio)
* 91K-Kevin Bayer (Bixby, Oklahoma)
* 91M-Chase Majdic (Redding, California)
* 91S-TBA
* 91T-Tyler Thomas (Collinsville, Oklahoma)
* 92M-Josh Most (Red Oak, Iowa)
* 95T (R)-Buddy Tubbs (Colorado Springs, Colorado)
* 96-Cody Brewer (Choctaw, Oklahoma)
* 97A-Austin O'Dell (Rochester, Illinois)
* 99-Colton Heath (Marysville, Washington)
* 99P-Dillon Welch (Carmel, Indiana)
* 101-Chuck McGillivray (Madison, South Dakota)
* 118-Scott Evans (Rhome, Texas)
* 321-Chad Winfrey (Gladstone, Missouri)
* 926-Morgan Frewaldt (Kansas City, Kansas)
* TBA-TBA
Entry List with sponsor information can be found at http://www.chilibowl.com/entries/manual.aspx