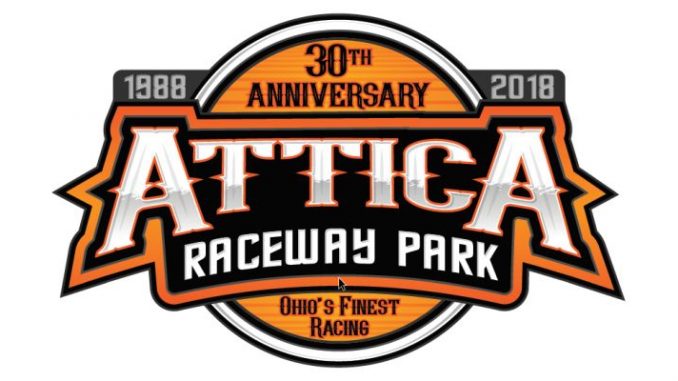 From Brian Liskai
ATTICA, Ohio (March 21, 2018) – Very cold temperatures, coupled with saturated grounds from a snow storm that hit the area Tuesday night has delayed the 2018 season opener at Attica Raceway Park for Friday, March 23. Because of the forecast, the Saturday, March 24 make-up date is also being cancelled.
"The high temperature for both Friday and Saturday was forecast to only get to 39 or 40 degrees with lows in the evening in the low 20s. Those temperatures are too hard on the race teams, fans and our employees," said Rex LeJeune, Director of Operations at Attica Raceway Park.
Attica Raceway Park will try again Friday, March 30 on Merrill Lynch/Construction Equipment and Supply Night with a rain date of Saturday, March 31. The Callie's Performance Products 410 Sprints, Summit Racing Equipment UMP Late Models and Fremont Fence 305 Sprints will be in action. Gates will open Friday at 5 p.m. with racing underway at 7:45 p.m. If Saturday's rain date is utilized, gates will open at 3 p.m. with racing getting underway at 6 p.m.
In just two weeks it's the 28th Annual Core & Main Spring Nationals, Friday and Saturday April 6 and 7 at "Ohio's Finest Racing" speed plant. April 6 will feature the All Pro Aluminum Heads FAST 410 Championship Series presented by Ohio Logistics battling for $5,000 to win along with the UMP Late Models and 305 sprints. On Saturday Tony Stewart's Arctic Cat All Star Circuit of Champions come to Attica for the first of five appearances of the season. The UMP Late Models and 305 sprints will once again be in action.
For more information go to www.atticaracewaypark.com or follow the track on Twitter @atticaracewyprk or on Facebook at www.facebook.com/atticaracewaypark and Instagram at attica_raceway_park.