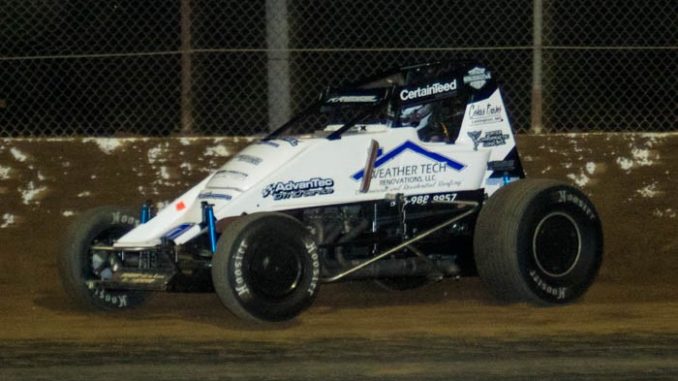 From Brooke Rowden
ELDON, Mo. (April 28, 2018) — Riley Kreisel picked up his first POWRi Lucas Oil WAR Sprint League win Saturday night, April 28 at Lake Ozark Speedway in Eldon, Missouri in a dominating performance over Mario Clouser and JD Black.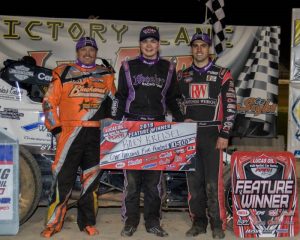 Kreisel led all 25 laps banging the cushion around the top of the racetrack. The battle for the remaining top five was close and exciting, but Kreisel would run away with the race lead to take home $1,500 in winnings plus a $100 bonus for winning the dash. Quinton Benson who won the B-Main and successfully transferred into the A-Main would be the Indy Race Parts Hard Charger award winner after starting 17th and finishing 4th. Slater Helt, Mitch Wissmiller, and Mario Clouser were heat race winners.
The POWRi Lucas Oil WAR Sprint League is back in action next weekend for a doubleheader. Friday, May 4 at Valley Speedway followed by Saturday night, May 5 at Lucas Oil Speedway. Both nights will also have the POWRi Lucas Oil National Midget League on tap.
Lake Ozark Speedway
Eldon, MO
Saturday April 28, 2018
POWRi WAR Sprint Car Series
Heat Race #1 (8 Laps): 1. 22S-Slater Helt, [4]; 2. 16-Anthony Nicholson, [2]; 3. 65-Chris Parkinson, [6]; 4. 99-Korey Weyant, [5]; 5. 82-Vinny Ward, [3]; 6. 73-Samuel Wagner, [1]; 7. 15B-Quinton Benson, [7]; 8. 11W-Wyatt Burks, [8]; 9. 55-Kenny Potter, [9]
Heat Race #2 (8 Laps): 1. 1-Mitch Wissmiller, [4]; 2. 56-Mitchell Davis, [3]; 3. 7R-JD Black, [8]; 4. 12-Wesley Smith, [2]; 5. 24H-Ty Hulsey, [9]; 6. 43-Frank Brown, [1]; 7. 2H-Luke Howard, [6]; 8. 77-Jack Wagner, [5]; 9. 31-Dylan Kadous, [7]
Heat Race #3 (8 Laps): 1. 6-Mario Clouser, [1]; 2. 90-Riley Kreisel, [9]; 3. 77K-Katlynn Leer, [5]; 4. 57-TJ Artz, [6]; 5. 30-Ryan Kent, [3]; 6. 8-Jeff Wingate, [2]; 7. 24C-Craig Carroll, [7]; 8. 41-Brad Wyatt, [4]; 9. 93-Steve Mahannah, [8]
Dash (6 Laps): 1. 90-Riley Kreisel, [4]; 2. 7R-JD Black, [1]; 3. 1-Mitch Wissmiller, [2]; 4. 22S-Slater Helt, [3]; 5. 6-Mario Clouser, [6]; 6. 65-Chris Parkinson, [5]
B Feature (12 Laps): 1. 15B-Quinton Benson, [1]; 2. 73-Samuel Wagner, [3]; 3. 43-Frank Brown, [4]; 4. 24C-Craig Carroll, [2]; 5. 11W-Wyatt Burks, [6]; 6. 41-Brad Wyatt, [8]; 7. 93-Steve Mahannah, [10]; 8. 55-Kenny Potter, [9]; 9. 2H-Luke Howard, [5]; 10. 77-Jack Wagner, [7]; 11. 31-Dylan Kadous, [11]
A Feature (25 Laps): 1. 90-Riley Kreisel, [1]; 2. 6-Mario Clouser, [5]; 3. 7R-JD Black, [2]; 4. 15B-Quinton Benson, [17]; 5. 65-Chris Parkinson, [6]; 6. 16-Anthony Nicholson, [9]; 7. 24H-Ty Hulsey, [10]; 8. 99-Korey Weyant, [12]; 9. 24C-Craig Carroll, [20]; 10. 22S-Slater Helt, [4]; 11. 12-Wesley Smith, [13]; 12. 56-Mitchell Davis, [7]; 13. 30-Ryan Kent, [15]; 14. 57-TJ Artz, [11]; 15. 82-Vinny Ward, [14]; 16. 73-Samuel Wagner, [18]; 17. 8-Jeff Wingate, [16]; 18. 1-Mitch Wissmiller, [3]; 19. 77K-Katlynn Leer, [8]; 20. 43-Frank Brown, [19]
Winged 360 Sprint Cars
Heat Race #1 (8 Laps): 1. 28-Jonathan Cornell, 01:41.723[5]; 2. 9M-Tyler Blank, 01:44.663[1]; 3. 73-Lane Stone, 01:50.912[7]; 4. (DNF) 1P-Curtis Evans, [2]; 5. (DNF) 33M-Mason Daniel, [3]; 6. (DNF) 49B-Ben Brown, [4]; 7. (DNF) 85-Forrest Sutherland, [6]
Heat Race #2 (8 Laps): 1. 11-Roger Crockett, 01:40.711[1]; 2. 21-Miles Paulus, 01:42.604[2]; 3. 14-Randy Martin, 01:43.300[6]; 4. 3-Ayrton Gennetten, 01:45.570[3]; 5. 89-Todd McVay, 01:46.723[4]; (DNS) 33-Austin Alumbaugh, 01:46.723
Heat Race #3 (8 Laps): 1. 14K-Kyle Bellm [2]; 2. 0-Taylor Walton [4]; 3. 4-Evan Martin [3]; 4. 37H-Nicholas Howard [1]; 5. 6-Bryan Grimes [5]; 6. 99-Brantley Edwards [6]
Dash (6 Laps): 1. 14-Randy Martin [2]; 2. 11-Roger Crockett [1]; 3. 14K-Kyle Bellm [4]; 4. 0-Taylor Walton [3]; 5. 28-Jonathan Cornell [6]; 6. 73-Lane Stone [5]
A-Main (25 Laps): 1. 14-Randy Martin [1]; 2. 11-Roger Crockett [3]; 3. 14K-Kyle Bellm [4]; 4. 28-Jonathan Cornell [2]; 5. 0-Taylor Walton [5]; 6. 9M-Tyler Blank [7]; 7. 21-Miles Paulus [6]; 8. 4-Evan Martin [8]; 9. 33M-Mason Daniel [14]; 10. 6-Bryan Grimes [12]; 11. 73-Lane Stone [19]; 12. 99-Brantley Edwards [15]; 13. 1P-Curtis Evans [10]; 14. 37H-Nicholas Howard [11]; 15. 89-Todd McVay [13]; 16. (DNF) 3-Ayrton Gennetten [9]; 17. (DNF) 85-Forrest Sutherland, [17]; 18. (DNF) 49B-Ben Brown, [16]; (DNS) 33-Austin Alumbaugh,
Winged 305 Sprint Cars
Heat Race #1 (8 Laps): 1. 48-Jake Martens [1]; 2. 55-Jack Potter [2]; 3. 18X-Nathan Ryun [3]; 4. (DNF) 00-P.J. Grimes [5]; (DNS) 02-Matt Simpson,
A-Main (15 Laps): 1. 55-Jack Potter [2]; 2. 48-Jake Martens [1]; 3. 18X-Nathan Ryun [3]; 4. (DNF) 00-P.J. Grimes [4]; (DNS) 02-Matt Simpson,