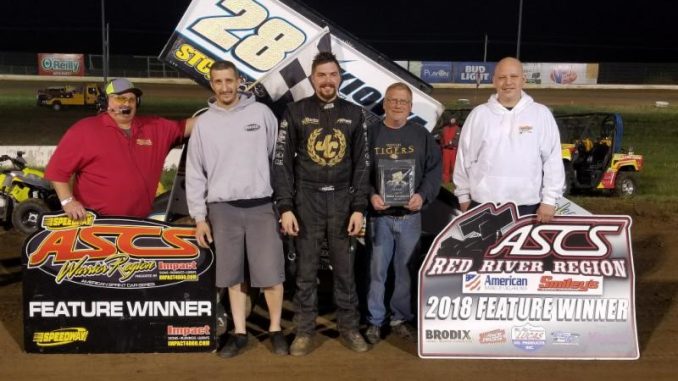 From Bryan Hulbert
TOPEKA, Kan. (May 4, 2018) – Taking on the American Bank of Oklahoma ASCS Red River Region, in addition to the Speedway Motors ASCS Warrior Region, the final laps of Friday's A-Feature at Heartland Motorsports Park saw Jonathan Cornell able to best the 20-car lineup.
Giving chase from the fourth starting spot, the race at the font of the field pitted wily veteran again young upstart was Mike Goodman traded the top spot four times in the first four laps before Tyler Thomas gained the advantage to lead until Lap 22.
With Jonathan giving chase, the field worked Lap 23 with Cornell setting up the slide in turns three and four. Completing the slide for the top spot, it would end up begin the pass for the win as Jonathan Cornell picked up his first ASCS Red River score and 40th with the ASCS Warrior Region.
Tyler Thomas held on for second with Mike Goodman on the final podium step. Wyatt Burks and Nick Howard made up the top-five. Mile Paulus worked from 10th to sixth, followed by Morgan Turpen, Terry Gray, and Alex Sewell who charged from 20th to ninth. Mason Daniel made up the top-ten.
The two regional tours invade Lucas Oil Speedway in Wheatland, Mo. next with action on Saturday, May 5 getting underway with Hot Laps at 6:30 P.M. (CT).
For other news, notes, and information on the American Sprint Car Series, from the National Tour to any of the Regional Tours that make up the over 150 across the ASCS Nation in 2018, log onto http://www.ascsracing.com, follow on Facebook, on Instagram, and on Twitter (@LucasOilASCS).
Race Results:
ASCS Red River and ASCS Warrior Region
Heartland Motorsports Park – Topeka, Kan.
Friday, May 4, 2018
Car Count: 20
Heat 1 (8 Laps): 1. 91T-Tyler Thomas, [2]; 2. 4-Evan Martin, [4]; 3. 21-Miles Paulus, [3]; 4. 10-Terry Gray, [6]; 5. 33M-Mason Daniel, [5]; 6. 1P-Curtis Evans, [1]; 7. 5M-Charles McManus, [7]
Heat 2 (8 Laps): 1. 92J-J.R. Topper, [2]; 2. 28-Jonathan Cornell, [4]; 3. 37H-Nick Howard, [5]; 4. 10M-Morgan Turpen, [6]; 5. 15D-Andrew Deal, [3]; 6. 26M-Fred Mattox, [7]; 7. 6A-Aidan Roosevans, [1]
Heat 3 (8 Laps): 1. 11W-Wyatt Burks, [1]; 2. 11G-Mike Goodman, [6]; 3. 90-Lance Norick, [4]; 4. 14K-Kyle Bellm, [3]; 5. 20G-Jake Greider, [5]; (DNS) 8-Alex Sewell,
A Feature (25 Laps): 1. 28-Jonathan Cornell, [4]; 2. 91T-Tyler Thomas, [3]; 3. 11G-Mike Goodman, [1]; 4. 11W-Wyatt Burks, [5]; 5. 37H-Nick Howard, [2]; 6. 21-Miles Paulus, [10]; 7. 10M-Morgan Turpen, [9]; 8. 10-Terry Gray, [8]; 9. 8-Alex Sewell, [20]; 10. 33M-Mason Daniel, [13]; 11. 4-Evan Martin, [7]; 12. 14K-Kyle Bellm, [12]; 13. 90-Lance Norick, [11]; 14. 15D-Andrew Deal, [16]; 15. 26M-Fred Mattox, [15]; 16. 92J-J.R. Topper, [6]; 17. 6A-Aidan Roosevans, [19]; 18. 1P-Curtis Evans, [18]; 19. 20G-Jake Greider, [14]; 20. 5M-Charles McManus, [17]