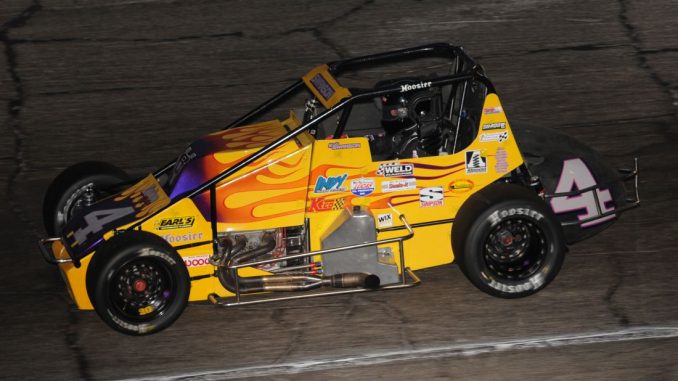 By T.J. Buffenbarger
ANDERSON, Ind. (May 26, 2017) — One of the most famous moments in Indianapolis 500 history was when Danny Sullivan won the race after spinning in 1985. Kody Swanson can add "spin to win" to his growing resume after winning the 70th Pay Less Little 500 at Anderson Speedway.
After spinning with less than 100 laps to go Swanson made up a lap and passed teammate Shane Hollingsworth for the lead and kept a charging Jacob Wilson at bay.
"We didn't quit, we didn't give up, and cannot believe these guys gave me the second stop we did and we only lost two laps after I stalled it here at Anderson. What an incredible team."
The win was Swanson's third of the weekend following his Hoosier 100 and Carb Night Classic victories on Thursday and Friday. Swanson's second career Little 500 victory was worth $25,000, but also give his car owner Gene Nolen his first Little 500 victory.
"Everyone that is part of this Nolen team. Not only all the guys on the #4 car I recruited to come out and help me, but everyone on the #20 and the #3 put so much into this. This is one big group effort and couldn't be happier to get one for Gene (Nolen)."
Front row starters Aaron Pierce and Davey Hamilton Jr. set a torrid pace during the first half of the race with Swanson keeping them within sight. After 190 laps Hamilton started to show smoke and dropped back dramatically while Pierce kept up his frantic pace.
Pierce was able to maintain the top spot, but the halfway point was coming up and Pierce had not made his mandatory first pit stop. At first it appeared Pierce was bailed out when the caution appeared on lap 147 when Kyle O'Gara slowed coming out of the pits. When Pierce made his pit stop mechanical issues became evident and his crew scrambled to get the hood off the car. Pierce eventually rejoined the race several laps down.
That same pit sequence Jacob Wilson was slowed when a push truck got over his car and hand to realign to push off, losing precious time in the pits.
Shane Hollingsworth assumed the top position with Bobby Santos behind him as the only two cars on the lead lap at that time. On lap 300 Santos race came to an end when he got into the wall in turn two. Feeling he has assistance getting into the wall, Santos threw his helmet at another driver on the front stretch under caution to show his frustration.
After more pit stops Swanson ended up on a lap of his own ahead of Wilson, Scotty Hampton, Hollingsworth, and Tyler Roahrig. Wilson was able to hit his lap back and made up huge chunks of time to take the lead on lap 382.
The handle on Swanson's car began to fade, losing ground to the leaders. Swanson then ended up getting sideways and spun in turn four, bringing out the caution on lap 411. With a quick pit stop Swanson only lost a pair of laps in the exchange.
With Hollingsworth back in the lead Swanson and Wilson drove back through the field to regain a lap and were fast enough over the last 90 laps to close on Hollingsworth for the lead. While chasing the leaders Wilson and Swanson raced each other hard for the second position with Swanson eventually taking the position on lap 470.
Swanson quickly closed on his teammate and made quick work of passing Hollingsworth for the lead on lap 477. Wilson followed Swanson around to take second from Hollingsworth, but over the final 20 laps could not keep pace with Swanson. Wilson held on for second with Hollingsworth holding onto the final podium position.
70th Pay Less Little 500
Andeson Speedway
Anderson, IN
1. 4 – Kody Swanson, 500 Laps
2. 07 – Jacob Wilson, 500 Laps
3. 20 – Shane Hollingsworth, 499 Laps
4. 68 – Mickey Kempgens, 495 Laps
5. 59 – Scotty Hampton, 493 Laps
6. 5 – Chris Windom, 492 Laps
7. 27 – Brian Gerster, 490 Laps
8. 7 – Caleb Armstrong, 489 Laps
9. 99 – Ken Schrader, 488 Laps
10. 14 – Shane Cottle, 488 Laps
11. 91 – Troy DeCaire, 487 Laps
12. 18 – Travis Welpott, 484 Laps
13. 04 – C.J. Leary, 481 Laps
14. 55 – Garrett Green, 447 Laps
15. 56 – Tyler Roahrig, 432 Laps
16. 26 – Aaron Pierce, 377 Laps
17. 24 – JoJo Helberg, 308 Laps
18. 22 – Bobby Santos, 299 Laps
19. 41 – Issac Chapple, 265 Laps
20. 31 – Shane Butler, 262 Laps
21. 87 – Ryan Litt, 256 Laps
22. 1 – Davey Hamilton, 252 Laps
23. 8 – Chris Neuenschwander, 229 Laps
24. 67 – Kyle O'Gara, 226 Laps
25. 69 – Eric Gordon, 171 Laps
26. 28 – Johnny Gilbertson, 153 Laps
27. 71 – Kevin Thomas Jr, 125 Laps
28. 3 – Jerry Coons Jr, 108 Laps
29. 9 – John Inman, 48 Laps
30. 2 – Tanner Swanson, 47 Laps
31. 88 – Jimmy McCune, 44 Laps
32. 74 – Tony Main, 25 Laps
33. 44 – Brian Tyler, 6 Laps.