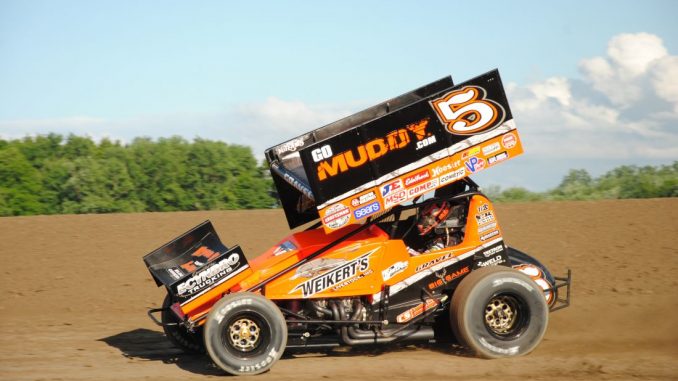 From T.J. Buffenbarger
LAKE ODESSA, Mi. (June 1, 2018) – David Gravel won the World of Outlaws Craftsman Sprint Car Series feature in convincing fashion Friday night at I-96 speedway. Gravel from Watertown, CT drove by Donny Schatz and Sheldon Haudenschild on a restart to take the lead and drove away from the field during three restarts over the final six laps for the victory. The win was Gravel's third victory of the season and second win in a row at I-96 in World of Outlaws competition.
Sheldon Haudenschild and Joey Saldana made up the front row with Haudenschild driving away with the lead. Haudenschild led in convincing fashion over the opening 14 laps until the red flag appeared for Chase Ridenour flipping after contacting the wall in turn one. Ridenour was alert talking with the safety crew but was transported to a local area hospital.
During the restart Giovani Scelzi used his momentum to blast through the field but made contact with Daryn Pittman on the front stretch in the process. While both Scelzi and Pittman avoided what could have been a major catastrophe Scelzi slowed with a flat left rear tire. Scelzi's crew was able to change out the tire in time for him to rejoin the field.
The lap 16 restart proved to be the critical junction in the feature. Gravel used his momentum down the backstretch to drive by Donny Schatz and Haudenschild to take the lead. Just after moving into the runner up spot Schatz slowed down the front stretch. Jason Johnson could not avoid Schatz's slowing car, tagging his left rear and going for a wild flip into turn one. Johnson emerged from the car under his own power. After changing the tire Schatz was able to rejoin the tail of the field.
After a caution for Ian Madsen sliding of track Gravel pulled away again while Schatz worked his way through the field along with Brent Marks, who had mechanical problems earlier in the evening and had to transfer through the B-Main.
When Haudenschild brought out the caution when he slowed on lap 29 Schatz was up to fifth with Marks in sixth.
Over the final six laps there were two cautions for spins involving Cory Eliason and Ryan Ruhl. During the green flag action Pittman slid off turn four and allowed Schatz and Marks to move up one more position.
Up front it was all Gravel taking the victory. Shane Stewart continued his recent resurgence since the event in Charlotte over Memorial Day weekend with a runner up finish while Brad Sweet rounded out the podium. Schatz finished fourth after having to go to the tail with that flat tire while Marks picked up hard charger honors going rom 22nd to 5th.