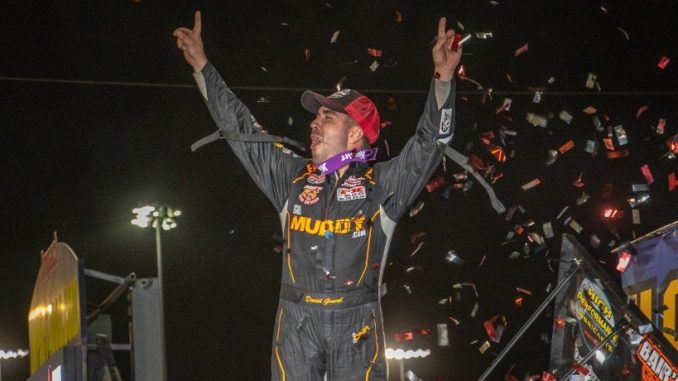 KNOXVILLE, Ia. (June 30, 2018) — KNOXVILLE, Iowa (June 30, 2018) – David Gravel won a thriller Saturday night at Knoxville Raceway in the finale of the weekend's Brownells Big Guns Bash! The Watertown, Connecticut driver's win was his third career at Knoxville, and was worth $10,000 aboard the CJB Motorsports #5. The 360 main event was shortened to 11 laps due to inclement weather in the area. Ryan Giles picked up his second win of the season and the fourth in his career here.
Donny Schatz led the 25-lap World of Outlaws main event early on ahead of a battle for second between Brad Sweet and Brian Brown. Logan Schuchart was fourth and Cory Eliason fifth. David Gravel asserted himself on the second go-around, surging from sixth to fourth. Justin Henderson suffered damage to his right rear and came to a stop with three laps in.
The double-file restart had Schatz choosing the inside line ahead of Sweet, Brown, Gravel, Schuchart and Eliason. When the green fell, Gravel fought by Brown for third, and Schuchart used a slider to move into fourth two laps later.
Sweet would reel in Schatz and slid in front of him to lead lap nine. Meanwhile, Schuchart was losing power. Schatz battled back by for the point, but the move was negated when the yellow came out for Schuchart. Sweet would choose the inside line on the restart with Schatz beside him, and Gravel behind.
Gravel would duck under the entire front row heading into turn one and slide up into the lead. Sweet and Schatz put on a furious battle the next few laps for second, while Brown rode in fourth. Schatz would take the runner-up spot on lap 14. As the leaders approached traffic for the first time, with seventeen laps down, Brooke Tatnell brought out the final caution when he stopped in turn three.
On the restart, Gravel held off Schatz, but it wasn't easy. The two traded the lead briefly, before Gravel began to pull away to end over Schatz, Sweet, Brown and 23rd starting hard-charger Davey Heskin. Ian Madsen, Shane Stewart (from 17th), Eliason, Brent Marks (from 24th) and Kerry Madsen rounded out the top ten. Sweet and Schatz set quick time in their respective groups, while Brown, Eliason, Schatz and Terry McCarl won heats. Schatz won the Dash and Kraig Kinser took the B main.
"Who's ready for Nationals?" said Gravel in Victory Lane. "We have unfinished business here. We were really good all day yesterday, but for qualifying. We got ourselves in the Dash there. We wanted to start further towards the front, and whoever had the lead there, Donny, me or Brad, I think that's probably who was going to win the race. Luckily, I was able to get by those guys on the restart. I knew what he (Schatz on the second restart) was going to do. I was thinking I was going to get a good enough start where he couldn't roll around me. I knew he was going to pick up the crumbles in two about halfway up. I knew I had to hit my line. We just had enough. He gave me room. He's a first-class racer. I'm happy to race with him most of these nights."
The 18-lap 360 feature would ultimately be shortened. Before a lap could get in, a tangle involving Brant O'Banion, Shayle Bade and Joe Beaver slowed things. Ryan Giles would take the lead ahead of Nate Van Haaften, Matt Moro, Clint Garner and Calvin Landis early. Both Moro and Garner would get by Van Haaften for second and third. Thomas Kennedy moved into the top five by the third lap.
Kennedy battled with Van Haaften, taking fourth on the sixth lap. Meanwhile, Giles, Moro and Garner were headed for heavy lapped traffic. Garner worked his way by Moro on lap nine. Giles weaved through traffic before a lap eleven crash involving McKenna Haase, who appeared to have something break on the car. The race was deemed complete with inclement weather in the area.
Giles win came over Garner, Moro, Kennedy and Sawyer Phillips. Landis, Van Haaften, Mason Daniel, Cody Ledger and Ryan Bickett completed the top five. Van Haaften set quick time for the 360's, while Phillips, Landis and Ledger won heats.
Join us next Saturday, July 7 for Dennison Racing Tee's and Jersey Freeze Night! The 410, 360 (including the Nebraska 360's) and 305 sprint cars will all be in action! For more information, visit www.KnoxvilleRaceway.com!
Brownell Big Gun Bash
Knoxville Raceway
Knoxville, IA
Saturday June 30, 2018
World of Outlaws Craftsman Sprint Car Series
Time Trials Group One, 1. 49, Brad Sweet, Grass Valley, CA (11), 15.399; 2. 83, Cory Eliason, Selma, CA (14), 15.582; 3. 21, Brian Brown, Grain Valley, MO (12), 15.635; 4. 17, Sheldon Haudenschild, Wooster, OH (3), 15.637; 5. 18, Ian Madsen, St. Marys, NSW, Aust (1), 15.653; 6. 5, David Gravel, Watertown, CT (5), 15.654; 7. 2M, Kerry Madsen, St. Marys, NSW, Aust (9), 15.734; 8. 9, Daryn Pittman, Owasso, OK (2), 15.735; 9. 2, Shane Stewart, Bixby, OK (13), 15.758; 10. 11K, Kraig Kinser, Bloomington, IN (6), 15.849; 11. 19, Brent Marks, Myerstown, PA (15), 15.869; 12. 55, Brooke Tatnell, Sans Souci, NSW, Aus (17), 15.881; 13. 7S50, Keoni Texeira, Honolulu, HI (4), 15.898; 14. 09, Matt Juhl, Tea, SD (7), 15.911; 15. 41S, Dominic Scelzi, Fresno, CA (8), 15.916; 16. 20, AJ Moeller, Rockwell City, IA (18), 16.029; 17. 49J, Josh Schneiderman, West Burlington, IA (10), 16.095; 18. 15M, Bobby Mincer, Burlington, IA (16), 16.587; 19. 19W, Bob Weuve, Newton, IA (19), 17.094;
Time Trials Group Two, 1. 15, Donny Schatz, Fargo, ND (10), 15.671; 2. 1A, Jacob Allen, Hanover, PA (11), 15.867; 3. 1S, Logan Schuchart, Hanover, PA (19), 15.899; 4. 24, Terry McCarl, Altoona, IA (1), 15.951; 5. 12, Lynton Jeffrey, Sydney, NSW, Aust. (2), 16.066; 6. W20, Greg Wilson, Benton Ridge, OH (5), 16.069; 7. 7S, Jason Sides, Bartlett, TN (6), 16.114; 8. 71, Gio Scelzi, Fresno, CA (9), 16.135; 9. 2KS, Austin McCarl, Altoona, IA (12), 16.155; 10. 83H, Justin Henderson, Tea, SD (16), 16.165; 11. 71A, RJ Johnson, Tampa, FL (8), 16.269; 12. 3, Sammy Swindell, Germantown, TN (13), 16.28; 13. 21AU, Jordyn Brazier, Sydney, NSW, Aust. (3), 16.292; 14. 9P, Rager Phillips, Pleasantville, IA (14), 16.331; 15. 56N, Davey Heskin, St. Michael, MN (17), 16.41; 16. 97G, Hunter Schuerenberg, Sikeston, MO (4), 16.446; 17. 7, Carson McCarl, Altoona, IA (7), 16.468; 18. 7W, Tasker Phillips, Pleasantville, IA (18), 16.543; 19. 75, Glen Saville, Razorback, NSW, Aust (15), 16.721;
Heat 1, 8 Laps, No Time: 1. Brian Brown (2); 2. Brad Sweet (1); 3. Kerry Madsen (4); 4. Ian Madsen (3); 5. Shane Stewart (5); 6. Dominic Scelzi (8); 7. Brent Marks (6); 8. Keoni Texeira (7); 9. Josh Schneiderman (9); 10. Bob Weuve (10);
Heat 2, 8 Laps, No Time: 1. Cory Eliason (1); 2. David Gravel (3); 3. Sheldon Haudenschild (2); 4. Daryn Pittman (4); 5. Brooke Tatnell (6); 6. Matt Juhl (7); 7. Kraig Kinser (5); 8. Bobby Mincer (9); 9. AJ Moeller (8);
Heat 3, 8 Laps, No Time: 1. Donny Schatz (1); 2. Logan Schuchart (2); 3. Austin McCarl (5); 4. Jason Sides (4); 5. Jordyn Brazier (7); 6. Davey Heskin (8); 7. RJ Johnson (6); 8. Lynton Jeffrey (3); 9. Carson McCarl (9);
Heat 4, 8 Laps, No Time: 1. Terry McCarl (2); 2. Jacob Allen (1); 3. Sammy Swindell (6); 4. Justin Henderson (5); 5. Gio Scelzi (4); 6. Rager Phillips (7); 7. Tasker Phillips (9); 8. Hunter Schuerenberg (8); 9. Greg Wilson (3);
Dash, 6 Laps, No Time: 1. Donny Schatz (1); 2. Brad Sweet (2); 3. Logan Schuchart (4); 4. Cory Eliason (3); 5. David Gravel (6); 6. Brian Brown (7); 7. Jacob Allen (5); 8. Terry McCarl (8);
B main, 12 Laps, No Time: 1. Kraig Kinser (0); 2. Greg Wilson (2); 3. Davey Heskin (7); 4. Brent Marks (0); 5. Matt Juhl (5); 6. Dominic Scelzi (6); 7. Josh Schneiderman (15); 8. Tasker Phillips (16); 9. Rager Phillips (14); 10. Hunter Schuerenberg (9); 11. Bobby Mincer (11); 12. Carson McCarl (10); 13. Bob Weuve (12); 14. RJ Johnson (4); 15. Keoni Texeira (3); 16. AJ Moeller (8); 17. Glen Saville (13);
A main, 25 Laps, No Time: 1. David Gravel (5); 2. Donny Schatz (1); 3. Brad Sweet (2); 4. Brian Brown (6); 5. Davey Heskin (23); 6. Ian Madsen (13); 7. Shane Stewart (17); 8. Cory Eliason (4); 9. Brent Marks (24); 10. Kerry Madsen (9); 11. Sheldon Haudenschild (11); 12. Austin McCarl (10); 13. Jason Sides (14); 14. Daryn Pittman (15); 15. Greg Wilson (22); 16. Terry McCarl (8); 17. Gio Scelzi (20); 18. Jordyn Brazier (18); 19. Kraig Kinser (21); 20. Jacob Allen (7); 21. Brooke Tatnell (19); 22. Logan Schuchart (3); 23. Justin Henderson (16); 24. Sammy Swindell (12);
360 RESULTS
Time Trials, 1. 3, Nate Van Haaften, Otley, IA (2), 16.12; 2. 9, Ryan Giles, Grimes, IA (9), 16.13; 3. 2M, Matt Moro, Polk City, IA (6), 16.311; 4. 40, Clint Garner, Sioux Falls, SD (13), 16.339; 5. 15, Christian Bowman, Altoona, IA (7), 16.361; 6. 33M, Mason Daniel, Springville, CA (18), 16.374; 7. 55, McKenna Haase, Des Moines, IA (15), 16.4; 8. 70, Calvin Landis, Knoxville, IA (4), 16.445; 9. 18, Ryan Roberts, Aurora, NE (12), 16.515; 10. 3P, Sawyer Phillips, Pleasantville, IA (11), 16.559; 11. 5M, Troy Manteufel, St. Peter, MN (5), 16.61; 12. 21K, Thomas Kennedy, Winnipeg, MB, Can. (1), 16.62; 13. 40C, Cody Wehrle, Burlington, IA (21), 16.623; 14. 13JM, Jordan Martens, Sioux Falls, SD (3), 16.706; 15. 8L, Tom Lenz, Marion, IA (24), 16.771; 16. 17B, Ryan Bickett, Ramona, SD (23), 16.774; 17. 24N, Nathan Mills, Bondurant, IA (20), 16.797; 18. 35L, Cody Ledger, Omaha, NE (19), 16.817; 19. 53, Joe Beaver, Knoxville, IA (22), 16.865; 20. 25, Dylan Peterson, Hartford, SD (16), 16.873; 21. 03, Shayle Bade, Lincoln, NE (10), 16.924; 22. 6, Mitchell Alexander, Knoxville, IA (14), 16.954; 23. 76, Brad Comegys, Bondurant, IA (8), 18.012; 24. 47, Brant O'Banion, Sioux Falls, SD (17), No Time;
Heat 1, 7 Laps, No Time: 1. Sawyer Phillips (3); 2. Ryan Bickett (1); 3. Nate Van Haaften (6); 4. Clint Garner (5); 5. McKenna Haase (4); 6. Cody Wehrle (2); 7. Joe Beaver (7); 8. Mitchell Alexander (8);
Heat 2, 7 Laps, No Time: 1. Calvin Landis (4); 2. Ryan Giles (6); 3. Christian Bowman (5); 4. Nathan Mills (1); 5. Dylan Peterson (7); 6. Jordan Martens (2); 7. Brad Comegys (8); 8. Troy Manteufel (3);
Heat 3, 7 Laps, No Time: 1. Cody Ledger (1); 2. Tom Lenz (2); 3. Thomas Kennedy (3); 4. Ryan Roberts (4); 5. Matt Moro (6); 6. Mason Daniel (5); 7. Shayle Bade (7); 8. Brant O'Banion (8);
A main, 18 Laps, No Time: 1. Ryan Giles (1); 2. Clint Garner (5); 3. Matt Moro (6); 4. Thomas Kennedy (11); 5. Sawyer Phillips (7); 6. Calvin Landis (4); 7. Nate Van Haaften (2); 8. Mason Daniel (9); 9. Cody Ledger (13); 10. Ryan Bickett (14); 11. Dylan Peterson (19); 12. Cody Wehrle (16); 13. Christian Bowman (3); 14. McKenna Haase (8); 15. Brad Comegys (22); 16. Nathan Mills (15); 17. Tom Lenz (12); 18. Ryan Roberts (10); 19. Troy Manteufel (18); 20. Jordan Martens (17); 21. Joe Beaver (20); 22. Mitchell Alexander (23); 23. Shayle Bade (21); 24. Brant O'Banion (24);