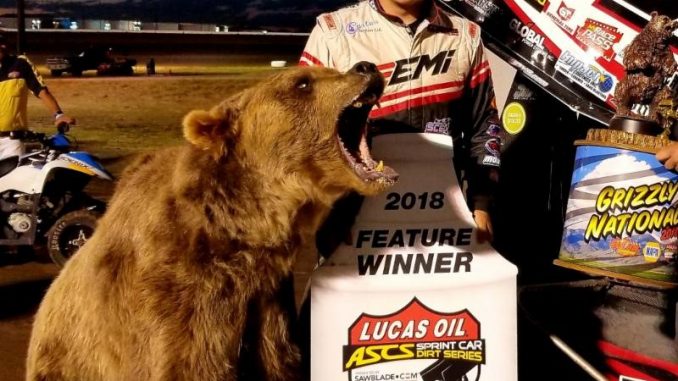 From Bryan Hulbert
BELGRADE, Mont. (July 7, 2018) – Becoming the second Canadian driver to score a victory with the Lucas Oil American Sprint Car Series presented by Sawblade.com, Skylar Gee picked a Bear of a night to get it done as the Strongs Crane Service No. 99 led start to finish in the finale of the NAPA Grizzly Nationals at Gallatin Speedway.
The 143rd driver to earn a victory with the Lucas Oil American Sprint Car Series presented by Sawblade.com since 1993, Gee is the 12th different winner and third first time winner on the 2018 season.
Asked what it meant to win his first National Tour event at the Gallatin Speedway and get the chance to stand with Adam the Grizzly Bear, Skylar replied, "This is awesome. I wanted to win this race so bad, I don't think I've ever driven a Racecar so hard in my life. This race is just so cool. I've wanted to do this since they first announced first started this race, so this is like a dream come true."
Joined by his Mother and Father on the front straightaway, the words were few, but Tim addressed the nearly sold-out crowd saying, "I'm struggling for words. I'm just super proud of him. It's awesome to do it here. He won his first ASCS feature here with the Frontier Region, and now he gets to win his first National Tour race here. I'm glad these fans got to see this."
Locked wheel to wheel with Friday night winner, Matt Covington, to open the 25-lap affair the two were inseparable with Gee gaining the advantage as the two cars completed the opening revolution. The race's lone caution on Lap 3 for Jordan Milne, who spun at the exit of the fourth turn, the restarts saw Covington and Wayne Johnson in pursuit. Able to fend off any challenge, Gee laid the right rear to the cushion before finding traffic four laps later.
Moving top to bottom through traffic, Gee continued to pull away from the race for second with sixth starting Blake Hahn moving to the runner-up spot just prior Lap 10. With a distinct bottom and top groove to choose from, Hahn began making up ground on Gee who was mired in lapped traffic. Pulling to within 10 car lengths with 10 laps to run, Gee finally broke into clear race track to again pull away.
Down to the final four laps, Skylar again found himself surrounded by lapped traffic. Threading the needle with inches to spare at times, Gee was able to keep his nose clean with an advantage of 3.041 seconds at the finish. Blake Hahn crossed second with Sam Hafertepe, Jr. rolling from 10th to complete the night's podium. Matt Covington would end up fourth with Wayne Johnson making the top-five.
Travis Rilat peddled his way to sixth from 13th with Kelly Miller, who transferred to the feature via the night's second BMRS B-Feature, picking up the night's CP-Carrillo Hard Charger Award with an impressive drive from 18th to seventh. Harli White ended up eighth with Seth Bergman ninth and Chris Martin tenth.
The Lucas Oil American Sprint Car Series presented by Sawblade.com moves east for their next round of action at Gillette Thunder Speedway on Wednesday, July 11 in Gillette, Wyoming. Admission for Wednesday night is $20 with kids 10 and under free into the Grandstands. Advance ticket sales can be found at http://www.racinboys.com. Information, directions, and more can be found online at http://www.gillettespeedway.com.
For other news, notes, and information on the American Sprint Car Series, from the National Tour to any of the Regional Tours that make up the nearly 150 races across the ASCS Nation in 2018, log onto http://www.ascsracing.com, follow on Facebook, on Instagram, and on Twitter (@LucasOilASCS).
Race Results:
Lucas Oil ASCS National Tour
ASCS Frontier Region
Gallatin Speedway – Belgrade, Mont.
3rd annual Grizzly Nationals – Night 2
Saturday, July 7, 2018
Car Count: 37
Event Count: 38
Heat Races (Top 12 advance to the A-Feature)
Heat 1 (8 Laps): 1. 52-Blake Hahn, [1]; 2. 27DD-David Hoiness, [2]; 3. 5J-Jamie Ball, [4]; 4. 74U-Chauncey Filler, [3]; 5. 38B-Bryan Brown, [7]; 6. 56-Shad Petersen, [5]; 7. 8X-Randy Dolberg, [6]; 8. 4P-John (J.R. Nelson Nelson, [9]; 9. 2X-Mike Manwill, [8]
Heat 2 (8 Laps): 1. 3-Jordan Milne, [2]; 2. 35M-Cody Masse, [1]; 3. 9K-Kory Wermling, [3]; 4. 77X-Alex Hill, [7]; 5. 88-Travis Reber, [4]; 6. 33-Robert DeHaan, [5]; 7. 10B-Brody Anderson, [8]; 8. 31-Shane Moore, [6]
Heat 3 (8 Laps): 1. 23-Seth Bergman, [2]; 2. 44-Chris Martin, [4]; 3. 4-Bill Carey, [1]; 4. 37-Trever Kirkland, [7]; 5. 2JR-Kelly Miller, [8]; 6. 2-James Setters, [5]; 7. 4N-John Nelson, [6]; 8. 77-Damon McCune, [3]
Heat 4 (8 Laps): 1. 45X-Johnny Herrera, [1]; 2. 15H-Sam Hafertepe Jr, [3]; 3. 28-Scott Bogucki, [4]; 4. 1-Travis Rilat, [7]; 5. 14-Ben Holmberg, [2]; 6. 65-T.J. Thorne, [6]; 7. 24-Leroy Brush, [5]; (DNS) 23N-J.J. Hickle,
BMRS B-Features (Top 3 in each advance to the A-Feature)
B Feature 1 (12 Laps): 1. 28-Scott Bogucki, [1]; 2. 9K-Kory Wermling, [2]; 3. 38B-Bryan Brown, [3]; 4. 88-Travis Reber, [4]; 5. 33-Robert DeHaan, [6]; 6. 77-Damon McCune, [9]; 7. 10B-Brody Anderson, [7]; 8. 65-T.J. Thorne, [5]; 9. 4N-John Nelson, [8]; (DNS) 23N-J.J. Hickle, ; (DNS) 24-Leroy Brush,
B Feature 2 (12 Laps): 1. 2JR-Kelly Miller, [1]; 2. 74U-Chauncey Filler, [3]; 3. 14-Ben Holmberg, [4]; 4. 2-James Setters, [6]; 5. 56-Shad Petersen, [5]; 6. 4-Bill Carey, [2]; 7. 8X-Randy Dolberg, [7]; 8. 31-Shane Moore, [9]; 9. (DNF) 4P-John (J.R. Nelson Nelson, [8]; 10. (DNF) 2X-Mike Manwill, [10]
Protect the Harvest A-Feature
A Feature (25 Laps): 1. 99-Skylar Gee, [1]; 2. 52-Blake Hahn, [6]; 3. 15H-Sam Hafertepe Jr, [10]; 4. 95-Matt Covington, [2]; 5. 2C-Wayne Johnson, [4]; 6. 1-Travis Rilat, [13]; 7. 2JR-Kelly Miller, [18]; 8. 17W-Harli White, [3]; 9. 23-Seth Bergman, [8]; 10. 44-Chris Martin, [7]; 11. 5J-Jamie Ball, [16]; 12. 45X-Johnny Herrera, [9]; 13. 27DD-David Hoiness, [14]; 14. 77X-Alex Hill, [11]; 15. 37-Trever Kirkland, [12]; 16. 28-Scott Bogucki, [17]; 17. 74U-Chauncey Filler, [20]; 18. 35M-Cody Masse, [15]; 19. 3-Jordan Milne, [5]; 20. 9K-Kory Wermling, [19]; 21. 38B-Bryan Brown, [21]; 22. 33-Robert DeHaan, [23]; 23. 14-Ben Holmberg, [22]
Lap Leader(s): Skylar Gee 1-25
CP-Carrillo Hard Charger: Kelly Miller +11
FSR High Point Driver: Jordan Milne
Provisional(s): Robert DeHaan (Regional)
2018 ASCS National Driver Points (Top 15): 1. Sam Hafertepe, Jr. 2,674; 2. Seth Bergman 2,650; 3. Blake Hahn 2,603; 4. Wayne Johnson 2,481; 5. Matt Covington 2,423; 6. Johnny Herrera 2,386; 7. Skylar Gee 2,297; 8. Scott Bogucki 2,288; 9. Travis Rilat 2,071; 10. Jamie Ball 2,063; 11. Harli White 2,029; 12. Chris Martin 2,012; 13. Roger Crockett 1,816, 14. Alex Hill 1,804; 15. Sammy Swindell 1,410;