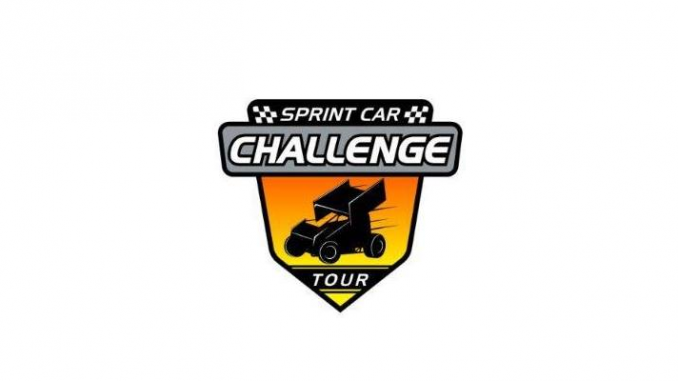 By Gary Thomas
San Jose, California's Tim Kaeding battled his way around Mitchell Faccinto early on and held off a charging DJ Netto late in the going to claim his first career Sprint Car Challenge Tour presented by Elk Grove Ford and Abreu Vineyards triumph on Saturday in Stockton.
Kaeding's win at the "Salute to LeRoy Van Conett" came aboard the Joshua Bates owned R&B Company No. 42x and earned him $3,000 by collecting the Kyle Larson Racing full-time bonus money. He becomes the eighth d
ifferent winner in the eight main events held so far this season.
Netto's charge from the 13th starting spot to finish second earned him the Pit Stop USA Hard Charger Award in the feature. The Hanford driver closed in on Kaeding as the laps wound down and came up just short at the finish line. Faccinto and Roseville driver's Sean Becker and Willie Croft completed the top-five. For Becker it was his third consecutive fourth place effort in Sprint Car Challenge Tour competition.
The remainder of the top-10 was filled out by Lemoore's Cole Macedo, Penngrove's Buddy Kofoid, Hollister's Ryan Bernal, Paradise' Kyle Hirst and Roseville's Colby Copeland.
Salute to LeRoy Van Cornett
Stockton Dirt Track
Stockton, CA
Saturday July 7, 2018
Sprint Car Challenge Tour
Feature:
1. 42X – Tim Kaeding
2. 88N – D.J. Netto
3. 37 – Mitchell Faccinto
4. 75 – Sean Becker
5. 29 – Willie Croft
6. 21X – Cole Macedo
7. 4S – Michael Kofoid
8. 22 – Ryan Bernal
9. 83 – Kyle Hirst
10. 5C – Colby Copeland
11. 83SA – Matt Dumesny
12. 7 – John Carney
13. X1 – Andy Forsberg
14. 20 – DJ Freitas
15. 94 – Steven Tiner
16. 99T – Tanner Boul
17. 5 – Kalib Henry
18. 2K – Kyle Offile
19. P37 – Matt Petersen
20. 3C – Tanner Thorson
21. 31C – Justyn Cox
22. 3 – Craig Stidham
23. 7C – Tony Gualda
24. 56 – Justin Sanders
Hunt Magnetos Wingless Tour
Feature:
1. 33 – Matt Stewart
2. 24 – Shawn Jones
3. 02 – Robert Floyd
4. 24N – Nick Larson
5. 77S – Ryon Siverling
6. 7EJ – Cody Spencer
7. 38 – Casey McClain
8. 39 – Troy DeGaton
9. 42 – Adam Teves
10. 55K – Tim Sherman Jr.
11. 35G – Bryan Grier
12. 69 – Ron Laplant
13. R5 – Rick Gutzke
14. 9 – Paul Vandenberg
15. 3R – Bob Davis
16. 51 – Brian Speary
17. 5B – Angelique Bell