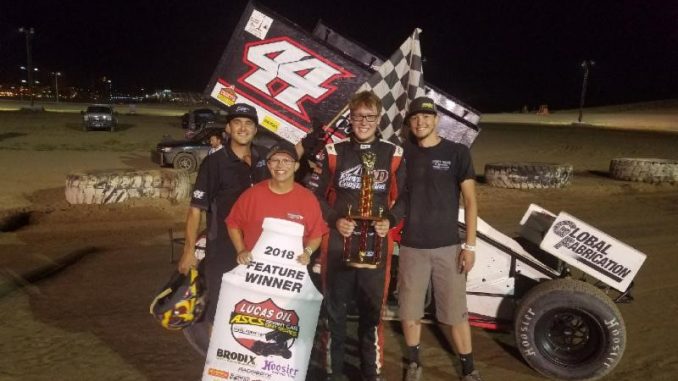 From Bryan Hulbert
GILLETTE, Wy. (July 11, 2018) – Taking care of his first top-five, podium, and victory with the Lucas Oil American Sprint Car Series presented by Sawblade.com in one shot, Iowa's Chris Martin led start to finish at Gillette Thunder Speedway on Wednesday night.
Joining Skylar Gee as the second first time winner in as many events this week with the Lucas Oil American Sprint Car Series presented by Sawblade.com, Chris is the 144th winner with the series and 13th different driver to top the National Tour this season.
Holding off early charges from Skylar Gee, followed by several mid and late race advanced from Sam Hafertepe, Jr., the Global Ag No. 44 was able to keep all challengers at bay.
"I knew it wasn't going to be easy. I've been watching these guys for a long time, even before I started racing Sprint Cars and I knew that Sam and Seth were coming. I knew Johnson was going to be there, and my buddy Blake; he's been on a roll, so I knew he'd be coming. Then Skylar Gee's been rolling pretty good lately, so this win is really special. It just feels awesome to be standing here," stated Chris who celebrated with donuts that would make Jesse Hockett smile.
Changing his line throughout the 25-lap A-Feature on a near perfect racing surface, Chris was able to work through slower traffic with ease.
Lapping into the top-ten before the race's first caution while working Lap 18, Chris would restart with a pair of slower cars between himself and the Heidbreder Foundation No. 15h.
With five laps to run, however, that buffer would not be there as the caution flew again. With a run to the inside of the No. 44, Sam would come up shy with a small bobble off the turn-four berm.
Giving Chris breathing room, he was still far from being out of danger as Hafertepe regrouped with a full head of steam. Down into the final laps, Sam would close in but would not be able to steal away the win as Chris crossed with a 0.614-second advantage.
Hafertepe in second was pursued to the line by Seth Bergman, who made up three positions on Lap 18 to get to the third spot. Coming from 12th, Blake Hahn made it to fourth following a multi-lap battle with Wayne Johnson who crossed fifth.
In the battle with Blake and Wayne, the sixth spot ended up going to Travis Rilat with Johnny Herrera in seventh. Skylar Gee ended up eighth with Scott Bogucki and Matt Covington making up the top-ten.
A new destination for the series, the next outing for the Lucas Oil American Sprint Car Series presented by Sawblade.com will be on Monday, July 16 at Brown County Speedway in Aberdeen, S.D. for the Brandt Professional Agriculture Shootout.
Admission for the Monday affair is $20 for adults with kids 10 and under admitted free into the grandstands. Racing begins at 7:00 P.M. (CDT) in includes IMCA Modifieds and Super Stocks. More information on the track, including direction, can be found at http://www.browncountyspeedway1.com.
For other news, notes, and information on the American Sprint Car Series, from the National Tour to any of the Regional Tours that make up the nearly 150 races across the ASCS Nation in 2018, log onto http://www.ascsracing.com, follow on Facebook, on Instagram, and on Twitter (@LucasOilASCS).
Race Results:
Lucas Oil ASCS National Tour
Gillette Thunder Speedway – Gillette, Wy.
Wednesday, July 11, 2018
Car Count: 22
Heat Races (All Drivers advance to the A-Feature)
Heat 1 (8 Laps): 1. 28-Scott Bogucki, [1]; 2. 77X-Alex Hill, [2]; 3. 45X-Johnny Herrera, [5]; 4. 44-Chris Martin, [6]; 5. 5J-Jamie Ball, [7]; 6. 3-Mike Pennel, [8]; 7. 4-Adam Speckman, [4]; 8. (DNF) 56-Shad Petersen, [3]
Heat 2 (8 Laps): 1. 15H-Sam Hafertepe Jr, [3]; 2. 1-Travis Rilat, [1]; 3. 23-Seth Bergman, [2]; 4. 52-Blake Hahn, [4]; 5. 17W-Harli White, [6]; 6. 88-Travis Reber, [7]; 7. (DNF) 2-James Setters, [5]
Heat 3 (8 Laps): 1. 99-Skylar Gee, [3]; 2. 2C-Wayne Johnson, [6]; 3. 0-Ned Powers, [2]; 4. 95-Matt Covington, [5]; 5. 10-Anthony Farnsworth, [7]; 6. 9A-Clint Anderson, [4]; 7. (DNF) 8X-Randy Dolberg, [1]
Protect the Harvest A-Feature
A Feature (25 Laps): 1. 44-Chris Martin, [1]; 2. 15H-Sam Hafertepe Jr, [6]; 3. 23-Seth Bergman, [9]; 4. 52-Blake Hahn, [12]; 5. 2C-Wayne Johnson, [5]; 6. 1-Travis Rilat, [8]; 7. 45X-Johnny Herrera, [7]; 8. 99-Skylar Gee, [2]; 9. 28-Scott Bogucki, [4]; 10. 95-Matt Covington, [13]; 11. 17W-Harli White, [14]; 12. 77X-Alex Hill, [3]; 13. 2-James Setters, [19]; 14. 3-Mike Pennel, [15]; 15. 9A-Clint Anderson, [18]; 16. 4-Adam Speckman, [20]; 17. 56-Shad Petersen, [22]; 18. 10-Anthony Farnsworth, [16]; 19. (DNF) 88-Travis Reber, [17]; 20. (DNF) 8X-Randy Dolberg, [21]; 21. (DNF) 0-Ned Powers, [10]; 22. (DNF) 5J-Jamie Ball, [11]
Lap Leader(s): Chris Martin 1-25
CP-Carrillo Hard Charger: Blake Hahn +8
FSR High Point Driver: Wayne Johnson
Provisional(s): N/A
2018 ASCS National Driver Points (Top 15): 1. Sam Hafertepe, Jr. 2,816; 2. Seth Bergman 2,785; 3. Blake Hahn 2,733; 4. Wayne Johnson 2,606; 5. Matt Covington 2,533; 6. Johnny Herrera 2,505; 7. Skylar Gee 2,413; 8. Scott Bogucki 2,401; 9. Travis Rilat 2,193; 10. Chris Martin 2,162; 11. Jamie Ball 2,151; 12. Harli White 2,137; 13. Alex Hill 1,910; 14. Roger Crockett 1,816; 15. Sammy Swindell 1,410;