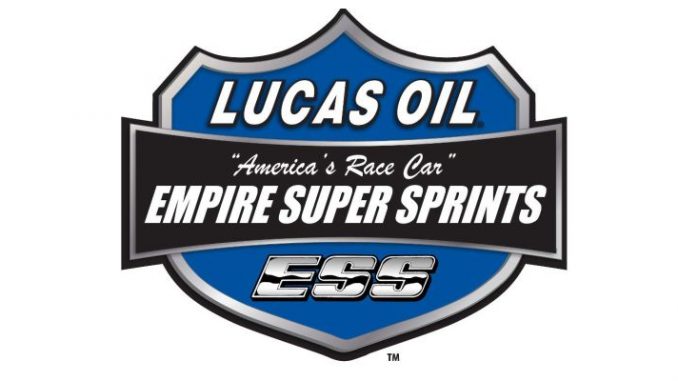 By Dean Reynolds
SYRACUSE, NY – Glenn Styres and the Ohsweken Speedway have been huge supporters for the Lucas Oil Empire Super Sprints (ESS) for nearly a decade.  In celebrating the 14th Annual Canadian Sprint Car Nationals at Ohsweken, each 14th place finisher receives a cash bonus at each ESS full point event.
The Nationals is the largest paying 360 sprint car event in all of the Northeast and Canada, actually, this side of the Mississippi. This year's event will be held on September 14th and 15th where the winner will receive over $10,000 for his or her efforts and ESS is proud to be a part of each and every event.
Ohsweken Speedway was a dream for Styres more than 20 years ago, built right in his back yard, the facility located on the Six Nations Reserve is a meca for all of sprint car racing.  The Nationals is the crown jewel of the season where upwards to 60 of the best 360 sprint car drivers will be on hand.
Dylan Westbrook has been wheeling a Styres owned sprint car at several ESS events where he has taken home one top five and two top ten finishes.  Styres himself has been at many ESS events over the years and has been very close in putting his familiar #0 in victory lane.
Many ESS stars have had success at the Nationals with seven-time champion Steve Poirier picking up three wins. This year nearly 20 of the ESS faithful will be in the field looking for the $10,000 plus prize. For all the latest up to date information about Ohsweken please log on to www.ohswekenspeedway.ca
The Lucas Oil backed tour gets back underway this weekend as a part of the Summer Nationals at the Outlaw Speedway. The event is held this Friday and Saturday with the winner on the finale taking home $6,000. The point chase then gets back going on August 4th with a return visit to the Land of Legends Raceway for a $2,000 to win, $300 to start full point event.
Thanks to the Ohsweken Speedway once again and special recognition to the Canadian Sprint Car Nationals celebrating it's 14th Anniversary!!  In ESS tradition, that Nationals is also excitement guaranteed!
For more Information on the Lucas Oil Empire Super Sprints:
Web: www.empiresupersprints.com
Twitter: @ESSprints
Facebook: https://www.facebook.com/EmpireSuperSprints
Android App: Empire Super Sprints