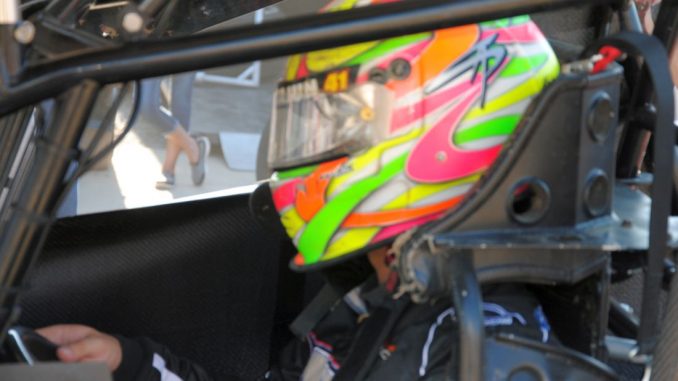 From Brian Liskai
FREMONT, Ohio (July 28, 2018) – The beauty of racing is that no matter how bad a particular night goes, a driver gets a fresh start at the next race, often the very next day. Such was the experience this weekend for 410 sprint car driver Cap Henry. The Republic, Ohio driver missed the show Friday but came to Fremont Saturday, July 28 and passed Rob Chaney with just three laps to go to score his first victory of the season at "The Track that Action Built" on Baumann Auto Group Night.
Henry, aboard the Lane Racing, Beer Barrel Bourbon, Metropolitan Landscaping, UTEC, Geck Electric, Wings Unlimited, FK Rod Ends machine, used a lapped car as a pick to drive around Chaney to take the lead in the Fort Ball Pizza Palace 410 Sprint A-main on lap 28 and drove to his fifth career win at Fremont Speedway.
"I don't know if Rob lost his brakes, but I could see he was struggling with that lapped car on the bottom. That's the advantage of being in second; you can choose a line and go. We were doing an insanity there for awhile this year. We kept coming to the race track with the same set-up thinking it was going to fix itself. Finally this weekend we changed some stuff but I made us look like idiots last night but we're in victory lane tonight. I felt like they should have put someone else in the car after last night…I drove so bad. I think we'll keep the seat here another week," said Henry.
As exciting as the 410 feature was, the Fremont Federal Credit Union 305 Sprint A-main was incredible. John Ivy got the lead early from Tyler Street who won the eight car "king of the hill" match race tournament with a last corner pass of Ivy to earn the pole starting position. But, on a restart on lap six, Ivy spun, handing the lead to Street who lost the top spot to Jamie Miller while battling in lapped traffic with just seven laps to go. With just four laps remaining it was Miller who got hung up on a lapped car and Street closed. As the pair came through turns three and four for the checkers Street drove to Miller's outside and the drag race was on. At the line Miller edged Street by .203 seconds for his fourth win of the year at Fremont.
Miller's victory was the seventh overall win of 2018 for the driver of the Ryan French owned, Sonic Hauling, Fostoria Mod Shop, Phil Rister Racing< NAPA of Attica, Reedtown Tavern, Branham Builders, Crown Battery, Avon by Angie, Sparting Underground backed #26. It was his 16th career win at Fremont Speedway and solidified his position atop the JLH General Contractor FAST 305 Championship Series Presented by Engine Pro point standings. "We missed judged the track a lot on that. We were way too tight. That just came down to experience and getting through the lapped cars right there...it's the only reason I got around Tyler. For the life of me I could not get around Harrison (Josh)," said Miller in the Engine Pro Victory Lane. Miller nearly scored another feature win as he and Tiffin, Ohio's Chester Fitch battled for all 15 non-stop laps of the McCullough Industries Late Model A-main. Miller had the lead on the final lap but lost fuel pressure after taking the white flag and Fitch drove by for his fourth straight Fremont win. It is the 13th career win at Fremont for Fitch. "That was a heck of a race. I hope we didn't get into each other too bad. I've really tried to stay clean and straight. Thanks to my sponsors Distel's Septic Cleaning, Fremont Fence, Miracle Motors, Sacksteder-Worland Insurance, my friends at HiWay 101 and our own businesses Tiffin Auto Auction and Westside Auto Sales. Swartz Race Cars makes a great car. Hopefully my brother Shorty and my mom and them made it tonight. It's the fourth anniversary of the passing of my dad so to win tonight means the world to me," Fitch said. In 2018 in the Burmeister Trophy Dirt Truck division there has only been one other feature winner other than Shawn Valenti and that's because the Fostoria, Ohio driver wasn't competing at Fremont Speedway that night. Things didn't change Saturday as Valenti took the lead from Cory McCaughey on a lap 7 restart and drove to his fourth victory of the year and 45th of his career at the track. Valenti is now tied with hall-of-famer Jim McCune for eighth on the track's all-time win list. "It looks like I won't be back here next weekend either because of other commitments. Cory was rolling the top there pretty good and I got lucky and got a good restart. I have to thank Baumann's for sponsoring tonight. Going back to what they did here about four or five years ago (if a driver in any division elected to start on the tail and won they got a $5,000 bonus) was pretty awesome for a dirt truck driver to take home five grand. I have to thank Pagliai's Pizza, Craig Miller Trucking, Best Performance, A Plus Auto Center, Gressman Powersports, Dave Story Equipment...without all their help we couldn't do this," said Valenti of his Jeff Babcock owned #7B. TJ Michael and Chaney brought the field to green for the 30-lap 410 A-main with Chaney bolting into the lead over Stuart Brubaker, Michael, Ayrton Olsen, Henry, Broc Martin and Byron Reed. Chaney set a blistering pace, driving into lapped traffic by the sixth circuit. Henry took third on lap five and when Brubaker pulled off with mechanical issues a lap later, he moved into the runner-up slot. Chaney's lead was 3.5 seconds by lap 10 but that was wiped out at the half-way point when Chris Andrews tumbled down the back stretch. The two-time Fremont winner was uninjured. When the green flew Chaney continued to lead Henry, Michael, Reed, Mintz, Martin and Olsen. With 10 laps to go Chaney and Henry had pulled away. A great battle for third ensued involving Michael, Reed, Mintz, Martin and Travis Philo. Henry began to methodically close on Chaney and with four laps to go was racing to Chaney's outside as the leader struggled to dispose of lapped traffic. Exiting turn four coming to complete lap 28 Henry shot around Chaney to grab the lead. Henry drove to the win over Chaney, Reed, Mintz and Michael. Street and Ivy brought the field to green for the 25-lap 305 sprint A-main with Ivy gaining the advantage over Street, Kyle Peters, Miller, Jimmy McGrath, Kyle Capodice and Steve Rando. Ivy's lead was nearly two seconds when the caution flew for Matt Lucius who bounced off the soft walls in turn two. On the ensuing restart Ivy got into turns one and two a little to hot and spun, handing the lead to Street who had to contend with Miller and Peters. Following a caution for a stalled Justin Adams on lap six, Street set sail with Miller trying to stay within a couple of car lengths. Street's lead was 1.2 seconds by lap 13 as he prepared to encounter heavy lapped traffic. When Street got trapped behind a lapped car, Miller pounced and took the lead on lap 18. The tables nearly turned on Miller with five laps to go as he struggled with a lapped car allowing Street to race to his outside. As Miller and Street raced to the checkers Street blasted to the leader's outside but couldn't complete the pass as Miller earned the narrow victory. Peters, Alvin Roepke and Dustin Stroup rounded out the top five. Defending truck champion Dustin Keegan and Brad Stuckey brought the field to green for the 20-lap A-main but it was McCaughey who grabbed the lead. Several cautions slowed the pace early on including setting up Valenti's pass for the lead on lap six. The final caution flew with eight laps to go but Valenti was able to pull away on the restart and took the win over McCaughey, Brad Mitten, Jeff Ward and Stuckey. Miller and Steve Sabo comprised the front row of the 15-lap late model feature but it was fourth place starter Fitch who grabbed the lead. Miller battled with Fitch for the top spot lap after lap and took the lead with six laps to go. It was Fitch's turn to hound Miller and the pair raced side by side the last seven laps of the race. Miller took the white flag and the car nearly stalled as he was forced to pull to the infield, handing the lead and the win to Fitch. Dustin Keegan came home second followed by John Mayes, Wes Morrison and Jay King. Fremont Speedway will be back in action Saturday, Aug. 4 on Finish Line Fuels Night. It will be an All Pro Aluminum Cylinder Heads FAST 410 Championship Series Presented by Ohio Logistics Night along with the 305 sprints, dirt trucks and late models. For more information go to www.fremontohspeedway.com or on Facebook at www.facebook.com/FremontSpeedway or on Twitter https://twitter.com/FremontSpeedway About the Baumann Auto Group – www.baumannautogroup.com In an era of continuous change, the Baumann Auto Group is celebrating 62 years of successfully serving the community. Buck Baumann is proud to continue his father Al's vision with the same tradition of trust and family atmosphere in the seven dealerships that are in Fremont, Tiffin, Port Clinton and Genoa. Baumann Won't Be Beat is more than a slogan, we don't compromise honesty and ethics, we proudly employ high quality people and we care about our loyal customers. The Baumann Auto Group has an exceptional sales and service team. So not only can you purchase your new vehicle from Baumann's, but they will keep it running smoothly with continued service maintenance. If you should have an unfortunate accident, Baumann's body shop is a well-known "direct repair" facility for numerous insurance companies, performing collision repairs on all makes and models. Fremont Speedway Baumann Auto Group Night Saturday, July 28, 2018 Starting position [*] 410 Sprints - Fort Ball Pizza Palace Qualifying 1.83-Rob Chaney, 12.263; 2.68G-Tyler Gunn, 12.265; 3.8M-TJ Michael, 12.301; 4.16-Chris Andrews, 12.335; 5.09-Craig Mintz, 12.395; 6.23-DJ Foos, 12.400; 7.1-Nate Dussel, 12.419; 8.97-Broc Martin, 12.420; 9.5T-Travis Philo, 12.501; 10.35-Stuart Brubaker, 12.541; 11.71-Ayrton Olsen, 12.554; 12.4H-Cap Henry, 12.571; 13.7-Shawn Valenti, 12.607; 14.5M-Max Stambaugh, 12.644; 15.8J-Jess Stiger, 12.743; 16.5-Byron Reed, 12.798; 17.20I-Kelsey Ivy, 12.833; 18.22M-Dan McCarron, 12.900; 19.49H-Bradley Howard, 13.064; 20.96AU-Bruce White, 13.741; 21.81-Lee Jacobs, 99.000; Heat 1 (10 Laps) 1. 35-Stuart Brubaker[1] ; 2. 83-Rob Chaney[4] ; 3. 5-Byron Reed[6] ; 4. 16-Chris Andrews[3] ; 5. 7-Shawn Valenti[5] ; 6. 49H-Bradley Howard[7] ; 7. 1-Nate Dussel[2] Heat 2 (10 Laps) 1. 71-Ayrton Olsen[1] ; 2. 97-Broc Martin[2] ; 3. 09-Craig Mintz[3] ; 4. 20I-Kelsey Ivy[6] ; 5. 5M-Max Stambaugh[5] ; 6. 96AU-Bruce White[7] ; 7. 68G-Tyler Gunn[4] Heat 3 (10 Laps) 1. 23-DJ Foos[3] ; 2. 4H-Cap Henry[1] ; 3. 8M-TJ Michael[4] ; 4. 5T-Travis Philo[2] ; 5. 22M-Dan McCarron[6] ; 6. 8J-Jess Stiger[5] ; A-Main 1 (30 Laps) 1. 4H-Cap Henry[7] ; 2. 83-Rob Chaney[2] ; 3. 5-Byron Reed[8] ; 4. 09-Craig Mintz[9] ; 5. 8M-TJ Michael[1] ; 6. 97-Broc Martin[6] ; 7. 23-DJ Foos[5] ; 8. 5T-Travis Philo[12] ; 9. 5M-Max Stambaugh[14] ; 10. 1-Nate Dussel[19] ; 11. 7-Shawn Valenti[13] ; 12. 71-Ayrton Olsen[4] ; 13. 20I-Kelsey Ivy[11] ; 14. 8J-Jess Stiger[18] ; 15. 49H-Bradley Howard[16] ; 16. 22M-Dan McCarron[15] ; 17. 16-Chris Andrews[10] ; 18. 96AU-Bruce White[17] ; 19. 35-Stuart Brubaker[3] ; 20. 68G-Tyler Gunn[20] Hard Charger: 1-Nate Dussel +9 - 305 Sprints - Fremont Federal Credit Union Qualifying 1.26-Jamie Miller, 13.433; 2.21-Dustin Stroup, 13.555; 3.4*-Tyler Street, 13.609; 4.77I-John Ivy, 13.624; 5.5JR-Jimmy Mcgrath Jr, 13.635; 6.99-Alvin Roepke, 13.673; 7.19R-Steve Rando, 13.674; 8.97-Kyle Peters, 13.690; 9.7M-Brandon Moore, 13.698; 10.12-Kyle Capodice, 13.713; 11.36-Seth Schneider, 13.778; 12.29-Bryan Sebetto, 13.786; 13.8-Bobby Clark, 13.823; 14.47-Matt Lucius, 13.925; 15.Z10-Kevin Mingus, 14.045; 16.09-Justin Adams, 14.967; 17.X-Mike Keegan, 15.040; 18.10-Josh Harrison, 91.999; Heat 1 - (10 Laps) 1. 26-Jamie Miller[4] ; 2. 19R-Steve Rando[1] ; 3. 4*-Tyler Street[3] ; 4. 5JR-Jimmy McgGath Jr[2] ; 5. 7M-Brandon Moore[5] ; 6. 8-Bobby Clark[7] ; 7. 36-Seth Schneider[6] ; 8. Z10-Kevin Mingus[8] ; 9. X-Mike Keegan[9] Heat 2 - (10 Laps) 1. 97-Kyle Peters[1] ; 2. 77I-John Ivy[3] ; 3. 21-Dustin Stroup[4] ; 4. 12-Kyle Capodice[5] ; 5. 99-Alvin Roepke[2] ; 6. 29-Bryan Sebetto[6] ; 7. 09-Justin Adams[8] ; 8. 10-Josh Harrison[9] ; 9. 47-Matt Lucius[7] A-Main 1 - (20 Laps) 1. 26-Jamie Miller[3] ; 2. 4*-Tyler Street[1] ; 3. 97-Kyle Peters[4] ; 4. 99-Alvin Roepke[10] ; 5. 21-Dustin Stroup[6] ; 6. 5JR-Jimmy McGrath Jr[5] ; 7. 29-Bryan Sebetto[12] ; 8. 12-Kyle Capodice[7] ; 9. 36-Seth Schneider[13] ; 10. 19R-Steve Rando[8] ; 11. 7M-Brandon Moore[9] ; 12. 77I-John Ivy[2] ; 13. 8-Bobby Clark[11] ; 14. Z10-Kevin Mingus[15] ; 15. 10-Josh Harrison[16] ; 16. X-Mike Keegan[17] ; 17. 09-Justin Adams[14] ; 18. 47-Matt Lucius[18] Hard Charger: 99-Alvin Roepke +6 Dirt Trucks - Burmeister Trophy Heat 1 (8 Laps), top 5 to A) 1. 36M-Cory McCaughey[6] ; 2. 37-Eric DeVanna[2] ; 3. 33-Jeff Ward[3] ; 4. 32-Kevin Phillips[1] ; 5. 83-Noah Wagner[7] ; 6. P51-Paul Brown JR[5] ; 7. 67-Ben Clapp[9] ; 8. 13-Len Benyak[4] ; 9. 7f-Dana Frey[8] Heat 2 (8 Laps, top 5 to A) 1. 7B-Shawn Valenti[4] ; 2. 16-Jim Holcomb[2] ; 3. 5s-Brad Stuckey[7] ; 4. 4s-Keith Sorg[5] ; 5. 2-Andrew Lutman[1] ; 6. 0-Andy Keegan[8] ; 7. 72-Eric Potridge[6] ; 8. 11-Austin Gibson[3] Heat 3 (8 Laps, top 5 to A) 1. 22-Brandon Leighton[2] ; 2. 49X-Brad Keckler[3] ; 3. 17x-Dustin Keegan[8] ; 4. 23m-Brad Mitten[7] ; 5. 115-Ben Good[1] ; 6. 32H-Dan Hennig[5] ; 7. 26-Kyle Lagrou[4] ; 8. 1H-Zeth Sabo[6] B-Main 1 (10 Laps, top 5 to A) 1. P51-Paul Brown JR[1] ; 2. 1H-Zeth Sabo[9] ; 3. 67-Ben Clapp[4] ; 4. 7f-Dana Frey[10] ; 5. 26-Kyle Lagrou[6] ; 6. 0-Andy Keegan[2] ; 7. 13-Len Benyak[7] ; 8. 11-Austin Gibson[8] ; 9. 72-Eric Potridge[5] ; 10. 32H-Dan Hennig[3] A-Main 1 (20 Laps) 1. 7B-Shawn Valenti[4] ; 2. 36M-Cory McCaughey[3] ; 3. 23m-Brad Mitten[7] ; 4. 33-Jeff Ward[12] ; 5. 5s-Brad Stuckey[2] ; 6. 22-Brandon Leighton[5] ; 7. 37-Eric DeVanna[10] ; 8. 17x-Dustin Keegan[1] ; 9. 49X-Brad Keckler[11] ; 10. 4s-Keith Sorg[6] ; 11. 1H-Zeth Sabo[17] ; 12. 7f-Dana Frey[19] ; 13. 67-Ben Clapp[18] ; 14. 26-Kyle Lagrou[20] ; 15. 2-Andrew Lutman[14] ; 16. 32-Kevin Phillips[9] ; 17. 16-Jim Holcomb[8] ; 18. P51-Paul Brown JR[16] ; 19. 83-Noah Wagner[13] ; 20. 115-Ben Good[15] Hard Charger: 33-Jeff Ward +8 Limited Late Models - McCullough Industries Heat 1 (8 Laps) 1. 17x-Dustin Keegan[4] ; 2. 23m-Brad Mitten[2] ; 3. 69-John Mayes[3] ; 4. 27K-Jay King[1] ; 5. 4C-Bill Clapp JR[6] ; 6. 12-Kyle Dukeshire[5] Heat 2 (8 Laps) 1. 4M-Jamie Miller[1] ; 2. 101-Chester Fitch[4] ; 3. 16-Steve Sabo[2] ; 4. 21-Wes Morrison[3] A-Main 1 (20 Laps) 1. 101-Chester Fitch[4] ; 2. 17x-Dustin Keegan[6] ; 3. 69-John Mayes[5] ; 4. 21-Wes Morrison[8] ; 5. 27K-Jay King[7] ; 6. 23m-Brad Mitten[3] ; 7. 4M-Jamie Miller[1] ; 8. 4C-Bill Clapp JR[9] ; 9. 16-Steve Sabo[2] ; 10. 12-Kyle Dukeshire[10]