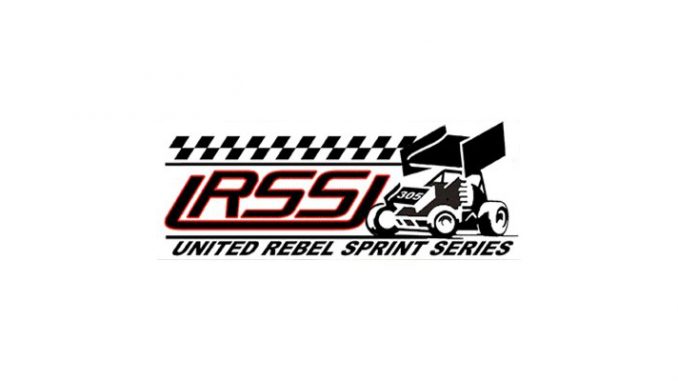 By Rick Salem
Oberlin, Kansas – July 29, 2018 – Sixty-one drivers from fifteen states have pre entered for the inaugural Belleville 305 Sprint Car Nationals, set to take place this coming Friday and Saturday night, August 3-4, atop the famed Belleville High Banks Speedway in Belleville, Kansas.
This event will be sanctioned by the United Rebel Sprint Series and under the direction of series founder and president, Rick Salem. All official 305-ci IMCA RaceSaver Sprint rules will apply for this huge, two-night event that will pay $2500 to win on Friday night and $7000 to win on Saturday night. Official rules can be found on the series website www.unitedrebelsprintseries.com.
The state of Kansas leads the way with fourteen pre entries while Texas, currently, has eleven while Colorado has seven.
More drivers are expected on both Friday or Saturday night as pre entries were those who took advantage of the one (1) free pit pass for Friday night. That deadline was July 20th.
Adult general admission is $15 while children 6-12 will get into the grandstands for $10. All reserved seats are $20. On championship Saturday night adult general admission tickets are $20 while children 6-12 general admission tickets are $10. Reserved seats are $25. Pit passes on Friday night are $30 and $35 for pit passes on Saturday night.
Gates both nights will open at 5:00 PM with race action slated for a 7:30 PM start time.
Any further questions regarding the inaugural running of the Belleville 305 Nationals can be obtained by calling Rick Salem (785) 475-7010 or by email rksalem@eaglecom.net.
Don't forget that URSS will tune up for Belleville with a $1000 to win point show at Thayer County Speedway in Deshler, Nebraska in the series inaugural appearance atop the three-fourth's mile oval. Race time there is 7:00 PM.
Below are drivers who have pre entered for the inaugural Belleville 305 Sprint Car Nationals:
0 Steven Richardson – Liberal, Kansas
02 Brandon Long – Kokomo, Indiana
2 Logan Payne – Dallas, Texas
2b Brett Becker – Odessa, Texas
2d Dusty Ballenger – Harrisburg, South Dakota
2J Zach Blurton – Quinter, Kansas
4 Todd Plemons – Arvada, Colorado
4l Mike Houseman, Jr. – Des Moines, Iowa
4n Nate Eaken – Okoboji, Iowa
5x Jason Martin – Lincoln, Nebraska
6 Travis Scott – Washington, Oklahoma
7 Toby Chapman – Panama, Nebraska
7m Kevin Ramey – Kennedale, Texas
7x Shane Sundquist – Bertrand, Nebraska
V8 Robert Vetter – Wolfe City, Texas
9 John Webster – North Platte, Nebraska
10 George White – Fort Worth, Texas
10 Bryan Debrick – Irving, Texas
10 Jordan Knight – Dodge City, Kansas
11 Dalyn Cody – Northfield, Minnesota
11k Tyler Knight – Spearville, Kansas
11x – TBA
14 Jason Danley – Lincoln, Nebraska
16 Blake Baccus – Mesquite, Texas
17s ChadSalem – Oberlin, Kansas
18 Lorne Wofford – Alamogordo, New Mexico
19 Wes Wofford – Alamogordo, New Mexico
21 Brad Wasson – Fort Morgan, Colorado
22 Lucas Scherb – Decatur, Texas
23s Stu Snyder – Waverly, Nebraska
24 Cody Hays – Arcadia, Oklahoma
27 Andy Shouse – Mustang, Oklahoma
28 Tracy Hill – Liberal, Kansas
29s Blake Scott – PaulsValley, Oklahoma
33k Aaron Ploussard – Oberlin, Kansas
33s Jeremy Schultz – Hutchinson, Minnesota
35x Chad Koch – Lakeside City, Texas
43 Skylar Hughes – Kearny, Arizona
44 Jason Howell – Fort Worth, Texas
45 Lonnie Cox – Black Forrest, Colorado
45 Monte Ferriera – Fresno, California
45 Tim Crawley – Benton, Arkansas
45 Kevin Schramek – Fountain, Colorado
48 Jake Martens – Fairview, Oklahoma
49x Luke Cranston – Ness City, Kansas
50 Jed Werner – Codell, Kansas
55 Jack Potter – Lees Summit, Missouri
67 T.J. Cain – Wichita, Kansas
69 Mike Moore – East Des Moines, Iowa
74 Patrick Bourke – Gypsum, Colorado
74b Jake Bubak – Arvada, Colorado
75 Nick Nichols – Colorado Springs, Colorado
82c Christian Kinison – Denton, Texas
E85 Ray Seeman – Jetmore, Kansas
88j Jeremy Huish – Jetmore, Kansas
95 Buddy Tubbs – Colorado Springs, Colorado
98 J.D. Johnson – Goddard, Kansas
911 Ty Williams – Edmond, Oklahoma
224 Brandon Hanks – Burlison, Tennessee