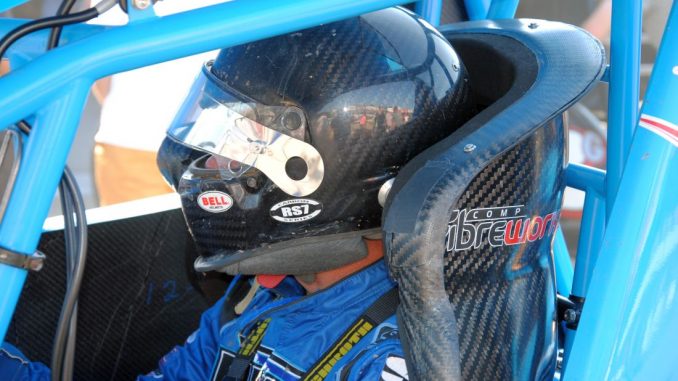 By T.J. Buffenbarger
KNOXVILLE, Iowa (August 11, 2018) – Dave Blaney started off the final night of the 58th Annual 5-Hour ENERGY Knoxville Nationals by winning the D-Main event. Blaney, a former Knoxville Nationals champion from High Point, NC, held off a final lap surge by Kevin Thomas Jr. for the victory.
John Carney II and Dave Blaney started on the front row for the 12 lap event. Blaney motored away from the field until Carson McCarl slowed to a stop on the front stretch with five laps complete. McCarl pushed off and rejoined the tail of the field.
During the restart Kevin Thomas Jr. passed Carney for second before the cone and was penalized one position. Thomas was able to overcome the penalty by passing Matt Covington and Carney on consecutive laps.
The caution flag appeared again when Brian Paulus slowed on the backstretch. Paulus was unable to make repairs for the restart.
After the restart Skylar Gee was able to give himself some breathing room taking fifth position from Rager Phillips on lap nine.
As the laps wound down Thomas remained glued to Blaney's back bumper. On the final corner Thomas drove to the bottom with Blaney on the top side of the race track and had a run, but Blaney was able to hang on by a nose to win the event. Thomas finished second while Carney, Covington, Gee, and Phillips also transferred to the C-Main.
58th Annual 5-Hour ENERGY Knoxville Nationals presented by Casey's General Stores
World of Outlaws Craftsman Sprint Car Series
Knoxville Raceway
Knoxville, IA
Saturday August 11, 2018
D-Main (12 Laps): 1. 70 – Dave Blaney, 2. 71X – Kevin Thomas Jr, 3. 7C – John Carney, 4. 95 – Matt Covington, 5. 99G – Skylar Gee, 6. 9R – Rager Phillips, 7. 17W – Harli White, 8. 3P – Sawyer Phillips, 9. 9X – Jake Bubak, 10. 15M – Bobby Mincer, 11. 71A – R.J. Johnson, 12. 17B – Bill Balog, 13. 7 – Carson McCarl, 14. 84 – Tom Harris, 15. 25 – Bobby McMahan, 16. 2K – Kevin Ingle, 17. 28P – Brian Paulus, 18. 18J – Jenna Frazier, 19. 10 – Clyde Knipp. DNS: 85 – Chase Wanner. (First six finishers transferred to the C-Main)