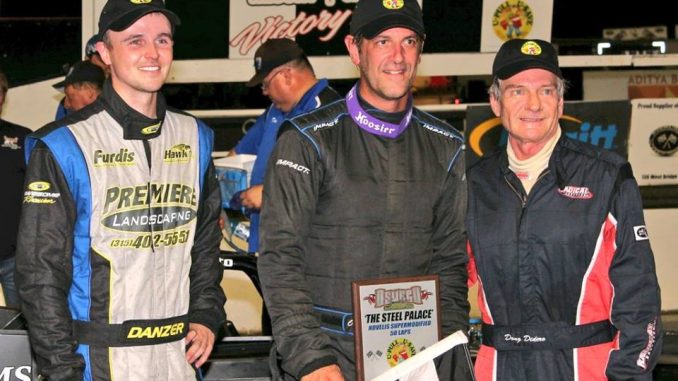 By Camden Proud
OSWEGO, NY (August 12, 2018) – In what turned out to be the fourth closest finish in speedway history, current Novelis Supermodified point leader Otto Sitterly edged returning hall of fame driver Doug Didero by a margin of just 0.010 seconds for his third victory of the 2018 season on U-Pull U-Save 'Family Night' this past Saturday at Oswego.
Charging from all the way back in the tenth starting spot, Sitterly was able to reel down sixth starting Didero late in the race for an incredible victory that will leave race fans talking for many, many years to come.
Didero slowly and methodically worked past the likes of Jerry Curran, Jeff Abold, Brandon Bellinger, Dave Gruel, Tyler Thompson, and Aric Iosue over the course of the 50-laps before finally closing in on Dave Danzer to take the lead.
Unfortunately, Didero fell short of victory by the slimmest of margins possible, but drove a remarkable race, making just his second start in eight years piloting the brand new Tammy Ten Media No. 3 built by John Colloca of Oswego.
With fifteen former feature winners in the field, the lead changed hands three times in the last four laps. First, Didero took the top spot away from polesitter Danzer with three laps to go. At this point in time, Sitterly had also just passed Gruel for fourth, but he wasn't staying outside of the top three for long.
No sooner than Didero grabbed the lead away from Danzer on the exit of turn four, did Sitterly go to the outside of the No. 52 to then take second. There were now just two laps remaining for the No. 3 out in front.
There were no cars separating the leaders, but when Didero crossed the line with two to go, he had heavy lapped traffic to deal with in front of him which included the No. 0 of Tim Snyder and the No. 73 of Jerry Curran.
Didero, in search of his first victory at Oswego since the 2008 International Classic, used every inch of the race track in the final two circuits trying to do anything and everything he could to get by the 0 of Snyder who was still battling for position with Curran at the back of the field.
As Didero looked low on Snyder, Sitterly began to show a wheel on the outside lane, first looking high coming off of turn two as the field came around to complete lap 48.
Approaching the white flag, Didero first looked under Snyder going into turn three, but was unable to clear him, and then immediately tried the outside coming off of turn four. This didn't work either, and Didero nearly handed the lead over to Sitterly with the white flag now being displayed.
Didero got a bit out of shape in turn four with just over a lap to go, but was able to hold on to the lead, at least for the time being. One more time over in turn two, Sitterly tried the high road with a half a lap remaining, but again was unable to muster enough bite to make the pass.
With Curran, Snyder, Didero, and Sitterly all making their way through turns three and four nose to tail, the crowd was on its feet as they anticipated a storybook return to victory for the 57 year-old Hamilton, Ontario native, but after driving a brilliant race, Doug Didero fell just inches short of what was set to be a hugely popular win.
As the No. 3 car rounded turn four, Didero elected to stay on the high side of the race track, but was still stuck behind Snyder. Despite literally pushing the No. 0 car down the front straightaway, it was not enough to keep seven time speedway Otto Sitterly at bay.
Diamonding the John Nicotra owned No. 7 car off of turn four, Sitterly got just enough momentum down low to beat Didero to the line by one one thousandth of a second over Danzer, Gruel, and Michael Barnes in the top five.
After the checkered flag was thrown, Sitterly, Didero, and Snyder all collided briefly in turn 1, with Didero spinning around and keeping the crowd off their seats with his signature '360,' a brilliant move which allowed the John Brush owned Supermodified to escape the incident without damage.
Notably, Saturday night's main event marked the first time since July 21, 2007 when Didero beat Greg Furlong that two drivers with over 30 wins finished one-two in a feature at the Oswego Speedway.
Sitterly, who is no stranger to close finishes at Oswego as many fans will recall his jaw dropping dead heat 'tie' alongside Michael Muldoon in 2015, was elated to be in victory lane and all but bookend an eighth championship; which will move the Canajoharie, N.Y. driver into sole possession of most track titles in speedway history.
"Do I have to say anything about Doug Didero? He is an awesome driver," Sitterly said after climbing from his car. "Those guys have only had their car here a couple times and obviously they've got it going good. Any time I've ever been behind that guy, he just wheels the shit out of a race car. If it weren't for the traffic I wouldn't have had a shot at him. I need to thank all my crew. They are incredible."
A very emotional Didero, aiming for his 34th career victory which would have moved him past Doug Heveron for seventh all-time, was visibly gutted to lose by only a matter of inches. At the same time, the Charlotte, N.C. resident was thrilled with the progress of his new car and also the show that was provided for the fans on hand.
"All night, the guys ahead of me were people I have never ran with before so I tried to learn how they drive and what they do and just have the patience to pick them off one by one," Didero commented. "We were fortunate that the car stayed with us all night and we could really maneuver and make passes. But man, I really wanted that win. Damn, you know? It must have been two inches, but congratulations to Otto (Sitterly). He must have drove one hell of a race. It was good racing tonight, I really enjoyed it."
After a tremendous run, we can't forget about Danzer, who brought the Premiere Landscaping No. 52 home with a fine third place finish; his first podium effort of the season for the many time feature winner. Danzer currently rides fifth in the Novelis Supermodified point standings.
"We just lost tires towards the end. Those cautions at the beginning really hurt us. With a straight axle car, you really need it to go green and keep the heat cycles off it," Danzer explained. "I knew they were coming, I just tried to pinch it down a little bit and make them drive around me which they did. I'd like to thank all my guys. I think we are finally making some headway with the car."
With fine runs in fourth and fifth, Gruel and Barnes lead the remainder of the top ten which included Iosue in sixth, Bellinger in seventh, Thompson in eighth, Dave Shullick Jr. in ninth and Keith Shampine in tenth.
Because Bellinger was again using the Oswego Speedway prototype rear wing for testing, he will be credited with his seventh place finish, points, and money, but everyone finishing behind him will move up one position in the running for points and prize money.
For the duration of 50-laps, the race went virtually caution free less a lap 3 spin by Snyder which caught up the likes of Joe Gosek, Nathan Schultzkie, Dan Connors Jr, and Bill Sharkey; ending all of their evening's early with damage in the initial laps of the main event.
Three time Budweiser International Classic champion Bob Bond was also on hand for his first time of the season with the No. 47, but brought his car pitside before the completion of lap 10.
After a simultaneous spin in turn three with just over lap 20 in the book, both Shampine and Jeff Abold were forced to come from the tailside of the pack to recover for respectable tenth and eleventh place finishes.
Another big storyline from Saturday night's feature were the struggles for defending track champion and four time feature winner this season; Dave Shullick Jr. Shullick made a pit stop after the first caution to fall all the way back to 17th, but later returned for a disappointing ninth place finish.
Lou LeVea Jr, Snyder, Curran, and LaTulip completed the on track running order in twelfth, thirteenth, fourteenth, and fifteenth with Logan Rayvals, rookie Brian Osetek, Bond, Gosek, Lou LeVea Sr, Connors, Schultzkie and Sharkey all going pitside before the completion of lap 30 to be credited with positions sixteen through twenty three.
For his drive from tenth to the unforgettable victory, by inches, Sitterly was credited with D&S Landscaping 'Hard Charger' for August 11 while Thompson, the impressive rookie from Fulton, N.Y., picked up another Lighthouse Lanes Up and Comer Award for his eighth place run with the No. 98T.
Thompson also grabbed his second heat race win of the season earlier in the program, joining Shampine and Iosue as preliminary victors.
Oswego Speedway's 'Road to the Championship' comes to a close this Saturday, August 18 with CNY CPR and Skip's Fish Fry $5 Admission Track Championship Night as Sitterly will make history by tying the knot on his eighth career championship. Otto is set to pass Jim Shampine and Bentley Warren for most track titles all-time. Tickets for this historic event are available by calling the speedway box office at (315)-342-0646.
For more information on Oswego Speedway, be sure to visit online at OswegoSpeedway.com. You can also FOLLOW on Twitter @OswegoSpeedway or LIKE on Facebook at Facebook.com/OswegoSpeedway.
About Oswego Speedway: Oswego Speedway, a sports entertainment company, is a 5/8 mille semi-banked pavement racing oval located off the shores of Lake Ontario in scenic Oswego, NY. Oswego Speedway has been a continuously run weekly racing venue since August, 1951. The premier open-wheel pavement short track cars in the world, Supermodifieds, run weekly at Oswego Speedway making Oswego the only weekly Supermodified racing venue in the world. The Small Block Supermodifieds accompany the full blown Supers on a weekly Saturday night schedule which runs from May through September. Oswego Speedway is mentioned in racing circles as the "Indy of the East," as no fewer than a dozen past and present competitors have competed at the famed Indianapolis Motor Speedway including Mario Andretti, arguably the greatest driver of all time, two-time Indy 500 champion Gordon Johncock, along with former International Classic Champions Bentley Warren, Joe Gosek, and Davey Hamilton.
BOX SCORE
U-Pull U-Save 'Family Night'
Oswego Speedway
Oswego, NY
Saturday, August 11, 2018
Novelis Supermodifieds
Feature (50-laps): 1. 7 OTTO SITTERLY, 2. 3 Doug Didero, 3. 52 Dave Danzer, 4. 68 Michael Barnes, 5. 50 Dave Gruel, 6. 11 Aric Iosue, 7. 02 Brandon Bellinger, 8. 98T Tyler Thompson®, 9. 2 Dave Shullick Jr, 10. 55 Keith Shampine, 11. 05 Jeff Abold, 12. 83 Lou LeVea Jr, 13. 0 Tim Snyder, 14. 73 Jerry Curran, 15. 56 Hal LaTulip, 16. 94 Logan Rayvals, 17. 69 Brian Osetek® , 18. 47 Bob Bond, 19. 00 Joe Gosek, 20. 66 Lou LeVea Sr, 21. 01 Dan Connors Jr, 22. 26 Nathan Schultzkie®, 23. 71 Bill Sharkey
Heat 1 (12-laps): 1. 98T Tyler Thompson®, 2. 68 Michael Barnes, 3. 52 Dave Danzer, 4. 05 Jeff Abold, 5. 83 Lou LeVea Jr, 6. 00 Joe Gosek, 7. 26 Nathan Schultzkie®, 8. 69 Brian Osetek®
Heat 2 (12-laps): 1. 55 Keith Shampine, 2. 73 Jerry Curran, 3. 3 Doug Didero, 4. 02 Brandon Bellinger, 5. 94 Logan Rayvals, 6. 01 Dan Connors Jr, 7. 66 Lou LeVea Sr, 8. 71 Bill Sharkey
Heat 3 (12-laps): 1. 11 Aric Iosue, 2. 50 Dave Gruel, 3. 2 Dave Shullick Jr, 4. 7 Otto Sitterly, 5. 47 Bob Bond, 6. 0 Tim Snyder 7. 56 Hal LaTulip
Group Time Trials: 1. 2 Dave Shullick Jr. – 16.093, 2. 55 Keith Shampine – 16.102, 3. 68 Michael Barnes – 16.104, 4. 7 Otto Sitterly – 16.126, 5. 02 Brandon Bellinger – 16.214, 6. 05 Jeff Abold – 16.243, 7. 50 Dave Gruel – 16.355, 8. 3 Doug Didero – 16.378, 9. 52 Dave Danzer – 16.431, 10. 0 Tim Snyder – 16.646, 11. 94 Logan Rayvals – 16.671, 12. 00 Joe Gosek – 16.676, 13. 11 Aric Iosue – 16.691, 14. 01 Dan Connors Jr. – 16.715, 15. 98T Tyler Thompson® – 16.784, 16. 47 Bob Bond – 16.886, 17. 73 Jerry Curran – 16.912, 18. 83 Lou LeVea Jr – 17.090, 19. 69 Brian Osetek® – 17.392, 20. 66 Lou LeVea Sr. – 17.462, 21. 56 Hal LaTulip – 17.729, 22. 26 Nathan Schultzkie® – 17.872
D&S Landscaping Hard Charger: #7 Otto Sitterly
Lighthouse Lanes Up and Comer: #98T Tyler Thompson®