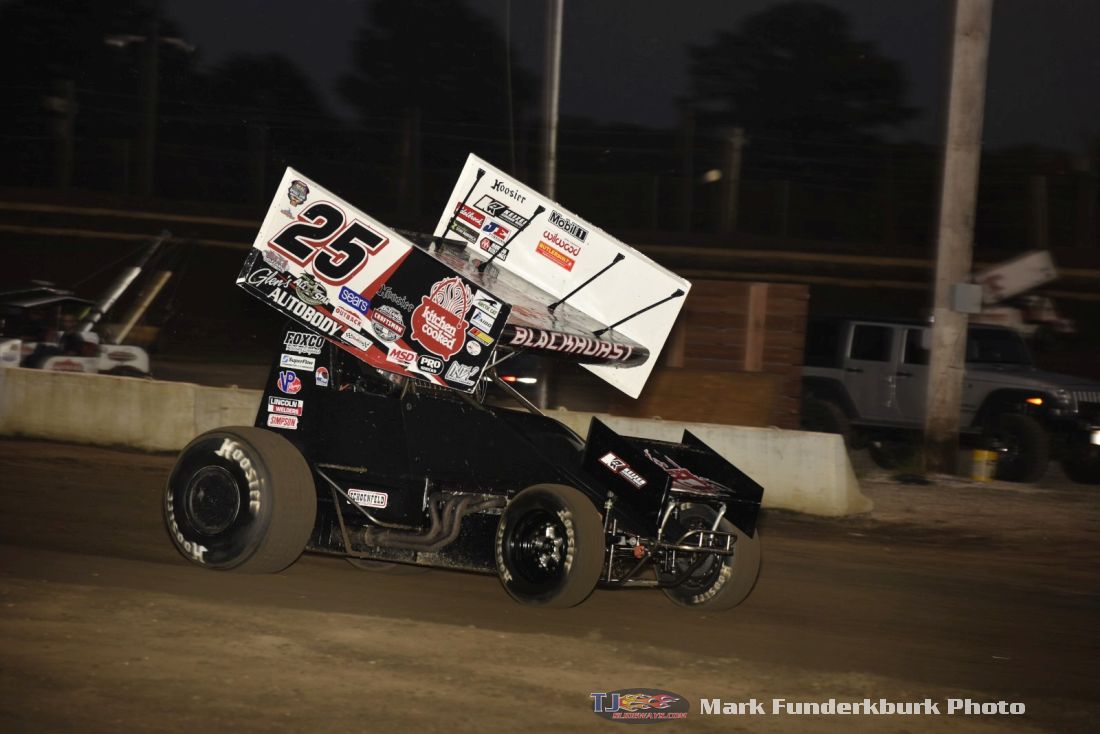 Gared Tennyson
Jake Blackhurst fended off challenges from Scotty Thiel and Brandon Wimmer to lead all 36 laps around the Wilmot Raceway and be victorious with the Bumper to Bumper IRA Outlaw Sprints in front of a packed fair night crowd. Allen Hafford piloted his #38 machine from the 4th starting position to grab the win in the Wisconsin wingLESS series feature.
With 28 Bumper to Bumper Interstate Racing Association Winged 410 sprint cars in the pits, all eyes were on qualifying as Liftpro had put up $1000 to any driver who could perform a clean sweep of the night, setting quick time, winning their heat race, and winning the 36 lap Roger Iles Tribute feature. Brandon Wimmer aboard the throwback 7TW machine set quick time. Jeremy Schultz timed in 2nd quick over Jake Blackhurst and Scotty Thiel. Russel Borland in his Wiese Motorsports car timed 5th.
Heat race number one saw Brandon Wimmer move from his 4th place starting position to the lead. Wimmer would pick up the win, keeping him eligible for the extra $1000 if he could win the feature. Scotty Thiel came home in 2nd followed by Bill Balog. Todd Daun would finish in 4th with Brandon McMullen in 5th.
The 2nd heat race was won by multi time Wilmot track champion Jeremy Schultz. Wayne Modjeski brought the Fatfro 14AJ car across the line in 2nd as Kris Spitz was 3rd. Jordan Goldesberry and Russel Borland rounded out the top 5.
The 3rd and final heat race saw the battle for the 2018 Wilmot track championship play out, as Matt Vandervere started 1st with Steve Meyer in 2nd, the pair separated by just 21 points. When the checkered flag fell Meyer was victorious over Vandervere meaning the duo would go into the final winged sprint car feature at Wilmot in 2018 separated by 19 points. Behind them, Scotty Neitzel finished 3rd, Jake Blackhurst 4th and Scott Uttech 5th.
The B main was won by Johnny Fahl over Chris Dodd, who was piloting the famous Darrell Dodd owned number 11. Michael Decker and Nick Matuszewski. Jereme Schroeder would finish in 5th.
The A main saw Jake Blackhurst start on the pole, in a car that just twelve or so hours earlier had only been half together in the shop. After finding a problem on the primary car while loading it for Wilmot, Jake and and his dad Paul made the decision to finish putting together their other car and take that one to Wilmot instead. When the green flag dropped Jake quickly jumped out in front of the field. Todd Daun settled into 2nd as Scotty Thiel tried every line on the racetrack looking for a way around Daun. On a restart at the halfway point in the race, Thiel was able to slide Daun and move into 2nd. Thiel began to stalk Blackhurst through traffic, until with just 6 laps to go, mechanical trouble would once again strike the Professional Plating 64, causing Thiel to stop on the front stretch and sending him to the tail. On the restart Blackhurst would have control, followed by 8th starting Brandon Wimmer who if he could get by Blackhurst could take home an extra $1000, and 11th starting Matt Vandervere. The last 6 laps went by quick, and Wimmer tried everything he could but could not get past the Kitchen Cooked Potato Chips 25 of Blackhurst. As the checkered flags fell over the field, it was the 22 year old Hanna City, Illinois native, Jake Blackhurst victorious over Brandon Wimmer. Matt Vandervere would claim 3rd place, securing his 2nd consecutive Wilmot Raceway 410 sprint car track championship. Steve Meyer would finish in 4th and Bill Balog would come home 5th.
The Auto Meter Wisconsin wingLESS presented by the IRA saw 40 drivers sign in to compete. Jimmy Sivia set quick time over Doug Schenck and Allen Hafford. Craig Campton would time 4th with Nick Petska 5th.
Heat race number one was won by Jimmy Sivia over Jimmy Kouba. Derek Crane and Nick Petska would finish 3rd and 4th, and lock themselves into the feature.
Heat two saw Chris Dodd pick up the win ahead of Zach Raidart. Tim Cox would finish in 3rd and Doug Schenk would claim the 4th and final transfer position.
The 3rd heat race was led most of the way by Matt Vandervere but in the closing laps Allen Hafford took the lead and the win. Vandervere would settle for 2nd followed by Ryan Zielski. Jake Kouba finished in 4th, punching his ticket to the big dance later in the night.
The 4th and final heat race was won by former wingLESS champion Jordan Mattson. Greg Olson came home in 2nd followed by Craig Campton and Rusty Egan.
A pair of B mains would transfer 3 cars each to complete the 22 car starting field. B main number one was won by Craig Lager over Nathan Crane. Garrett Deieso would grab the 3rd and final transfer spot. B main two was won by longtime sprint car veteran Dennis Spitz. Chris Klemko and Jordan Paulson would finish 2nd and 3rd and move on to the feature.
The A main saw Tim Cox take the early lead. Cox would lead the first 16 laps of the 20 lap feature, but much like in his heat race, as the race wound down, Allen Hafford worked past the leader and would bring his 38 machine home in 1st place. Cox would be relegated to 2nd followed by Doug Schenk and Jordan Mattson. Matt Vandervere would round out the top 5 behind the wheel of the Dan Wade owned 15v.
Interstate Racing Association
Wilmot Raceway
Wilmot, WI
Saturday August 18, 2018
A-Main: 1. 25-Jake Blackhurst, [1]; 2. 7TW-Brandon Wimmer, [8]; 3. 10V-Matt VandeVere, [11]; 4. 85M-Steve Meyer, [4]; 5. 17B-Bill Balog, [9]; 6. 19-Todd Daun, [2]; 7. 5J-Jeremy Schultz, [7]; 8. 2W-Scott Neitzel, [5]; 9. 4K-Kris Spitz, [12]; 10. 44-Jason Johnson, [16]; 11. 65-Jordan Goldesberry, [13]; 12. 10W-Brandon McMullen, [15]; 13. 23-Russel Borland, [10]; 14. 68-Dave Uttech, [18]; 15. 23D-Trey Datweiler, [17]; 16. 12-Michael Decker, [21]; 17. 7-Scott Uttech, [14]; 18. 64-Scotty Thiel, [3]; 19. 43-Jereme Schroeder, [23]; 20. 0-John Fahl, [19]; 21. (DNF) 5H-Patrick Haynes, [24]; 22. (DNF) 11-Chris Dodd, [20]; 23. (DNF) 14AJ-Wayne Modjeski, [6]; 24. (DNF) 63-Nick Matuszewski, [22]
Wisconsin WingLESS Sprint Car Series
A-Main: 1. 38-Allen Hafford, [4]; 2. 40-Tim Cox, [1]; 3. 71S-Doug Schenck, [5]; 4. 2-Jordan Mattson, [7]; 5. 15V-Matt VandeVere, [11]; 6. 18-Nick Petska, [2]; 7. 91-Jimmy Sivia, [6]; 8. 01-Chris Dodd, [8]; 9. 7S-Craig Campton, [3]; 10. 21-Ryan Zielski, [10]; 11. 19K-Derek Crane, [14]; 12. 2K-Jimmy Kouba, [9]; 13. 41-Dennis Spitz, [18]; 14. 6-Jake Kouba, [15]; 15. 9-Greg Olsen, [12]; 16. 23Z-Zach Raidart, [13]; 17. 70-Chris Klemko, [20]; 18. 52-Craig Lager, [17]; 19. 97-Nathan Crane, [19]; 20. 5-Garrett Deieso, [21]; 21. (DNF) 4-Jordan Paulsen, [22]; 22. (DNF) 7C-Rusty Egan, [16]