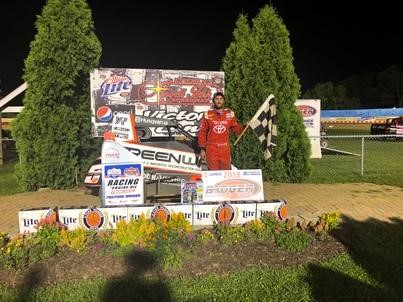 From POWRi
SUN PRAIRIE, Wi. (August 19, 2018) — Breaking his 2018 dry spell, Zach Daum claimed his first win of 2018 with the POWRi Lucas Oil National Midget League, arriving in victory lane at the famed Angell Park Speedway. Daum's win also came during Sun Prairie Cornfest, making him the 22nd different driver to win in Cornfest competition.
Starting outside front row to rookie Maria Cofer, who earned her first career pole with the POWRi Lucas Oil National Midget League, Daum fell in line in the second position as the field thinned out and fell in line. By lap five, Daum was able to make his move and pounced into the lead, stealing the position from Cofer. From there on Daum stretched his lead as Jason McDougal worked past Cofer and into the second position. By lap 13 Daum encountered lapped traffic, and quickly tried to dispatch the traffic to keep distance between himself and McDougal.
The only caution to slow the field, resulting from a spun David Budres in turn two, the field lined back up with five laps to go. Returning to racing, Daum was able to keep enough space between himself and McDougal to take the checkers. Tyler Thomas finished fourth, with Tanner Carrick rounding out the top five.
"This is just as special as the Pepsi win last year," said Zach Daum. "That was the only midget race we got to win last year. I just freaking love this place. There's just no better atmosphere, there's no better place to go racing that Sun Prairie, Wisconsin. I can't thank Wayne Green enough for letting me run this racecar. I feel like the only guy that believes in me right now lives in New Zealand. I'm happy to get him his first win over in the states. I just can't thank him enough. This deal came together kind of at the last minute. This is a Bullet car and obviously Keith makes them work pretty good. Last night we struggled, we were just way too tight. I was trying to do the same stuff that I do with my other car and you just can't do it. I think we hit on something here."
"It was a real good night," stated Tucker Klaasmeyer. "The invert gets you on one night and it works to your benefit the next night. Starting sixth on a track like this is almost better than starting on the pole. I got to go wherever I want, try whatever I wanted and I think I found something fairly unique down in three and four. It was really good. Hat's off to Al and Keith. I kind of screwed up last night, so I was trying to make up for it tonight."
"It's always good getting to see Scott Petry out at the track and it looks like we had a pretty good night overall," commented Jason McDougal. "We didn't tear anything up. I can't thank my supporters and Scott enough, and all the guys at the shop for giving me this opportunity."
POWRi Lucas Oil National Midget League Feature Results (30 laps): 1. 5d – Zach Daum 2. 27 – Tucker Klaasmeyer 3. 15 – Jason Mcdougal 4. 91t – Tyler Thomas 5. 71k -Tanner Carrick 6. 25 – Jerry Coons, Jr. 7. 97 – Maria Cofer 8. 3n – Jake Neuman 9. 67 – Holly Shelton 10. 71 – Ryan Robinson 11. 72 – Sam Johnson 12. 9k – Kyle Schuett 13. 35 – Kevin Thomas, Jr. 14. 3w – Brandon Waelti 15. 21ks – Karter Sarff 16. 14jr – Holley Hollan 17. 1 – Scott Hatton 18. 79 – Blake Carrick 19. 23 – David Budres 20. 57 – Chase Mcdermand 21. 31 – Ray Seach 22. 8c – Johnny Petrozelle