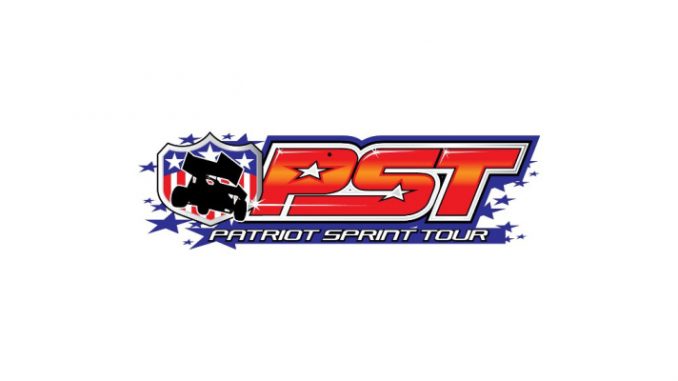 By Paul Harkenrider
(Woodhull, NY) Chuck Hebing got back on track Saturday night at Woodhull Raceway after scoring a DNF Friday night at Outlaw. Hebing would take the lead away from polesitter Dylan Westbrook on the second lap and never look back scoring his fifth Patriot Sprint Tour A-Main of 2018.
"Woodhull has been real good to me over the years" commented Hebing. "We got it rolling tonight, it got a little hard to get by the lap cars with the dust but it was a good night over all with a lot of the Wilkins Family here and boy what a crowd tonight!"
A pair of 47's in Dylan Westbrook and Kyle Drum started the 24 car field and it was Westbrook taking the lead on the opening lap. Hebing started in third and was immediately pressuring the Westbrook ride as Sammy Reakes started seventh and took his 17 car to the front getting up to third on lap three prior to the yellow flag coming out.
On the next restart, local favorite Steve Collins got his 67 car rolling on the outside and he started making a charge to the front battling with Jonathan Preston, Kyle Drum and Jordan Thomas for top five supremacy.
Hebing would continue to extend his lead getting through lap traffic with ease around the very tight third of a mile.
On lap 15, fourth place driver Kyle Drum would fall off the pace down the back stretch pulling out the third caution of the event.
On the restart, Westbrook would hit the bottom hard but just did not have the speed on the straightaway's like Hebing did and the 45 would remain out front.
Collins would have another great restart getting by Preston for fourth and eventually Reakes for the third spot. One driver who also gained speed in the later half of the race was Jared Zimbardi who fell back as far as 13th but started to move forward with ten laps remaining. Zimbardi copied the same line as Collins getting by drivers like Jordan Thomas, Jonathan Preston and eventually, Sammy Reakes.
Hebing would run away with the win, with Westbrook earning a Woodhull career best runner up spot, followed by Steve Collins, Jared Zimbardi and Sammy Reakes the top five.
"I didn't know where exactly those guys (Westbrook & Collins) were but I knew I was getting by lap cars really good, the car was real maneuverable in lap traffic." Hebing continued. "I also heard tonight was legends night so another gray haired guy wins!"
Dylan Westbrook took a career best second in his fifth start at Woodhull and was quite happy what notes they can take back when they come back next season.
"We now know what we have to do to be good here" Westbrook commented. "I hope next time we can put it in victory lane. I gotta thank Glenn (Styres) for supplying the car, my crew and family, just everyone who helps out."
Life has been good outside of racing for Steve Collins as him and his wife Shannon welcomed a baby boy in late spring which put him on limited racing schedule for 2018. That did not stop the Belfast, NY driver getting on the podium for the fourth consecutive time at Woodhull.
"We have a real good set up for this place, the car works really good here" said Collins. "I wish I could have drew a little bit better but I don't think I had it for them at the end."
Collins was extremely strong on the restarts which allowed him to advance in position lap by lap.
"The restarts worked out for me okay, you barrel it in there and you hope they don't slide up into you and cause a big may lay, but I had to do something on that lap 15 restart. The car seemed comfortable when I did that and it worked out in my favor."
Chuck Hebing also achieved another milestone of his already illustrious career by notching career win No.50 with the Patriot Sprint Tour making him the only driver in tour history to do so. Hebing also re-extended his point lead over Jordan Thomas with only four point races remaining.
Heat races went to Dylan Westbrook, Kyle Drum, and Chuck Hebing. Jared Zimbardi won the Bonnell's Collison Center Dash for Cash. Parker Evans earned the Casey's Truck Salvage 'Salvage of the Night award' and Tyler Graves was the Prestige Pool & Spa Final Finisher.
The series continues its aggressive stretch of races this coming Wednesday as they return to Land of Legends Raceway for a rare midweek event.
The series will take a day off and then prepare for a three day weekend in Central Pennsylvania. On Friday, they are at the famed, Williams Grove Speedway as they will partner with the United Racing Club. Saturday they will make their inaugural appearance at BAPS Motor Speedway, formerly known as Susquehanna Speedway and conclude the weekend at the fast Selinsgrove Speedway on Sunday.
For more information, please log onto www.patriotsprinttour.com for up to date schedule info, point standings and other miscellaneous news. You can also LIKE Patriot Sprint Tour on facebook and follow @PatriotSprints on Instagram and Twitter.
A-Verdi Storage Containers Patriot Sprint Tour Quick Results
Quick Results
A Main: 1) 45-CHUCK HEBING (5) 2) 47x-Dylan Westbrook 3) 67c-Steve Collins 4) 82-Jared Zimbardi 5) 17-Sammy Reakes 6) 79-Jordan Thomas 7) 22-Jonathan Preston 8) 54j-David Just 9) 11j-Chris Jones 10) 30-Scott Goodrich 11) 98-Joe Trenca 12) 61-Parker Evans 13) 67r-Pete Richardson 14) 13-Keith Granholm 15) 99k-Dan Kuhn 16) 54jr-Scott Just 17) 36-Steve Doell 18) 121-Steve Glover 19) 17z-Josh Azzi 20) 25G-Tyler Graves 21) 47-Kyle Drum 22) 38-Brad Knab 23) 88-Joe August 24) 19J-Mike Jackson
Heat 1: 1) 47x-Dylan Westbrook 2) 88-Joe August Jr 3) 17-Sammy Reakes IV 4) 11J-Chris Jones 5) 98-Joe Trenca 6) 38-Brad Knab 7) 67-Pete Richardson 8) 25G-Tyler Graves
Heat 2: 1) 47-Kyle Drum 2) 67-Steve Collins 3) 22-Jonathan Preston 4) 30-Scott Goodrich 5) 17-Josh Azzi 6) 36-Steve Doell 7) 121-Steve Glover 8) 99k-Dan Kuhn
Heat 3: 1) 45-Chuck Hebing 2) 54J-David Just 3) 79-Jordan Thomas 4) 82-Jared Zimbardi 5) 54jr-Scott Just 6) 61-Parker Evans 7) 13-Keith Granholm 8) 19J-Mike Jackson
Bonnell's Collision Center Dash: 1) 82-Jared Zimbardi 2) 88-Joe August Jr 3) 54Jr-Scott Just 4) 98-Joe Trenca 5) 54J- David Just 6) 11J-Chris Jones
Patriot Sprint Tour Championship Point Standings: 1) 45-Chuck Hebing (1339) 2) 79-Jordan Thomas (1286) 3) 47-Kyle Drum (1132) 4) 30-Scott Goodrich (1100) 5) 121-Steve Glover (1050) 6) 67r-Pete Richardson (1032) 7) Paulie Colagiovanni (854) 8) 82-Jared Zimbardi (775) 9) 17z-Josh Azzi (770) 10) 48jr-Darryl Ruggles (604)