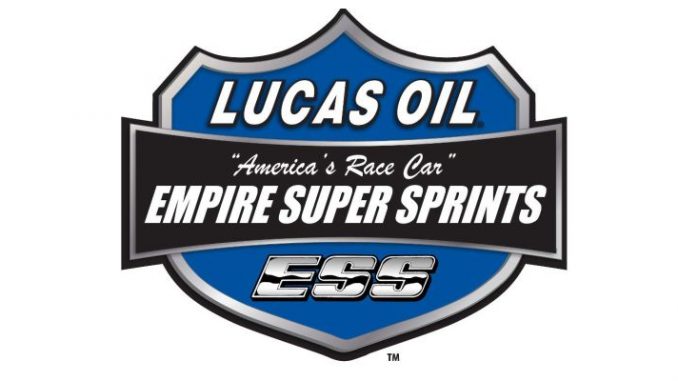 By Dean Reynolds
ST. MARCEL, PQ – Steve Poirier makes it two in a row on dirt in Quebec with his victory at Le RPM Speedway. The driver claimed his 71st career win with the Lucas Oil Empire Super Sprints (ESS) and also took home the 1000 Islands RV Centre Canada Tour and Fondations 4 Saisons Quebec Series point titles.
For Poirier, the 35th Anniversary Tour was to be a pick and choose season, but riding the wave of early success he has found himself right on the heals of Jason Barney in quest of his eighth championship.
"How can you say it? The stars are just running with me this weekend. We didn't have the best car but the draws have gone our way and also what happened on the track," Poirier said with some disbelief in his voice. "Tonight starting on the pole here is a big advantage as the track is fast but very tight."
Poirier indeed redrew the front row start which was key as two tries to get the 25 Lap Mach 1 Chassis A-Main fell victim to red flags. With the upfront start, Poirier was able to avoid trouble.
"Racing here is just so quick and he need to be in the right place sometimes," he went on, "Once we got going the track was racy where you can move around. That is a plus as lap traffic comes up fast and you need to pick you lines."
While Poirier was out front, Billy VanInwegen and Shawn Donath kept the #28FM in their sites. Once the race got it's third green flag try and went non-top right to the checkered flag.
"It's tough, you want to be patient passing lap cars as they are racing too and you don't want to get caught up with them," Steve noted on how the race panned out, "But, you also can't wait to long as someone will pass you so that's what I had to do tonight."
Even with VanInwegen and Donath swapping the runner up slot several times they also could try to make a move on Poirier if the situation fell right. "I made some moves there late and I guess it helped me to get the win." Poirier said afterwards.
For VanInwegen, who is tackling the full ESS tour for the first time, this was his best career ESS finish and he was all smiles standing on the podium. "We finally got a good redraw and we just had to take advantage of it and we did the best we could," said the Sparrowbush, NY driver, "To finish second to Steve here in Quebec is pretty cool."
Donath's third place finish was some consolation from the night before where he was leading Poirier just past halfway when his motor let loose. "This was definitely better than last night," Donath said with a smile, "It was a bad ending but we know we have something to work with and then to come back tonight, not give up and get a top three I just want to thank the guys for their hard work."
The win for Poirier was worth $2,110 with VanInwegen and Donath close behind. Rounding out the top ten were Jason Barney, Chad Miller, Dave Axton, Dan Douville, Matt Tanner, Matt Billings and Mike Mahaney.
Another nice field of 24 sprints were in the pits on night #2 in Quebec.
Lucas Oil Empire Super Sprints
Mach 1 Chassis A-Main at RPM Speedway – Steve Poirier ($2,110), Billy VanInwegen ($1235), Shawn Donath ($1035), Jason Barney ($855), Chad Miller ($780), Dave Axton ($695), Dan Douville ($645), Matt Tanner ($685), Matt Billings ($625), Mike Mahaney ($585), Jeff Cook ($605), Brett Wright ($525), Dale Gosselin ($515), Paul Kinney ($635), Alex Vigneault ($505), Kelly Hebing ($500), Yan Bilodeau ($500), Scott Holcomb ($500), Alain Bergeron ($525), Coleman Gulick ($725), Jordan Poirier ($500), Guillaume Neiderer ($500), Matt Hoyt ($500), Ray Sitterly ($500)
E3 Spark Plugs Fast Time – Tanner, Kinney, Cook $25
Car Mate Trailers Heats – Tanner, Bergeron, Gulick $25
Engler Machine and Tool Halfway – S, Poirier $50
Pinnacle Pole Award – S, Poirier $50
Insinger Performance Hard Charger – Kinney (9 pos), $50
Canadian Sprint Car Nationals 14th Anniversary – Kinney $50
Fondations 55 Last Car Lead Lap – Cook $50
Fondations 55 Pick 5 – Miller $25
SUNY Canton Smart Finish – Cook $35
Ashley Lynn Winery Podium – S, Poirier, VanInwegen, Donath $10
Hoosier Tire – Gulick $200
For more Information on the Lucas Oil Empire Super Sprints:
Web: www.empiresupersprints.com
Twitter: @ESSprints
Facebook: https://www.facebook.com/EmpireSuperSprints