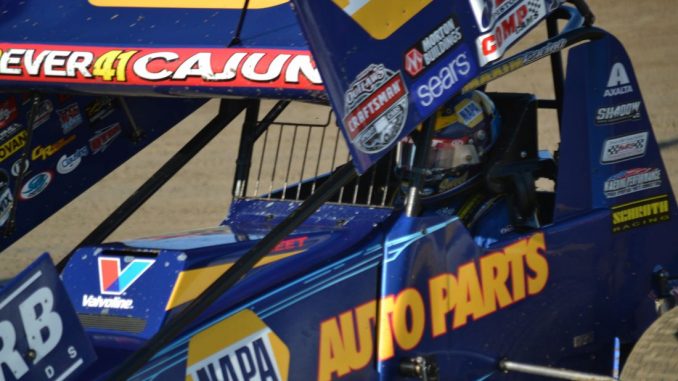 CHICO, CA (September 7, 2018) – Grass Valley, California native Brad Sweet passed Tim Kaeding on Lap 17 and powered around a Kaeding slide job in the Green-White-Checkered finish to win his sixth World of Outlaws Craftsman Sprint Car Series Feature of 2018. Tim Kaeding, aboard a second Sides Motorsports entry, settled for second and his brother Bud Kaeding completed the podium.
Tim Kaeding, fresh off of a fifth-place finish at the Knoxville Nationals, won the Sears Craftsman Dash to earn the pole for the 30-Lap Feature alongside fellow California native Cory Eliason. Eliason powered off the cushion of turn four to lead the opening lap with Kaeding in tow.
Eliason, aboard the famous Roth Motorsports No.83, reached traffic quickly around the quarter-mile oval and Kaeding took advantage with a slider to lead Lap 9. Meanwhile, Brad Sweet worked his way forward from his fifth-starting spot to third on Lap 10.
Sweet battled with Eliason for second for a couple circuits before securing the position for good on Lap 14. Sweet set his eyes on Kaeding and reeled him in quickly in heavy lapped traffic before completing the slide job for the lead in turn one to lead Lap 17.
As Sweet motored away, Kaeding and Eliason waged war for second with the latter taking the position at the conclusion of the 18th circuit. Bud Kaeding closed in on his brother and Eliason making it a three-car battle for the runner-up position. Tim Kaeding established the position and tried to reel Sweet back in as the leaders sliced and diced their way through traffic around the bullring.
Sweet had a comfortable lead coming to the White Flag, but a caution for Buddy Kofoid put the celebration on hold. A Green-White-Checkered finish would end the race, officially making the event 31 laps.
Tim Kaeding threw a big slider into turn one, but Sweet stayed on the gas, powered around him down the backstretch and went on to win his sixth Feature of 2018.
"I've been coming here since I was a kid and it's cool to get a win here. It's all about tomorrow night now, it would be awesome to get a Gold Cup victory tomorrow, that's something I dreamed about as a kid," Sweet said next to his NAPA Racing, Kasey Kahne No.49.
When prompted about the late restart, Sweet didn't hold back, "I made a mistake and I will learn from it in the future. I think I had the best car, but you've got to finish races and I was fortunate to survive that restart," the Grass Valley, CA native added.
Tim Kaeding continued his impressive week coming home second in the Sides Motorsports No.3.
"It's a privilege to be able to drive for Jason. Jason is a great guy and one of the last true guys in the sport. It's great to be competitive with the Outlaws again," Kaeding said.
When asked about the last restart Kaeding chuckled and said, "10 years ago I probably would have crashed both of us."
The San Jose, CA fan-favorite concluded the interview by encouraging the large crowd to get some cold beer and go to the annual Chili Feed.
Tim's brother, Bud, was pleased to be on the podium aboard the famous Williams No.0. "I don't think I've ever been on the podium with the Outlaws. Morrie and Kate Williams have been doing this a long time and I can't thank them enough," Bud said in appreciation before thanking the fans for supporting Gold Cup and dirt track racing.
10th-starting Shane Golobic, who competed last night in the BC39 at Indianapolis Motor Speedway, finished fourth with Eliason fading to fifth.
Following Sweet to the line were seven California locals, meaning the first eight finishers were California natives to the delight of the hometown crowd. Outlaws Ian Madsen and Shane Stewart completed the top-ten. Daryn Pittman garnered KSE Hard Charger honors coming from 18th to 11th.
World of Outlaws Craftsman Sprint Car Series
Gold Cup Race of Champions
Chico, CA
Friday September 7, 2018
Qualifying Flight-A: 1. 4S-Michael Kofoid, 11.812; 2. 45-Austen Wheatley, 11.889; 3. 16A-Colby Copeland, 11.93; 4. 49-Brad Sweet, 11.93; 5. 1A-Jacob Allen, 11.996; 6. 2-Shane Stewart, 12.023; 7. 92-Andy Forsberg, 12.053; 8. 24-Rico Abreu, 12.06; 9. 121-Justin Sanders, 12.08; 10. 83T-Tanner Carrick, 12.123; 11. 26-Joey Saldana, 12.138; 12. 3C-Tanner Thorson, 12.144; 13. 15-Donny Schatz, 12.157; 14. 37-Mitchell Faccinto, 12.158; 15. 21W-Jake Wheeler, 12.196; 16. 19-Brent Marks, 12.246; 17. 31C-Justyn Cox, 12.26; 18. 21P-Robbie Price, 12.324; 19. 7S-Jason Sides, 12.4; 20. 28-Nathan Rolfe, 12.436; 21. 96-Andy Caruana, 12.687
Qualifying Flight-B: 1. O-Bud Kaeding, 11.827; 2. 3-Tim Kaeding, 11.897; 3. 83JR-Kyle Hirst, 11.933; 4. 5-David Gravel, 11.935; 5. 18-Ian Madsen, 11.94; 6. 88N-DJ Netto, 11.974; 7. 1S-Logan Schuchart, 11.988; 8. 83-Cory Eliason, 12; 9. 9-Daryn Pittman, 12.036; 10. 22-Mason Moore, 12.05; 11. 17W-Shane Golobic, 12.158; 12. 17-Sheldon Haudenschild, 12.16; 13. 7-Scott Bogucki, 12.162; 14. 11K-Kraig Kinser, 12.191; 15. 2X-Chase Majdic, 12.24; 16. 29-Willie Croft, 12.273; 17. 98-Sean Watts, 12.298; 18. W20-Greg Wilson, 12.307; 19. 21-Michael Ing, 12.344; 20. 18Z-Jennafer Frazier, 12.83
Heat #1 – Flight (A) (10 Laps) – Top 5 Transfer: 1. 4S-Michael Kofoid [1]; 2. 16A-Colby Copeland [2]; 3. 92-Andy Forsberg [4]; 4. 121-Justin Sanders [5]; 5. 15-Donny Schatz [7]; 6. 26-Joey Saldana [6]; 7. 1A-Jacob Allen [3]; 8. 31C-Justyn Cox [9]; 9. 21W-Jake Wheeler [8]; 10. 7S-Jason Sides [10]; 11. 96-Andy Caruana [11]
Heat #2 – Flight (A) (10 Laps) – Top 5 Transfer: 1. 45-Austen Wheatley [1]; 2. 49-Brad Sweet [2]; 3. 2-Shane Stewart [3]; 4. 24-Rico Abreu [4]; 5. 3C-Tanner Thorson [6]; 6. 19-Brent Marks [8]; 7. 83T-Tanner Carrick [5]; 8. 37-Mitchell Faccinto [7]; 9. 21P-Robbie Price [9]; 10. 28-Nathan Rolfe [10]
Heat #3 – Flight (B) (10 Laps) – Top 5 Transfer: 1. 83JR-Kyle Hirst [2]; 2. O-Bud Kaeding [1]; 3. 17W-Shane Golobic [6]; 4. 18-Ian Madsen [3]; 5. 9-Daryn Pittman [5]; 6. 7-Scott Bogucki [7]; 7. 1S-Logan Schuchart [4]; 8. 98-Sean Watts [9]; 9. 21-Michael Ing [10]; 10. 2X-Chase Majdic [8]
Heat #4 – Flight (B) (10 Laps) – Top 5 Transfer: 1. 3-Tim Kaeding [1]; 2. 83-Cory Eliason [4]; 3. 88N-DJ Netto [3]; 4. 17-Sheldon Haudenschild [6]; 5. 11K-Kraig Kinser [7]; 6. 5-David Gravel [2]; 7. 22-Mason Moore [5]; 8. W20-Greg Wilson [9]; 9. 29-Willie Croft [8]; 10. 18Z-Jennafer Frazier [10]
Sears Craftsman Dash (8 Laps): 1. 3-Tim Kaeding [1]; 2. 83-Cory Eliason [5]; 3. 16A-Colby Copeland [4]; 4. O-Bud Kaeding [8]; 5. 49-Brad Sweet [6]; 6. 83JR-Kyle Hirst [7]; 7. 4S-Michael Kofoid [3]; 8. 45-Austen Wheatley [2]
C-Main (10 Laps) – Top 2 Transfer: 1. 19-Brent Marks [1][-]; 2. 29-Willie Croft [2][-]; 3. 21P-Robbie Price [5][$150]; 4. 98-Sean Watts [4][$150]; 5. 21-Michael Ing [7][$150]; 6. W20-Greg Wilson [6][$125]; 7. 28-Nathan Rolfe [8][$125]; 8. 18Z-Jennafer Frazier [9][$125]; 9. 31C-Justyn Cox [3][$125]; 10. 96-Andy Caruana [10][$125]; 11. 7S-Jason Sides [11][$125]
Last Chance Showdown (12 Laps) – Top 4 Transfer: 1. 5-David Gravel [2][-]; 2. 1A-Jacob Allen [1][-]; 3. 26-Joey Saldana [5][-]; 4. 22-Mason Moore [6][-]; 5. 7-Scott Bogucki [8][$300]; 6. 37-Mitchell Faccinto [7][$250]; 7. 29-Willie Croft [12][$225]; 8. 83T-Tanner Carrick [3][$200]; 9. 19-Brent Marks [11][$200]; 10. 1S-Logan Schuchart [4][$200]; 11. 2X-Chase Majdic [10][$200]; 12. 21W-Jake Wheeler [9][$200]
Feature (30 Laps): 1. 49-Brad Sweet [5][$8,000]; 2. 3-Tim Kaeding [1][$4,000]; 3. O-Bud Kaeding [4][$2,500]; 4. 17W-Shane Golobic [10][$2,200]; 5. 83-Cory Eliason [2][$2,100]; 6. 83JR-Kyle Hirst [6][$2,000]; 7. 121-Justin Sanders [13][$1,800]; 8. 92-Andy Forsberg [9][$1,600]; 9. 18-Ian Madsen [14][$1,500]; 10. 2-Shane Stewart [11][$1,300]; 11. 9-Daryn Pittman [18][$1,200]; 12. 15-Donny Schatz [17][$1,100]; 13. 16A-Colby Copeland [3][$1,000]; 14. 88N-DJ Netto [12][$700]; 15. 24-Rico Abreu [15][$600]; 16. 3C-Tanner Thorson [19][$600]; 17. 45-Austen Wheatley [8][$600]; 18. 17-Sheldon Haudenschild [16][$600]; 19. 11K-Kraig Kinser [20][$600]; 20. 5-David Gravel [21][$600]; 21. 26-Joey Saldana [23][$600]; 22. 1S-Logan Schuchart [25][$]; 23. 22-Mason Moore [24][$600]; 24. 4S-Michael Kofoid [7][$600]; 25. 19-Brent Marks [26][$]; 26. 1A-Jacob Allen [22][$600]; Lap Leaders: Cory Eliason 1-8, Tim Kaeding 9-16, Brad Sweet 17-30; KSE Hard Charger Award: 9-Daryn Pittman[+7]