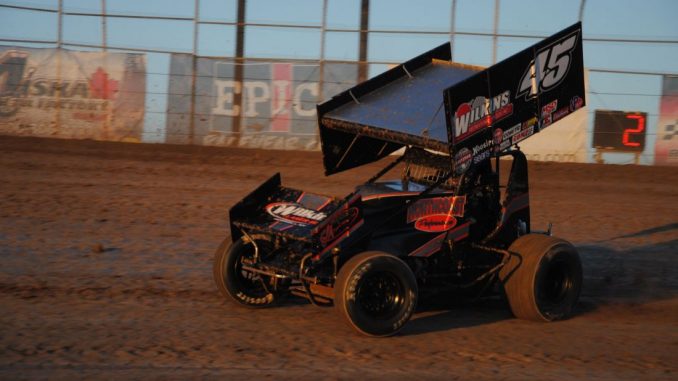 By T.J. Buffenbarger
OHSWEKEN, Ont. (September 14, 2018) —
Chuck Hebing started his Canadian Nationals weekend off in victory lane picking up the win in a makeup feature from the July 20th program for the Patriot Sprint Tour Friday at Ohsweken Speedway. Hebing from Ontario, New York passed Alex Hill for the lead after an early race red flag and maneuvered through slower traffic masterfully to take the victory.
Matt Billings and Alex Hill started on the front row. Hill took the lead at the start with Hebing moving up from fourth to second on the opening lap. Further back Mack DeMan quickly moved up into the top three from 10th starting spot to drive into third.
Billings night ended on lap five after contact with Mark Smith sent him upside down while racing for the fourth position, flipping hard in turn four. Billings exited the car under his own power.
Following the restart Hebing drove around the outside of Hill for the lead. Hebing continued to drive away until encountering slower traffic with 10 laps to go. This allowed Hill to close right up to Hebing's back bumper, even getting one run under him for the lead through turns one and two, but could not make the pass.
Once entering traffic Hebing stretched out his lead for the remainder of the event. Hill was able to hold off a late surge by Smith for the runner up spot. Dylan Westbrook made a late race charge after starting in the last row to finish four with Cory Turner rounding out the top five.
Patriot Sprint Tour
Ohsweken Speedway
Ohsweken, ONT
Friday September 14, 2018
Feature (25 Laps): 1. 45 – Chuck Hebing, 2. 77X – Alex Hill, 3. 55S – Mark Smith, 4. 47X – Dylan Westbrook, 5. 97 – Cory Turner, 6. 82 – Jared ZImbardi, 7. 47K – Scott Kreutter, 8. 17X – Mack DeMan, 9. 10 – Mitch Brown, 10. 47 – Kyle Drum, 11. 56N – Dain Naida, 12. 91 – Ryan Turner, 13. 80 – Chris Steele, 13. 9 – Steve Lyons, 15. 30 – Scott Goodrich, 16. 18X – Josh Shantz, 17. 55 – Mike Thorne, 18. 6 – Curtis Gartly, 19. 0 – Mikey Kruchka, 20. 14H – Jim Huppunen.