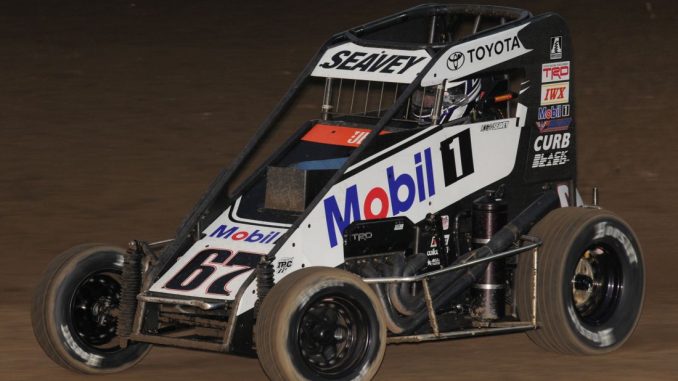 By Richie Murray
Rossburg, Ohio………Midgets on the high banks of Eldora Speedway are breathtakingly spectacular and that's what this Saturday's 37thrunning of the "4-Crown Nationals" will surely provide when the USAC P1 Insurance National Midgets make their lone annual trip to the legendary half-mile.
Series point leader Logan Seavey may technically be a Rookie as he eyes his first career midget start at Eldora. But the 21-year-old Sutter, Calif. native appears as that in name only as he carries a 98-point lead into the race on the strength of consistency with a pair of wins in Du Quoin, Ill. and Sweet Springs, Mo. In July, Seavey made his initial expedition of Eldora a memorable one, leading 53 laps on his way to an eighth-place finish in his NASCAR Camping World Truck Series debut.
Among his Keith Kunz Motorsports/Curb-Agajanian teammates are 2016 "4-Crown" midget winner Rico Abreu of St. Helena, Calif., who always offers a thrill at Eldora. In that 2016 race, the 2014 USAC National Midget champ swept the night, recording fast time, winning his heat, and then dominating the feature.
Rico takes over the helm of the straight No. 97 while reigning series champ and 2017 race winner Spencer Bayston of Lebanon, Ind. will give it a go in the No. 97K, returning to the seat following injuries suffered in an August racing accident.
Broken Arrow, Oklahoma's Brady Bacon has been on a roll of late, winning 15-grand in a midget at the #BC39 at the Indianapolis Motor Speedway, becoming a father for the third time and then winning the "Jim Hurtubise Classic" USAC AMSOIL National Sprint Car race at the Terre Haute (Ind.) Action Track, all within a nine-day span.
Tucson, Arizona's Jerry Coons, Jr. heads a talent-loaded Petry Motorsports bunch who've all found a bevy of success. The USAC Triple Crown champ won the 2010 midget portion of the "4-Crown." He'll be joined by upstart Broken Arrow, Oklahoma driver Jason McDougal, who will be laying his eyes on Eldora Speedway for the first time ever this weekend. Chris Windom, a past winner in the Sprint and Silver Crown portions of the "4-Crown," joins in a third Petry car for a run to add a third prong to his crown.
Phoenix, Arizona's Chad Boat knows how to get it done on the fast, half-mile dirt ovals as evidenced by his three career victories on the Belleville (Kans.) High Banks. He's currently fourth in points with two wins on the season. He finished fourth and led a lap back in 2016.
Justin Grant, of Ione, Calif., was the victor of the Sprint Car feature at the 2016 "4-Crown," but the versatile wheelman has shown the ability to get the job done in any division, winning this year in both a Silver Crown car and a Midget, which he did for the Clauson Marshall Racing crew in Fairbury, Neb. in July. His teammates are a stacked bunch too! Indianapolis, Indiana's Tyler Courtney has won nine times in a sprint car with USAC in 2018 and he's the reigning winner of the Silver Crown 50-lapper at Eldora a year ago. Angola, Indiana's Zeb Wise has turned some heads this season in his Rookie campaign, winning in August at Lanco in Pennsylvania to become the youngest winner in the history of the series, then followed that up with a charge from 18th to 1st in the Pursuit Race during the "BC39."
The Dooling No. 63 is a familiar sight in victory lane, doing so already twice this year with Cullman, Alabama's Kevin Thomas, Jr. at the controls. Back in 2014, the ride captured the "4-Crown" with Bryan Clauson at the wheel. Thomas is looking to notch his first career Eldora Speedway win.
On Saturday, pits open at 11:30am, spectator gates open at noon, a USAC autograph session will take place from 3-4pm in the fan zone, drivers meeting at 4:30pm and cars on track at 6pm. General admission tickets are $30 for ages 13 & up and $30 for ages 12 & under. Reserved tickets are $34 for ages 13 & up and $14 for ages 12 & under: $14.
Saturday's full events will have LIVE audio on the USAC app along with LIVE video on http://Live.EldoraSpeedway.com/.
USAC NATIONAL MIDGET FEATURE WINNERS AT THE "4-CROWN NATIONALS:"
1981: Ken Schrader, 1982: Rich Vogler, 1983: Johnny Parsons, 1985: Rich Vogler, 1986: Rich Vogler, 1987: Jack Hewitt, 1988: Rich Vogler, 1989: Robby Flock, 1990: Stan Fox, 1991: Jeff Gordon, 1992: Johnny Parsons, 1993: Jack Hewitt, 1994: Steve Knepper, 1995: Tony Stewart, 1996: Tracy Hines, 1997: Jay Drake, 1998: Jack Hewitt, 1999: Dave Darland, 2000: Kasey Kahne, 2001: J.J. Yeley, 2002: Jay Drake, 2004: Dave Darland, 2005: Danny Stratton, 2006: Tracy Hines, 2007: Ricky Stenhouse Jr., 2008: J.J. Yeley, 2009: Brad Sweet, 2010: Jerry Coons Jr., 2011: Kyle Larson, 2012: Kyle Larson, 2013: Rico Abreu, 2014: Bryan Clauson, 2015: Christopher Bell, 2016: Rico Abreu, 2017: Spencer Bayston