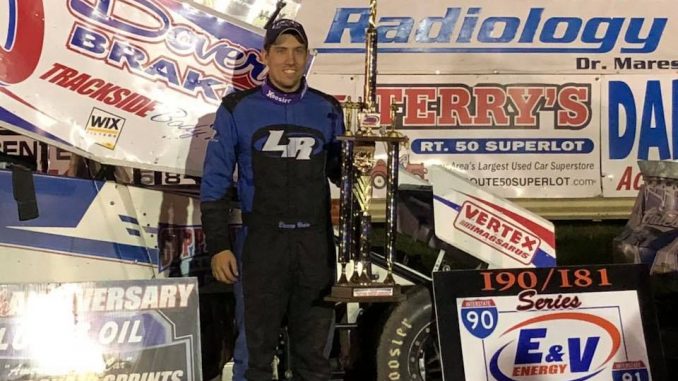 By MIKE MALLETT
FONDA, NY – Danny Varin dominated the second and final stop for the Lucas Oil Empire Super Sprints at the Fonda Speedway on Saturday night for his sixth win of the season. Varin was chased to the line by Steve Poirier in second which was good enough for him to win his eighth career series championship tying with him Mike Woodring for the most all time.
"This car has been phenomenal," stated Varin in victory lane. "I can't thank my crew enough. They put a really good car underneath me, good motor underneath me and it really paid off."
Varin started on the outside of the front row which gave him the top lane going into turn one. He blasted around pole-sitter Cory Sparks to have the lead as the field exited the turn onto the back straightaway. From there he quickly opened up the gap over the field.
Varin caught traffic on lap seven forcing him to alter his line while Larry Wight worked his way into the runner-up position after starting fifth. Wight closed in on Varin as he encountered heavier traffic. Then, on lap nine the caution was necessary as Josh Flint spun in the third turn.
Much like the opening start, Varin was on the mark at the green flag putting distance on Wight. Wight had his hands full with Varin's father Bobby as he looked to take second. As their battle continued for second, a few positions behind them Poirier was working his way up through from the 13th starting spot.
On lap 15 Poirier was looking to a make a three-wide move to go from seventh to fifth only to come together with Coleman Gulick. The contact caused Poirier to spin in turn three. He stayed on the gas and completed the 360 spin to keep going without losing a position.
One last caution was necessary as Bobby Varin's car came to a rest in turn one after collapsing the front end on lap 19. Action resumed with a double-file restart as Danny was flanked by Wight on the outside. Like the two previous starts, Danny was gone at the green.
"I was looking forward to the restarts to be honest with you," commented Varin. "I felt so good after a restart, but the long green flags I was really fading and fading pretty fast. Once the yellow came out I gathered everything up, pulled the wing back a little bit more and put my foot to the floor."
With Danny checking out, the race heated up for second. Poirier took advantage of the restart to jump from sixth into the top three with a wild three-wide pass on the outside. He then tracked down Wight to take over the runner-up spot with just a lap to go.
Danny was too far gone at that point as he went on to easily win the E&V Energy / NAPA Auto Parts / Mach 1 Chassis feature for his fourth consecutive win at his home track.
Poirier's second place finish earned him championship number eight. He was able to put enough of a gap between himself and 2017 champion Jason Barney to earn top honors again to match Woodring's record.
"We were not supposed to race for the title, but at mid-season it started being possible," commented Poirier. "We had some luck. I felt like we deserved it. We had been good team and did really well during the season. We were just supposed to race for wins, but then we could get the title. I have a lot of respect for Mike Woodring and I didn't know if we'd run for another championship, maybe next year to eventually get it. Now that it played our way I'll have to come back to defend the title."
It wasn't an easy run to the title on Saturday night as Poirier had ignition issues in timed warm-ups which started him last in the heat. He missed the redraw before going on to win the dash. He then regrouped from the 360 spin in the feature to take second.
"What a night," cited Poirier. "We battled hard tonight. We had problems in hot laps then some small problems with the car in the heat race and missed the redraw. We thought we were in trouble. In the feature we knew we had to take every position possible for the championship. I had a run on the backstretch on Coleman and Pieniazek, he turned a little onto me and I didn't lift. I needed just a bit more traction to get there. When I spun I thought, 'at least I tried.' I wouldn't have been proud of myself if I didn't. I kept my foot in it and within two laps I was catching them again."
Wight held on late to finish in the third position with Gulick finishing fourth and Pieniazek able to round out the top five.
Lucas Oil Empire Super Sprints
Mach 1 Chassis A-Main at Fonda – Danny Varin ($2,085), Steve Poirier ($1,160), Larry Wight ($860), Coleman Gulick ($630), Josh Pieniazek ($555), Billy VanInwegen ($470), Shawn Donath ($480), Cory Sparks ($470), Paul Kinney ($410), Matt Tanner ($400), Jason Barney ($395), Bobby Hackel ($355), Jeff Trombley ($375), Jeff Cook ($350), Chad Miller ($350), Matt Billings ($300), Mike Kiser ($325), Kelly Hebing ($325), Dave Axton ($350), Mike Mahaney ($300), Jeremiah Munson ($300), Floyd Billington ($300), Bobby Varin ($325), Josh Flint ($300).
Did Not Qualify – Sean Durand, Brett Wright, Keith Granholm.
E3 Spark Plugs Fast Time – Wight, Donath, B. Varin $25
Car Mate Trailers Heats – Wight, Donath, D. Varin $25
Engler Machine and Tool Halfway – D. Varin $50
Pinnacle Pole Award – Sparks $50
Insinger Performance Hard Charger – Poirier (13 pos), $50
Canadian Sprint Car Nationals 14th Anniversary – Cook $50
Fondations 55 Last Car Lead Lap – Hebing $50
Lacaillade Masonry B-Main – Axton – $50
Fondations 55 Pick 5 – Pieniazek $25
SUNY Canton Smart Finish – Barney $35
Trackside Body Works/Cobra Coaches Dash – Poirier ($100), Trombley ($75), Miller ($50), Kiser ($25), Hackel ($25), K. Hebing ($25)
Ashley Lynn Winery Podium – D. Varin, Poirier, Wight $10
Hoosier Tire – Mahaney $200
For more Information on the Lucas Oil Empire Super Sprints:
Web: www.empiresupersprints.com
Twitter: @ESSprints
Facebook: https://www.facebook.com/EmpireSuperSprints