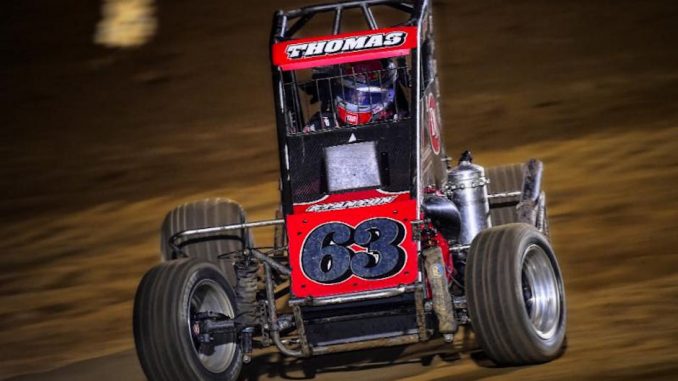 By Richie Murray
Ocala, Florida………The season-opening kickoff to USAC's 2019 National calendar has expanded with the addition of USAC Midget National Championship racing to the February festivities at Bubba Raceway Park along with the annual appearance by the USAC AMSOIL Sprint Car National Championship.
"Winter Dirt Games has annually been one of the USAC AMSOIL National Sprint Cars' greatest traditions over the past decade," said Levi Jones, USAC Series Coordinator. "The addition of USAC National Midgets to the event adds makes it even that much bigger. This is truly going to be a can't-miss event, and what a way it will be to open up the 2019 USAC season!"
The Midgets will make their debut at the 3/8-mile D-shaped dirt track on Thursday, February 7, with an open practice, followed by two consecutive, full nights of racing on Friday, February 8 and Saturday, February 9, the first appearance by the series in the Sunshine State in five seasons.
The following week, USAC AMSOIL National Sprint Car racing returns to Ocala once again for the ninth consecutive year to kick off its season at "Winter Dirt Games." The mini-series will take place at Bubba Raceway Park with an open practice night on Wednesday, February 13, then three complete full programs on Thursday, February 14, Friday, February 15 and Saturday, February 16.
While "Winter Dirt Games" has certainly proven to be a top-notch event among drivers seeking to get their season started off on the right foot, it's also been the same for fans who exit the winter weather for a much-needed foray into the "Sunshine State" to witness the most competitive racing series' lone appearance in the state during the year.
"This is one of those events that everybody circles on their calendars," track owner Tom Bean said. "Next year, it's getting even bigger and better with two premier USAC divisions on board and I'm beyond thrilled to get the 2019 season started in a big way."
Twenty-one USAC National Sprint Car events have been held at the track since 2011. Chase Stockon won the 2018 season opener at Ocala while Tyler Courtney captured the next two. Bryan Clauson is the winningest USAC Sprint Car driver at Bubba's with four victories in four different seasons. Damion Gardner has won three times while Tracy Hines, Brady Bacon, Courtney and Robert Ballou have each scored a pair of victories. Darren Hagen, Dave Darland, Thomas Meseraull, Justin Grant, Stockon and Hunter Schuerenberg have all won once.
Meanwhile, USAC Midget events in the Florida has been few and far between since the inception of the club in 1956. Only seven times have USAC Midgets ventured to Florida over the years. The most recent occasion was on the pavement at New Smyrna Speedway in 2013, won by Bobby Santos and Kyle Larson. The first USAC Midget races in Florida came in a week span during 1963. Johnny Riva and Bob Wente were victorious at Palmetto Speedway while Chuck Rodee and Wente also picked up victories at Golden Gate Speedway. It was another 42 years before the series returned in 2005 for a non-points special event at Orlando Speed World Speedway, won by Josh Wise.
Additional info on the events will be made public in the coming months.