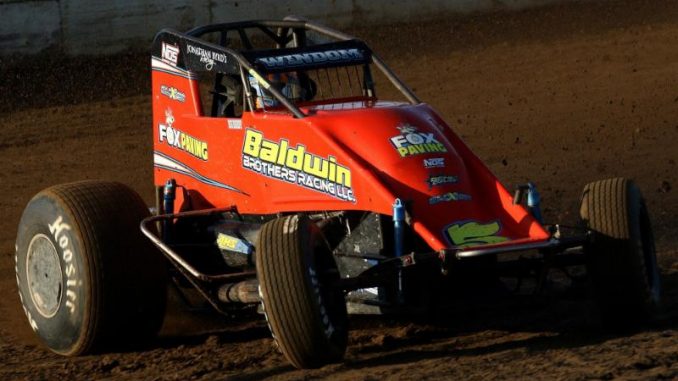 By Richie Murray
One of the most fun things for a stat geek to look up is, you guessed it, stats. One of the more interesting stats for a fan of USAC AMSOIL National Sprint Car racing and an appreciation of its history is the list of career feature wins.
As we ride into a venue that has played a large part of that history, Indiana's Terre Haute Haute Action Track, this Friday, October 12 for the "Wabash Clash," one aspect of the list that has been quite noticeable this year is the rise of a few of the series' young stars up the rankings and compare how they stack up with those who came before them.
Notably, you can look to the top-four drivers in the USAC National Sprint Car points: Kevin Thomas, Jr., Tyler Courtney, Chris Windom and Brady Bacon. All drivers who are in their prime, in their 20s, living it up on the track in the glory days of today.
With six victories this season, Cullman, Alabama's Thomas has climbed into the top-20 alongside legends A.J. Foyt and Roger McCluskey with 23 career wins, which he's racked up in a hurry. Seven last year and six already this year with six races remaining has put him at 13 over the past two years. With another season or two of putting up similar numbers, KT would find himself in the top-10 all-time in a hurry where Jon Stanbrough and Rich Vogler stand tied with 35 wins apiece.
Courtney, of Indianapolis, Ind., has the "lowest" total of the bunch with 16, but relatively, he's just getting started. He's already picked off 10 this year to climb to 32nd on the list, tied with Damion Gardner. Courtney's already become a part of the record book this past September at the "4-Crown Nationals" at Eldora Speedway, marking the tenth occasion a driver has reached at least 10 series wins in a season.
Windom is an already-established USAC star who's collected two national championships to his ever-growing resume. The 2016 Silver Crown and 2017 Sprint Car champ, who hails from Canton, Ill., has steadily worked his way up the list to 28th with 19 career wins with three triumphs this season.
When Bacon won recently at Terre Haute in September, the victory sent him to 22 career wins for 23rd place on the list, equaling Rick Hood, Bubby Jones and Sam Sessions. That score was the fourth of the season for the Broken Arrow, Oklahoma driver in his own Brady Bacon Racing No. 99.
Of course, they're all chasing the king of USAC National Sprint Cars, the one who's made more starts (731) and earned more victories (62) than any driver in the history of the series and lies fifth in the current standings right behind this group. He's had a resurgent year with three wins and definitely appears capable of pushing his records further out of reach for all those who trail him.
One thing all these drivers have in common is they've won at the Terre Haute Action Track in the seat of a USAC National Sprint Car. To be the best, you're going to have to tame one of the most legendary racetracks of them all. This Friday night, each will have a chance to do that as they not only climb up the all-time USAC rankings, but those of The Action Track as well.
Windom's won there four times. Bacon, Thomas and Courtney have two as does Darland. Odds are one of these will be part of the headline this time come Friday.
Despite that, future wins and successes can't be predicted, and drivers have to be at or near the top of their game for a long-time to put up the kinds of numbers Darland has. Thomas, Courtney, Windom and Bacon have sustained their successes for a while now and show no signs of slowing down. Time can only tell what the future will hold, but first things first. We'll see who tames Terre Haute first this Friday, shall we?
The fourth and final appearance of the year for the series at the Terre Haute Action Track begins Friday, October 12, with pits opening at 3pm, grandstands at 4pm and hot laps at 6:30pm.
General admission grandstand tickets are $25 for adults while general admission infield tickets are $15. General admission tickets for children age 11 and under are FREE. Reserved grandstand tickets are $30 for adults and $10 for children 11 and under.
Two-day passes that also include the Saturday night, October 13 World of Outlaws Craftsman Sprint Car event at Terre Haute are $50 for adult grandstand general admission ($60 reserved & $30 infield). Children 11 and under grandstand general admission tickets are FREE ($20 reserved & FREE infield).
Tickets can be purchased in advance at https://dirtcar.ticketforce.com/eventperformances.asp?evt=281.
Fans can watch Friday night's USAC AMSOIL National Sprint Car race live on http://www.SpeedShiftTV.com/ and listen LIVE on the USAC app. As always, you can watch the race one day later, on-demand at http://www.Loudpedal.TV/. Live updates will be available throughout the night on https://www.facebook.com/usacracing/, https://twitter.com/USACNation/ and on the Race Monitor app.
——————————
ALL-TIME USAC NATIONAL SPRINT CAR DRIVER FEATURE WINS:
1. [62 wins] Dave Darland
2. [52 wins] Tom Bigelow
3. [47 wins] Tracy Hines
4. [46 wins] Jack Hewitt
5. [45 wins] Larry Dickson
6. [42 wins] Pancho Carter
7. [41 wins] Bryan Clauson
8. [40 wins] Gary Bettenhausen
9. [37 wins] Sheldon Kinser
10. [35 wins] Jon Stanbrough & Rich Vogler
12. [32 wins] Rollie Beale
13. [28 wins] Robert Ballou, Levi Jones & J.J. Yeley
16. [26 wins] Tony Elliott & Dave Steele
18. [25 wins] Steve Butler & Jay Drake
20. [23 wins] A.J. Foyt, Roger McCluskey & Kevin Thomas, Jr.
23. [22 wins] Brady Bacon, Rick Hood, Bubby Jones & Sam Sessions
27. [21 wins] Greg Weld
28. [19 wins] Chris Windom
29. [17 wins] Jerry Coons, Jr., Parnelli Jones & Bud Kaeding
32. [16 wins] Tyler Courtney & Damion Gardner
34. [15 wins] Bobby East, Cory Kruseman, Jud Larson & Brian Tyler
38. [14 wins] Billy Cassella, Jim Hurtubise, Lee Kunzman & Bruce Walkup
42. [13 wins] Don Branson & Steve Chassey
44. [12 wins] Eric Gordon
45. [11 wins] Daron Clayton, Greg Leffler & Chase Stockon
48. [10 wins] Justin Grant & Tony Stewart
50. [9 wins] Mario Andretti, Hunter Schuerenberg & Robbie Stanley
53. [8 wins] Mike Bliss, Chet Fillip, Thomas Meseraull, Johnny Rutherford & Joe Saldana
58. [7 wins] Kevin Doty, Darren Hagen, Kenny Irwin, Jr., Doug Kalitta, Jim Keeker, C.J. Leary, Bobby Santos, Brady Short, Kevin Thomas, Bobby Unser & Josh Wise
69. [6 wins] Chad Boespflug, Kevin Briscoe, Jac Haudenschild, Jason McCord, Jan Opperman, Tom Sneva, George Snider & Dick Tobias
77. [5 wins] Larry Cannon, Dana Carter, Derek Davidson, Gene Lee Gibson, Jeff Gordon, Chuck Gurney, Shane Hmiel, Kevin Huntley, Frankie Kerr, Kelly Kinser, Eddie Leavitt, Jim Mahoney, Andy Michner, Johnny Parsons, Bill Puterbaugh & Cole Whitt
93. [4 wins] Rob Chaney, Cary Faas, Jesse Hockett, Steve Kinser, Michael Lewis, Don Nordhorn, Lee Osborne, Red Riegel, Ken Schrader, Al Smith & Danny Smith
104. [3 wins] Chuck Amati, Sonny Ates, Jeff Bloom, Mark Cassella, Shane Cottle, Kyle Cummins, Jerry Daniels, Bob East, Bob Frey, Dickie Gaines, Wayne Hammond, Tray House, Kenny Jacobs, Tony Jones, Kyle Larson, Ralph Liguori, Charlie Masters, Mike Mosley, Larry Rice, Ron Shuman, Mitch Smith & Doug Wolfgang
126. [2 wins] Chad Boat, Marvin Carman, Ed Carpenter, Brad Doty, Nic Faas, Cy Fairchild, Brad Fox, Arnie Knepper, Danny Lasoski, Mack McClellan, James McElreath, Lealand McSpadden, Danny Milburn, Mat Neely, Ryan Newman, Jerry Poland, Casey Riggs, Bill Rose, Mickey Shaw, Terry Shepherd, Dean Shirley, Brad Sweet, Kevin Swindell, Sammy Swindell, Mike Spencer, Bud Tingelstad, Billy Vukovich, Mike Ward & Carl Williams
155. [1 win] Donnie Adams, A.J. Anderson, Brad Armstrong, Tony Armstrong, Tommy Astone, Dick Atkins, Brent Beauchamp, Jeff Bland Jr., Stan Bowman, Alan Brown, Karl Busson, Johnny Capels, David Cardey, Bob Cicconi, Henry Clarke, Troy Cline, Duke Cook, Mel Cornett, Allen Crowe, Bill Engelhart, Cotton Farmer, Aaron Farney, Gary Fedewa, Blake Fitzpatrick, Joe Gaerte, Russ Gamester, Rickie Gaunt, Elmer George, Brian Gerster, Todd Gibson, Ron Gregory, Richard Griffin, Garrett Hansen, Jerry Hansen, Jim Hemmings, Josh Hodges, Bob Hogle, Jackie Howerton, Chuck Hulse, Logan Jarrett, Marc Jessup, Gordon Johncock, Chet Johnson, Page Jones, Bob Kinser, Mike Kirby, Fred Linder, Steve Long, Hank Lower, Brett Mann, Bobby Marshman, Larry Martin, Mike Martin, Brad Marvel, Justin Marvel, Rusty McClure, Bob McCoy, Jason McDougal, Jim McElreath, Bobby Olivero, Gary Patterson, Billy Pauch, Dave Peperak, Jiggs Peters, Aaron Pierce, Paul Pitzer, Terry Pletch, Billy Puterbaugh Jr., Bud Randall, Byron Reed, Boston Reid, Rodney Ritter, Jr., Brody Roa, David Roahrig, Carson Short, Billy Shuman, Jimmy Sills, Smokey Snellbaker, Wib Spalding, Greg Staab, Randy Standridge, Ron Standridge, Ricky Stenhouse Jr., Kody Swanson, Tanner Swanson, Mike Sweeney, Jeff Swindell, Clark Templeman, Tyler Thomas, Bill Tyler, Rick Ungar, Lennie Waldo, Tyler Walker, Scotty Weir, Kenny Weld, Bob Wente, Matt Westfall, Johnny White, Rip Williams, Jacob Wilson & Eddie Wirth