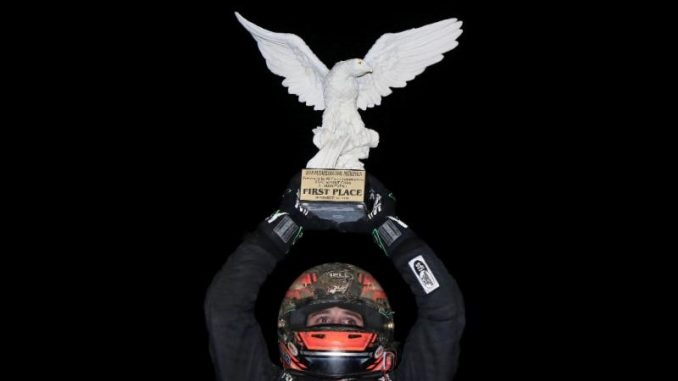 From Richie Murray
PERRIS, Ca. (November 10, 2018) — It was the best of times. It was the worst of times.
That about sums of the rollercoaster of emotions Kevin Thomas, Jr. and Tyler Courtney endured at the conclusion of Saturday night's Budweiser "Oval Nationals" presented by All Coast Construction at Perris Auto Speedway.
Kevin Thomas, Jr. notched his second-straight "Oval Nationals" win worth $25,000, but lost the USAC AMSOIL National Sprint Car championship on a tiebreaker to Tyler Courtney who gained the one spot he needed on the final lap after it appeared as if his title chances had slipped through his fingertips just moments before.
After 40 races from coast-to-coast, and 40 laps around Perris, the 2018 USAC AMSOIL National Sprint Car season concluded in the most dramatic of fashion, deadlocked at the top of the standings for the first time in the 63-year history of the series. It's a record that will never be eclipsed, breaking the previous closest title race from 1965 when Johnny Rutherford defeated Greg Weld by 2.5 points.
Drama, agony, ulcers, heartbreak and, ultimately, joy were just a few of the ingredients in the mix during the final lap of the 23rd annual affair, which provided us with a nail-biter of a race on the track and on the Xcel Spreadsheet which was unlike any we've seen in recent times.
As he did Friday night, Courtney jumped out front once again at the start of the main event, although it was short-lived as Dave Darland escaped unscathed after a turn four flip on the opening lap.
On the complete restart, Courtney checked out from his outside front row starting spot while polesitter C.J. Leary cleared a charging Chase Stockon in turn two to lock up the second spot where he'd remain for much of the first half. That is until A.J. Bender became the second casualty of the young feature, flipping between turns three and four on the 14th lap before walking away under his own power.
Leary was salivating with thoughts of racing fortune when action resumed, sticking right to the bumper of Courtney until lap 16 when the two went wheel-to-wheel with Leary making the pass in turn two and narrowly leading before Courtney came right back at him for the spot on the following lap. Courtney made his move for the lead on the back straight, but Leary made a charge between three and four with Courtney just barely nipping Leary for the lead at the line this time.
On the 18th circuit, Leary was able to clear Courtney again in turn two to retake the lead and instantly began to widen the gap between he and Courtney to nearly a second and looked to be the head of the class.
With 14 laps remaining, Leary led the field entering turn one, but his ride appeared to be a handful as he wrestled with his steering wheel to get the car to turn. Courtney and Thomas, running second and third at the time, ate his lead up in the flick of a switch. Just moments later, the car of 22nd running Chris Gansen slowed to a stop at the inside of turn four to bring out the yellow. During the caution, Leary pulled into the work area to replace the right rear rubber. Though he returned to the track, his bid for a win was quashed for all intents and purposes and he'd soldier on to a 15th place finish.
That now placed the top-two in points in first and second on the track. Courtney came into the feature with a nine-point advantage and the objective was clear – finish fourth or better and the title was his regardless of what Thomas did. However, at the moment, the biggest single race payday of the year was just within reach and he was keen on putting that cherry on top of the pie with just 13 laps remaining.
Thomas worked on Courtney over the next handful of laps and, on lap 33, made his move around the outside of Courtney to grab the lead. Courtney was still in decent shape as he ran second, but one lap later, Chris Windom also scooted by and, suddenly, Courtney's title bid was in a perilous state.
With four laps remaining, Stockon slipped by the suddenly fading Courtney for third while Bacon was suddenly breathing down his neck for fourth. Courtney was able to take a deep breath for a moment during the red with three laps remaining that resulted when R.J. Johnson flipped between turns one and two from which he'd walk away.
With three to go, leader Thomas and fourth-running Courtney were locked up at the top of the standings as they stood in the moment. Courtney's role was clear. Do not let Bacon get by! However, Bacon put his ride up a lane higher than Courtney on the restart and drove around him in turn two to move into fourth and put Courtney on the outside looking in from fifth. One lap later, with 38 of the 40 laps complete, three-time "Ovals" winner Bud Kaeding slowed to a stop on the inside of turn four. The ensuing restart attempt also didn't take as Max Adams stopped at the bottom of turn two.
Two laps remained for the final round of this yearlong boxing match that's seen the point lead switch nine times among three drivers. As it stood on the lap 39 restart, Thomas was up on Courtney by three markers. Once the green flag fell, two distinct races were occurring for the race win and for fourth. Thomas held Stockon and Windom in check behind him for the race lead while Bacon handled Courtney as the field passed under the white flag.
Entering the first turn, suddenly, Bacon began to slow as his fuel tank began to run dry. Courtney was right there to capitalize and miraculously moved back into fourth and into the safe zone that he needed to be in to win the title.
Thomas finished the final lap of the final race of the season in grand fashion, winning the finale for the second consecutive season and becoming the first driver since Dave Darland in 2005-06 to win the "Oval Nationals" in successive years, while Stockon and Windom finished second and third, respectively.
"Two in a row here at the Oval Nationals! To come out of this place as the winner, that's pretty humbling," Thomas exclaimed. "It's hard whenever you get those cautions late in the race. You just have to struggle on hitting the bottom. I knew I got the lead around Sunshine running the middle. On the last lap, I saw Stockon up there and I knew with the way his stuff rolls and with the way our car was working, I just straight gave up on the bottom. I was just ripping right through the middle."
Meanwhile, Courtney clawed his way back to fourth to win the title via a tiebreaker. Both Courtney and Thomas finished with 2733 points, but Courtney's 11 victories trumped Thomas' 7, thus earning him the title in the closest points race in series history. Another 2018 champion, Damion Gardner, rounded out the top-five in the finish to collect his sixth-straight USAC/CRA Sprint Car crown and seventh overall.
"I didn't want to make it that close," Courtney said with a laugh. "We had a really good racecar tonight. It just kind of went away on us there. I couldn't stick the middle like those guys were doing, but I'd rather have luck on our side than be good sometimes. I think we had a guy upstairs looking on us tonight. We're doing all this in honor of Bryan Clauson. I'm honored to be a part of this. To come out our first year as a sprint car team and be the national champions is truly something special. It's not something many people can do, and I've got a great group behind me. I've been busting my tail to get to this step and it took a lot of people believing in me along the way. It feels like everything's paying off."
Thomas was matter of fact when it came to the title race. Just one more win – one more position, even – would have provided him just enough points toward the championship.
"For this to come all the way down to the wire and actually tie in points, that's pretty nuts," Thomas reflected. "It was a hard-fought battle all year. We tied, but he won more races. That's what got him here."
At the beginning of this season, Courtney entered new territory, exiting the TOPP Motorsports team that he had accrued so much success with over the past two seasons, to join the newly-created sprint car team owned by Tim Clauson, Richard Marshall and 1999 USAC Silver Crown champion driver Ryan Newman. The goals may have been lofty to some, but this team meant business from day one and there's no resting on their laurels according to Courtney.
"One of our goals was to be on the podium at the end of the year," Courtney remembered. "Obviously, we try to exceed our goals and we came out with 11 wins and a championship. We're going to go back to the drawing board, reset our goals, and come back and defend this title."
Contingency award winners Saturday night at Perris Auto Speedway were R.J. Johnson (Simpson Race Products First Heat Winner) Chris Windom (Competition Suspension, Inc. Second Heat Winner), Brady Bacon (Chalk Stix Third Heat Winner), Dave Darland (Indy Race Parts Fourth Heat Winner), Max Adams (Roger & Barb Tapy 13th Fastest Qualifier), Isaac Chapple (Wilwood Brakes 13th Place Finisher), Logan Seavey (KSE Racing Products Hard Charger) and Logan Williams & Danny Faria, Jr. (Saldana Racing Products First Non-Transfers).
USAC AMSOIL NATIONAL & CRA SPRINT CAR RACE RESULTS: November 10, 2018 – Perris Auto Speedway – Perris, California – 23rd Budweiser "Oval Nationals" presented by All Coast Construction
WOODLAND AUTO DISPLAY QUALIFYING: 1. Thomas Meseraull, 77m, Michael-16.626; 2. Austin Williams, 2, Jory-16.636; 3. Brady Bacon, 99, Bacon-16.649; 4. Dave Darland, 12, Ballou-16.769; 5. Jason McDougal, 19s, Reinbold/Underwood-16.810; 6. Logan Seavey, 19AZ, Reinbold/Underwood-16.823; 7. Bud Kaeding, 16, Martin-16.865; 8. Richard Vander Weerd, 10, Vander Weerd-16.904; 9. R.J. Johnson, 92, Sertich-16.907; 10. Chris Windom, 5, Baldwin-16.968; 11. Chase Johnson, 36D, Goodnight/Thomas/Curb-Agajanian-16.971; 12. Logan Williams, 5J, Jory-17.049; 13. Max Adams, 5m, Adams-17.055; 14. Danny Sheridan, 15, Johnson-17.075; 15. Jace Vander Weerd, 88, Vander Weerd-17.090; 16. Brody Roa, 91R, BR-17.158; 17. Charles Davis, Jr., 50, Davis-17.171; 18. A.J. Bender, 21, Bender-17.198; 19. Tommy Malcolm, 5x, Napier-17.206; 20. Chris Gansen, 4G, Gansen-17.216; 21. Danny Faria, Jr., 42, Cheney-17.289; 22. Isaac Chapple, 52, LNR/Chapple-17.317; 23. Austin Liggett, 83, Liggett-17.334; 24. Cody Williams, 44, Jory-17.344; 25. Josh Hodges, 74x, Hodges-17.497; 26. Randy Waitman, 90, Waitman-17.614; 27. Tye Mihocko, 5T, Mihocko-17.666; 28. Verne Sweeney, 98, Tracy-17.675; 29. Kyle Edwards, 39E, Edwards-17.699; 30. Matt McCarthy, 28m, McCarthy-17.766; 31. Jake Swanson, 34AZ, Grau/Burkhart-18.003; 32. Austin Ervine, 51, AJ-18.505; 33. Gary Marshall, Jr., 72, Marshall-19.794; 34. Frank Rodgers, 11x, Rodgers-19.942.
SIMPSON RACE PRODUCTS / EXTREME MUFFLERS FIRST HEAT: (10 laps, top-2 transfer to the feature) 1. R.J. Johnson, 2. Adams, 3. Davis, 4. Hodges, 5. Faria, 6. Edwards, 7. McDougal, 8. Marshall, 9. Meseraull. NT
COMPETITION SUSPENSION, INC. (CSI) / CIRCLE TRACK PERFORMANCE / ROD END SUPPLY SECOND HEAT: (10 laps, top-2 transfer to the feature) 1. Windom, 2. A. Williams, 3. Sheridan, 4. Seavey, 5. McCarthy, 6. Bender, 7. Chapple, 8. Rodgers, 9. Waitman. 2:53.25
CHALK STIX / KEIZER ALUMINUM WHEELS THIRD HEAT: (10 laps, top-2 transfer to the feature) 1. Bacon, 2. C. Johnson, 3. J. Vander Weerd, 4. Kaeding, 5. Liggett, 6. Malcolm, 7. Mihocko, 8. Swanson. 2:54.56
INDY RACE PARTS / BUTLERBUILT SEATS FOURTH HEAT: (10 laps, top-2 transfer to the feature) 1. Darland, 2. Roa, 3. C. Williams, 4. Gansen, 5. Sweeney, 6. Ervine, 7. L. Williams, 8. R. Vander Weerd. NT
BR MOTORSPORTS / KING RACING PRODUCTS SUPER SIX DASH: (6 laps, finish order sets feature lineup) 1. C.J. Leary (#30 Leary), 2. Tyler Courtney (#7BC Clauson Marshall Newman), 3. Kevin Thomas, Jr. (#69 Dynamics), 4. Chase Stockon (#32 32 TBI), 5. Justin Grant (#4 TOPP), 6. Damion Gardner (#4x Alexander). NT
COMPETITION SUSPENSION, INC. (CSI) FIRST SEMI: (12 laps, top-5 transfer to the feature) 1. Hodges, 2. Seavey, 3. Liggett, 4. J. Vander Weerd, 5. Bender, 6. L. Williams, 7. Malcolm, 8. McCarthy, 9. Sweeney, 10. Sheridan, 11. Ervine, 12. R. Vander Weerd. NT
PYROTECT RACING CELLS / ROD END SUPPLY SECOND SEMI: (12 laps, top-5 transfer to the feature) 1. Kaeding, 2. McDougal, 3. Chapple, 4. C. Williams, 5. Gansen, 6. Faria, 7. Edwards, 8. Mihocko, 9. Rodgers, 10. Davis. 3:31.71
FEATURE: (40 laps – starting positions in parentheses) 1. Kevin Thomas, Jr. (3), 2. Chase Stockon (4), 3. Chris Windom (8), 4. Tyler Courtney (2), 5. Damion Gardner (6), 6. Logan Seavey (15), 7. Austin Williams (14), 8. Justin Grant (5), 9. Brody Roa (10), 10. Chase Johnson (13), 11. Brady Bacon (7), 12. Danny Faria, Jr. (26), 13. Isaac Chapple (19), 14. Jace Vander Weerd (23), 15. C.J. Leary (1), 16. Logan Williams (25), 17. Chris Gansen (20), 18. Max Adams (11), 19. Bud Kaeding (18), 20. R.J. Johnson (12), 21. Cody Williams (22), 22. Jason McDougal (16), 23. Josh Hodges (17), 24. A.J. Bender (24), 25. Austin Liggett (21), 26. Dave Darland (9). NT
**Meseraull flipped during the first heat. Gardner flipped during the Super 6 Dash. Darland flipped on the opening lap of the feature. Bender flipped on lap 14 of the feature. R.J. Johnson flipped on lap 38 of the feature.
FEATURE LAP LEADERS: Laps 1-15 Courtney, Lap 16 Leary, Lap 17 Courtney, Laps 18-26 Leary, Laps 27-32 Courtney, Laps 33-40 Thomas.
KSE RACING PRODUCTS / SALDANA RACING PRODUCTS / RACING OPTICS HARD CHARGER: Logan Seavey (15th to 6th)
WILWOOD BRAKES 13TH PLACE FINISHER: Isaac Chapple
ROGER & BARB TAPY 13TH FASTEST QUALIFIER: Max Adams
SALDANA RACING PRODUCTS FIRST NON-TRANSFERS: Logan Williams & Danny Faria, Jr.
FINAL USAC AMSOIL SPRINT CAR NATIONAL CHAMPIONSHIP POINTS: 1-Courtney-2733, 2-K. Thomas-2733, 3-Windom-2651, 4-Stockon-2343, 5-Bacon-2331, 6-Leary-2328, 7-Darland-2292, 8-Grant-2290, 9-Robert Ballou-1771, 10-Chapple-1572.
FINAL AMSOIL USAC/CRA SPRINT CAR POINTS: 1-Gardner-1643, 2-Roa-1598, 3-A. Williams-1354, 4-C. Williams-1189, 5-Swanson-1173, 6-R.J. Johnson-1113, 7-Max Adams-1044, 8-L. Williams-976, 9-Faria-972, 10-Gansen-872