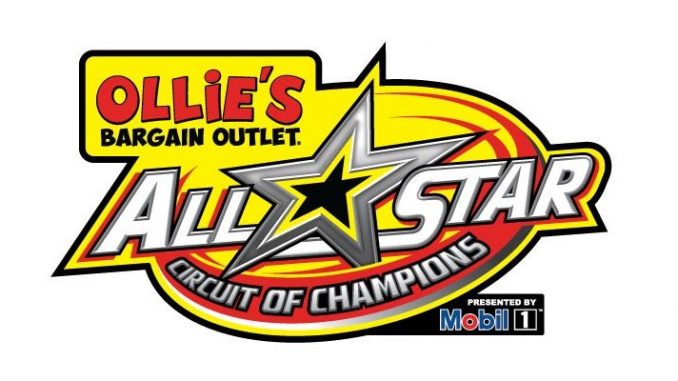 From Tyler Altmeyer
BROWNSBURG, Ind. (November 20, 2018) – Ollie's Bargain Outlet, one of America's largest retailers of closeout merchandise and excess inventory, will join the All Star Circuit of Champions in 2019 as the official title sponsor, fueling one of the nation's most historic, as well as prestigious, touring winged sprint car series.
"We are thrilled to have Ollie's Bargain Outlet join the All Star Circuit of Champions in 2019. Just like the Ollie's brand is synonymous with bargains, sprint car racing represents a real value to its loyal fans. We are privileged to have Ollie's join the All Star Family," Tony Stewart said, All Star Circuit of Champions owner. "I'm confident we can do our part in representing Ollie's Bargain Outlet at the highest level, as well as showcase their brand to fans and racers from across the country. I am very much looking forward to meeting a lot of fans at Ollie's stores in the coming years."
Founded in Mechanicsburg, Pa., Ollie's Bargain Outlet's roots are instilled in a sprint car hotbed. Ollie's has grown to 303 locations in 23 states, offering real bargain prices in every department, from housewares to sporting goods to flooring and food. Ollie's buyers scour the world looking for closeouts, overstocks, package changes, manufacturer refurbished goods, and irregulars.
"We are honored to be associated with the All Star Circuit of Champions," said Mark Butler, President and CEO of Ollie's Bargain Outlet. "Founded in Central Pennsylvania, sprint car racing is certainly a part of our local community. The sprint car fan base has always been a supporter of Ollie's Bargain Outlet. We hope to mold a strong relationship with Tony Stewart's All Stars, as well as build an everlasting relationship with their fans from all parts of the country."
In addition, Mobil 1, the official synthetic motor oil brand of the All Star Circuit of Champions, will return in 2019 as the official presenting sponsor.
"Sprint car racing is not only one of the most competitive and exciting forms of racing in the world, it is also extremely demanding on teams, cars and engines," said Christian Flathman, global motorsports and sponsorship advisor at ExxonMobil. "Week in and week out, teams in this series hit the road to compete throughout the country. Our scientists and engineers work every day to make sure that Mobil 1 will not only help teams get their trucks and haulers to the race, but help them get their sprint cars to victory lane at the track."
A connection that dates back nearly five decades, motorsports continues to form a key element in ExxonMobil's heritage and pedigree, constantly pushing ahead with new technological advances to improve their range of oils and lubricants. Its relationship with the Ollie's Bargain Outlet All Star Circuit of Champions will ensure an important grassroots presence, which is a building block to many of the world's leading motorsports divisions.
The entire 2019 Ollie's Bargain Outlet All Star Circuit of Champions presented by Mobil 1 schedule will be released during the last week of November. The season will ignite officially with action in the Sunshine State beginning with a stop at Bubba Raceway Park in Ocala. The first night of competition is scheduled for Thursday, January 31.