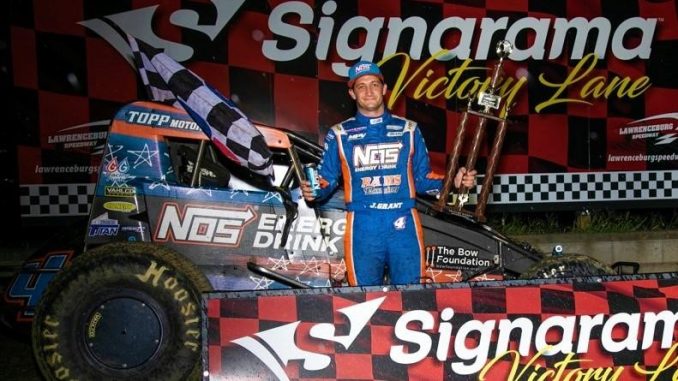 From Richie Murray
LAWRENCEBURG, In. (July 21, 2019) – For Justin Grant, Lawrenceburg Speedway is akin to a second home.
For it was the track where Grant earned his first career USAC AMSOIL National Sprint Car victory and his lone previous Indiana Sprint Week win seven years earlier. It's the place in which he won with USAC in 2014 and again in the fall of 2018. And it's where he earned his latest triumph, Sunday in round four of NOS Energy Drink Indiana Sprint Week.
"I've had a lot of special wins here at Lawrenceburg," Grant said. "I really like it. I raced down here a ton back when I was driving the 40 car for Mark Hery. It was our Saturday night venue. We raced 10-15 Saturday nights a year here for a few years. It's just a place I've always loved coming to."
In fact, coming into Sunday's event, Grant had led just two laps in his entire ISW career, both of which came at the conclusion of that 2012 ISW race at the very same track. It's an ISW career for Grant which includes 12 top-five finishes in 45 starts.
Grant left no doubt on this night, leading all 30 laps from start to finish to win his 15th career USAC AMSOIL National Sprint Car feature, passing Billy Cassella, Jim Hurtubise, Lee Kunzman and Bruce Walkup to move to 34th on the all-time list.
In addition, he became the speedway's winningest sprint car driver on its reconfiguration into its current 3/8-mile, high banked state.
What had been a flurry of five victories in an eight-race span for Grant and TOPP Motorsports to close out the 2018 season, started off strong with a win in their second start of 2019 in Ocala, Fla. The wait for a return trip to victory lane took five months, but Grant feels the pieces to the puzzle were always there, the pieces just had to fit together.
"It's been awhile," Grant acknowledged. "I felt like we've had speed here and there early in the night, then we've had speed late in the night and just struggled to put a whole night together. We were finally good early and late and we're able to put all the pieces together. Lawrenceburg was pretty hammer down tonight and the car was screaming around there. It was a lot of fun to drive and I was just kind of hanging on to it trying to keep it out of the fence."
Although Grant began the 30-lapper from the outside of the front row, at the start, he made a beeline for the bottom, racing to the front of the line and shutting the door on Kokomo ISW winner Chris Windom to be the first to get to turn one. Grant then slid up to the top and broke out to a five-car-length lead.
Trouble ensued on the second lap as ninth-running Max Adams slipped sideways in turn four. Josh Hodges, the 2016 Lawrenceburg Fall Nationals winner, plowed sideways into Adams. Jarett Andretti clipped Hodges' left front wheel and flipped over. Meanwhile, leading series Rookie driver Brian VanMeveren ramped over the right rear tire of Adams, sending him into a set of barrel rolls toward the outside concrete which also entangled 2018 Lawrenceburg ISW winner Tyler Courtney.
VanMeveren and Andretti were both finished for the evening. Courtney, Adams and Hodges each restarted with Courtney actually racing back to a 10th place finish at the checkered.
Multiple times within the first ten laps, Windom was able to get a nose under Grant in between turns three and four as the pair ran two distinctive grooves, Grant up on top and Windom working the bottom.
But, as was the case, as such throughout the middle portion of the race, Windom was able to pull even with Grant as he slid to the exit of the corner. Each time, Grant had the momentum from the top to carry him back in front of Windom, no harm, no foul, no muss, no fuss, where Grant maintained an advantage of a tick under a second over Windom.
With five to go, Grant greeted lapped traffic, but all heeded the courtesy flag and ventured to the bottom, allowing Grant to graze freely by his lonesome without much in the terms of pressure and the lap count dwindling while possessing a healthy advantage over Windom as light sprinkles began to fall.
Beyond the two at the front, C.J. Leary, Kevin Thomas, Jr. and Carson Short all ran nose-to-tail for third, fourth and fifth. With six to go, Short made an impressive bid for third, sliding up the hill in turn four to grab the spot from Leary. Leary then turned his nose left at the exit of four, hustling into turn one to return the favor and reclaim third.
There wasn't as much drama the further up front you glanced as Grant had them covered from flag-to-flag, winning by a relatively comfortable 1.63 second margin over Windom, Leary, Kevin Thomas, Jr. and Carson Short. A victory shower not made up of champagne, but actual precipitation greeted Indiana Sprint Week's fourth different feature winner in as many races in victory lane.
Contingency award winners Sunday night at Lawrenceburg Speedway were C.J. Leary (Fatheadz Eyewear Fast Qualifier), Thomas Meseraull (Simpson Race Products First Heat Winner), Dustin Christie (Competition Suspension, Inc. Second Heat Winner), Brody Roa (AutoMeter Third Heat Winner), Tyler Courtney (Indy Race Parts Fourth Heat Winner), Dave Darland (KSE Racing Products/B & W Auto Mart Hard Charger), Josh Hodges (Roger & Barb Tapy 13th Fastest Qualifier), Dickie Gaines (Wilwood Brakes 13th Place Finisher), Dave Darland (ProSource Hard Work Award) and Tom Harris (Saldana Racing Products First Non-Transfer).
USAC AMSOIL SPRINT CAR NATIONAL CHAMPIONSHIP RACE RESULTS: July 21, 2019 – Lawrenceburg Speedway – Lawrenceburg, Indiana – 32nd NOS Energy Drink Indiana Sprint Week
FATHEADZ EYEWEAR QUALIFYING: 1. C.J. Leary, 19AZ, Reinbold/Underwood-14.112; 2. Chase Stockon, 32, 32 TBI-14.150; 3. Brady Bacon, 69, Dynamics-14.161; 4. Kevin Thomas, Jr., 19, Hayward/Thomas-14.253; 5. Carson Short, 21, RCM-14.258; 6. Max Adams, 5m, Adams-14.274; 7. Justin Grant, 4, TOPP-14.280; 8. Kyle Cummins, 3R, Rock Steady-14.327; 9. Jason McDougal, 71p, Daigh/Phillips-14.344; 10. Anthony D'Alessio, 01, D'Alessio-14.351; 11. Chris Windom, 5G, Goacher-14.356; 12. Brian VanMeveren, 24, VanMeveren-14.426; 13. Josh Hodges, 74x, Hodges-14.467; 14. Jarett Andretti, 18, Andretti-14.514; 15. Scotty Weir, 23s, Simon-14.544; 16. Dickie Gaines, 44, Soudrette-14.570; 17. Tyler Courtney, 7BC, Clauson/Marshall/Newman-14.597; 18. Thomas Meseraull, 00, Whitney-14.604; 19. Joe Liguori, 43JR, Tibbits-14.610; 20. Brody Roa, 91R, BR-14.641; 21. Brandon Mattox, 28, Mattox-14.648; 22. Isaac Chapple, 52, LNR/Chapple-14.712; 23. Dustin Christie, 75, Christie-14.720; 24. Dakota Jackson, 3, Jackson-14.772; 25. Dave Darland, 42, Cheney-14.854; 26. Tom Harris, 84, Harris-15.053; 27. Matt Moore, 9, Moore-15.088; 28. Garrett Abrams, 32A, Abrams-15.205; 29. Callie Wolsiffer, 43w, Tibbits-16.071; 30. Terry Richards, 18m, Richards-NT.
SIMPSON RACE PRODUCTS FIRST HEAT: (10 laps, top-4 transfer to the feature) 1. Thomas Meseraull, 2. Carson Short, 3. Isaac Chapple, 4. C.J. Leary, 5. Jason McDougal, 6. Jarett Andretti, 7. Tom Harris. 2:28.33
COMPETITION SUSPENSION (CSI) SECOND HEAT: (10 laps, top-4 transfer to the feature) 1. Dustin Christie, 2. Chris Windom, 3. Scotty Weir, 4. Max Adams, 5. Chase Stockon, 6. Matt Moore, 7. Joe Liguori. 2:27.42
AUTOMETER THIRD HEAT: (10 laps, top-4 transfer to the feature) 1. Brody Roa, 2. Justin Grant, 3. Dakota Jackson, 4. Brian VanMeveren, 5. Dickie Gaines, 6. Garrett Abrams, 7. Brady Bacon. 2:28.50
INDY RACE PARTS FOURTH HEAT: (10 laps, top-4 transfer to the feature) 1. Tyler Courtney, 2. Dave Darland, 3. Kevin Thomas, Jr., 4. Josh Hodges, 5. Kyle Cummins, 6. Brandon Mattox, 7. Callie Wolsiffer. 2:28.91
SEMI: (12 laps, top-6 transfer to the feature) 1. Brady Bacon, 2. Chase Stockon, 3. Kyle Cummins, 4. Jason McDougal, 5. Jarett Andretti, 6. Dickie Gaines, 7. Tom Harris, 8. Brandon Mattox, 9. Matt Moore, 10. Terry Richards, 11. Garrett Abrams, 12. Callie Wolsiffer, 13. Joe Liguori. 3:00.09
FEATURE: (30 laps, starting position in parentheses) 1. Justin Grant (2), 2. Chris Windom (1), 3. C.J. Leary (6), 4. Kevin Thomas, Jr. (5), 5. Carson Short (4), 6. Brady Bacon (8), 7. Jason McDougal (10), 8. Chase Stockon (7), 9. Kyle Cummins (9), 10. Tyler Courtney (16), 11. Dave Darland (22), 12. Max Adams (3), 13. Dickie Gaines (15), 14. Dustin Christie (20), 15. Isaac Chapple (19), 16. Dakota Jackson (21), 17. Scotty Weir (14), 18. Josh Hodges (12), 19. Brian VanMeveren (11), 20. Jarett Andretti (13), 21. Brody Roa (18), 22. Thomas Meseraull (17). NT
**Jarett Andretti and Brian VanMeveren flipped on lap 2 of the feature.
FEATURE LAP LEADERS: Laps 1-30 Justin Grant.
KSE RACING PRODUCTS/B & W AUTO MART HARD CHARGER: Dave Darland (22nd to 11th)
WILWOOD BRAKES 13TH PLACE FINISHER: Dickie Gaines
SALDANA RACING PRODUCTS FIRST NON-TRANSFER: Tom Harris
ROGER & BARB TAPY 13TH FASTEST QUALIFIER: Josh Hodges
PROSOURCE HARD WORK AWARD: Dave Darland
NEW USAC AMSOIL SPRINT CAR NATIONAL CHAMPIONSHIP POINTS: 1-C.J. Leary-1,253, 2-Chris Windom-1,161, 3-Brady Bacon-1,122, 4-Tyler Courtney-1,112, 5-Kevin Thomas, Jr.-1,097, 6-Chase Stockon-1,089, 7-Justin Grant-1,034, 8-Jason McDougal-951, 9-Carson Short-950, 10-Isaac Chapple-734.
NEW NOS ENERGY DRINK INDIANA SPRINT WEEK POINTS: 1-C.J. Leary-298, 2-Chris Windom-287, 3-Brady Bacon-277, 4-Justin Grant-257, 5-Kevin Thomas, Jr.-244, 6-Jason McDougal-234, 7-Kyle Cummins-224, 8-Tyler Courtney-214, 9-Carson Short-214, 10-Chase Stockon-210.
NEW PROSOURCE PASSING MASTER POINTS: 1-Justin Grant-17, 2-Tyler Courtney, 3-Shane Cottle-17, 4-Dave Darland-16, 5-Kyle Cummins-12, 6-Jarett Andretti-12, 7-C.J. Leary-11, 8-Brent Beauchamp-11, 9-Max Adams-9, 10-Chris Windom-8.
NEXT USAC AMSOIL SPRINT CAR NATIONAL CHAMPIONSHIP RACE: July 24, 2019 – Terre Haute Action Track – Terre Haute, Indiana – 32nd NOS Energy Drink Indiana Sprint Week