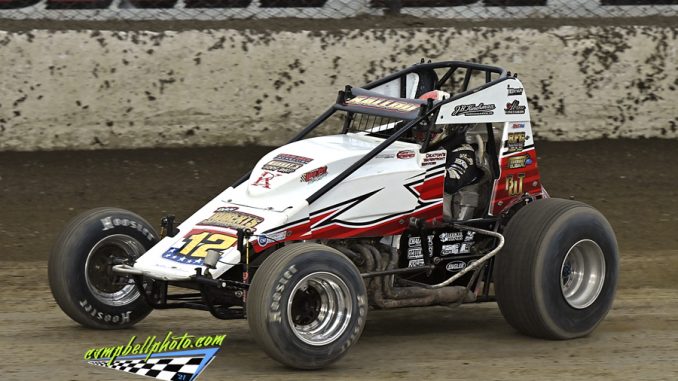 By T.J. Buffenbarger
ROSSBURG, Ohio (May 8, 2021) — Robert Ballou ended Tyler Courtney's winning streak and in the process picked up his first USAC Amsoil National Sprint Car Series victory in three years during the #letsracetwo program Saturday night at Eldora Speedway.
Ballou backed up his second place finish earlier in the afternoon during the makeup feature from Friday's rain out by overcoming adversity having to change an engine following his heat race Saturday night. Ballou then had to hold off multiple side jobs from over the final five to claim the $10,000 top prize.
"I'm wore out. After that heat race we blew up a brand-new engine, so we thrashed until they blew the horn for the feature and got the motor changed," said Ballou. "It was a full out team effort, and it was down the wire. We got the thing started and the changes made to keep up with the track.
Ballou and Justin Grant started on the front row for the 30-lap main event. Chris Windom briefly challenge Ballou for the lead before Ballou took off from the rest of the field.
Courtney quickly moved up from seventh starting position into the top five and was up to third positon on lap seven as Ballou started ot overtake slower traffic.
Courtney quickly closed on Windom for the second position on lap 13 and two laps later pulled a slide job in turn one to take the position.
With 10 circuits to go Ballou held a 2.221 second lead over Courtney. With five laps to go that lead had deminished and Courtney was right on Ballou's back bumper. With four laps to go Courtney made his move throwing a slide job at Ballou in turns one and two, but Ballou motored around the outside of the track the fend off Coutney's challenge.
Courtney tried the same move with three laps to go, but Ballou once again motored around the top to maintain the top position.
Courtney made one more attempt to slide Ballou through turns threea nd four while navigating through slower traffic. The pair made contact with Ballou maintaining the top position. Courtney tried to get a run off the fourth corner on the final lap, but came up .085 seconds short of of Ballou at the finish line.
Courtney's second position ended his streak of Eldora USAC Sprint Car victories at five. Windom, Brady Bacon, and Paul Nienhiser rounded out the top five.
Afterwards Ballou had a moment to reflect on the journey since his arm injury and getting back to victory lane at Eldora.
"It's been a few years. I got my arm broken after my last win and it has been a humbling experience," said Ballou. "This game is tough. You are on top or you are on the bottom. There is nobody that has more dedication in this sport than my team and my guys behind me. We have never give-up attitude and we never back down. Everyone was questioning my ability to do this, and I just said if we can get a car that I can get comfortable with we will be on top."
#letsracetwo
USAC Amsoil National Sprint Car Series
Eldora Speedway
Rossburg, Ohio
Saturday May 8, 2021
Qualifying:
1. 9K-Kevin Thomas Jr, 15.441
2. 5S-Chase Stockon, 15.486
3. 69-Brady Bacon, 15.494
4. 19AZ-Tanner Thorson, 15.516
5. 19-Chris Windom, 15.547
6. 77M-C.J. Leary, 15.574
7. 4-Justin Grant, 15.596
8. 12-Robert Ballou, 15.601
9. 33M-Matt Westfall, 15.615
10. 7BC-Tyler Courtney, 15.633
11. 5-Logan Seavey, 15.635
12. 21AZ-Jake Swanson, 15.636
13. 77-Stevie Sussex, 15.772
14. 61M-Jadon Rogers, 15.867
15. 5N-Paul Nienhiser, 15.867
16. 17G-Max Adams, 15.914
17. 27-Evan Mosley, 16.000
18. 21-Carmen Perigo, 16.056
19. 28-Brandon M attox, 16.151
20. 52-Issac Chapple, 16.185
21. 19S-Seven Drevicki, 16.186
22. 39-Matt Goodnight, 16.375
23. 1H-Korbyn Hayslett, 16.473
24. 6-Chris Phillips, 16.637
25. 18-Dallas Hewitt, 16.698
26. 99-Jack James, 16.728
27. 87-Paul Dues, 16.853
28. 20-Tyler Kendall, 16.883
Heat Race #1 (8 Laps):
1. 7BC-Tyler Courtney
2. 77-Stevie Sussex
3. 4-Justin Grant
4. 19AZ-Tanner Thorson
5. 9K-Kevin Thomas Jr.
6. 28-Brandon Mattox
7. 17G-Max Adams
8. 39-Matt Goodnight
9. 18-Dallas Hewitt
10. 20-Tyler Kendall
Heat Race #2 (8 Laps):
1. 12-Robert Ballou
2. 19-Chris Windom
3. 61M-Jadon Rogers
4. 52-Issac Chapple
5. 1H-Korbyn Hayslett
6. 99-Jack James
7. 5-Logan Seavey
8. 27-Evan Mosley
9. 5S-Chase Stockon
Heat Race #3 (8 laps):
1. 5N-Paul Nienhiser
2. 21AZ-Jake Swanson
3. 69-Brady Bacon
4. 19S-Steven Drevicki
5. 33M-Matt Westfall
6. 77M-C.J. Leary
7. 21-Carmen Perigo
8. 6P-Chris Phillips
9. 87-Paul Dues
B-Main (12 Laps):
1. 1. 77M-C.J. Leary
2. 39-Matt Goodnight
3. 21-Carmen Perigo
4. 17G-Max Adams
5. 87-Paul Dues
6. 18-Dallas Hewitt
7. 6P-Chris Phillips
8. 28-Brandon Mattox
9. 27-Evan Mosley
10. 20-Tyler Kendall
11. 99-Jack James
12. 5-Logan Seavey
A-Main (30 Laps):
1. 12-Robert Ballou
2. 7BC-Tyler Courtney
3. 19-Chris Windom
4. 69-Brady Bacon
5. 5N-Paul Nienhiser
6. 4-Justin Grant
7. 77M-C.J. Leary
8. 21AZ-Jake Swanson
9. 52-Issac Chapple
10. 19S-Steven Drevicki
11. 9K-Kevin Thomas Jr.
12. 17G-Max Adams
13. 87-Paul Dues
14. 33M-Matt Westfall
15. 18-Dallas Hewitt
16. 77-Stevie Sussex
17. 39-Matt Goodnight
18. 6P-Chris Phillips
19. 21-Carmen Perigo
20. 1H-Korbyn Hayslett
21. 61M-Jadon Rogers
22. 19AZ-Tanner Thorson