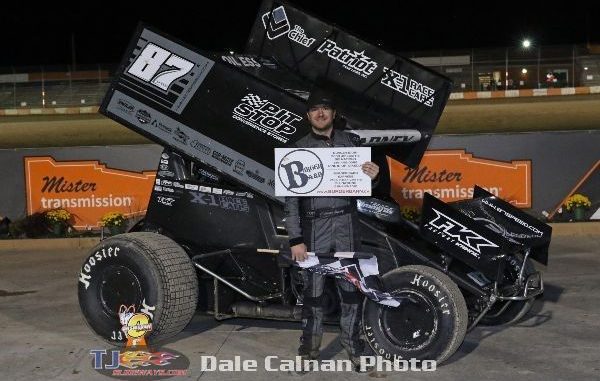 Bhy Dean Reynolds
CENTER LISLE, NY – The 2017 Lucas Oil Empire Super Sprints Champion, Jason Barney, had an opening night he would like to forget two weeks ago at the Genesee Speedway. Getting into a couple of skirmishes resulting in a 14th place finish, the Brewerton, NY native led 22 of 25 laps at the Thunder Mountain Speedway to collect his third win on the fast 3/8ths mile oval. A win that netted him, $2,110
While Barney will admit that drawing the pole was key to his win, he does have a knack to be fast at Thunder Mountain. "Starting up front helps a lot, but I've also won here starting much deeper. We just seem to always have a good car here," Barney went on, "This helps make up for our performance at Genesee, it actually frustrates me a little more knowing at Genesee I just wasn't what I should have been."
While the familiar #87 did led all but three laps, the final 23 laps went caution free and in typical Thunder Mountain, there were several grooves to use. Barney gave a unique perspective, "When it gets like that here you actually have no idea where you are on the track. I thought I lost the lead to Jake Karklin as he went by me," he continued, "There are cars high, low, everywhere and you just race as hard as you can, wait for the checkered and listen to the one-way after to hear where you finished. I'm not kidding, especially tonight when we went green for so long."
For Barney he was glad that his name was called first to visit victory lane. But there was another twist that added to the plot and that was sprinkles from the sky just as the sprinters were pushed off to start the NAPA Auto Parts 25 lap A-Main. "I had moisture get in-between my tear offs and it was hard to see. I didn't know whether to rip them all off or keep them on cause I was probably going to need them in lapped traffic," Barney was telling on the dilemma, "So I actually was keeping my shield open then closed! Probably wasn't the best of ideas, but it's what I did. I really just wanted to go in the pits change them and let's start the race after. But I'm glad there are people out there a little smarter than me, the track was ready, and they gave us a great racetrack."
The A-Main did have a red flag on lap two for an incident involving Scott Holcomb and Clint Roehrs with Holcomb's mount going over. That actually was the only yellow/red displayed all night. On the restart, Billy VanInwegen took to the high side and was pressuring Barney, even trading some sliders to actually led laps six through eight officially. But as the front runners did get into lapped traffic, Barney opened up some distance.
Late in the event, Genesee winner in Davie Franek slipped by VanInwegen on lap 16 and took up the chase on Barney.
"Yea, I was hoping for maybe a yellow or a few more laps. We had a good car and was gaining on Jason," Franek noted, "I wasn't the best after the heats but the guys just kept working at it. It's such a good team and I have so many good people helping me. We have a lot of racing coming up so we will see if we can keep the momentum going."
VanInwegen hung on for third and it was indeed a "hang on" experience, "My motor starting skipping like crazy in the final laps and I did all I could do to hang on," said Billy, "I actually was surprised that I still got third. It's a little frustrating having the issues we did at Genesee and now here with a different car. We will find it, we have a real good team."
Rounding out the top five were Sammy Reakes IV who won the dash for cash earlier and earned hard charger bonus money after starting in 13th. Jeff Cook had another solid Thunder Mountain outing taking fifth. The next five was made up off Dylan Swiernik, for his second consecutive sixth place finish, Matt Tanner, Dalton Herrick, Thomas Radivoy and Chuck Hebing.
Next weekend the Lucas Oil Tour will head to familiar stops on Memorial Day Weekend with Brewerton Speedway on Friday and Fulton Speedway on Saturday. Coming into next weekend, Davie Franek leads the points over Swiernik, Barney, Cook and Peebles.
Lucas Oil Empire Super Sprints A-Main – Thunder Mountain Speedway – May 22nd, 2021 – 1. Jason Barney ($2,110), Davie Franek ($1,060), Billy VanInwegen ($810), Sammy Reakes IV ($980), Jeff Cook ($555), Dylan Swiernik ($470), Matt Tanner ($455), Dalton Herrick ($420), Thomas Radivoy ($410), Chuck Hebing ($425), Chad Miller ($410), Denny Peebles ($320), Joe Trenca ($300), Paulie Colagiovanni ($300), Danny Varin ($375), Jake Katklin ($325), Tyler Cartier ($300), Shawn Donath ($300), Keith Granholm ($300), Nick Fratto ($100), Jeremiah Munson ($300), Kelly Hebing ($325), Josh Pieniazek ($300), Clint Roehrs ($300), Scott Holcomb ($375)
DNQ – Lacey Hanson.
Bonuses:
PJC Spray Foam Hard Charger – Sammy Reakes IV ($50 – 9 Pos.)
Rifenburg Contracting Halfway – Jason Barney ($50).
Pinnacle Pole Award – Jason Barney ($50).
Lacaillade Masonry B-Main – Scott Holcomb ($50).
E&V Energy Heats – Franek, C. Hebing, Cook ($25)
ESS Media Team Fast Time – Franek, Barney, Tanner. ($25).
Cobra Coaches Dash – Reakes IV ($100), Varin ($75), Miller ($50), Holcomb ($25), K. Hebing ($25), Karklin ($25).
Ashley Lynn Winery Podium – Barney, Franek, VanInwegen – $10
Hoosier Tire – Reakes IV ($210)
For more Information on the Lucas Oil Empire Super Sprints:
Web: www.empiresupersprints.com
Twitter: @ESSprints
Facebook: https://www.facebook.com/EmpireSuperSprints
Lucas Oil Empire Super Sprints
Thunder Mountain Speedway
Center Lisle, New York
Saturday May 22, 2021
Feature:
1. 87-Jason Barney
2. 28f-Davie Franek
3. 56v-Billy VanInwegan
4. 17-Sam Reakes IV
5. 10-Jeff Cook
6. 7c-Dylan Swiernik
7. 90-Matt Tanner
8. 29-Dalton Herrick
9. 1q-Thomas Radivoy
10. 45-Chuck Hebing
11. 88c-Chad Miller
12. 3-Denny Peebles
13. 98-Joe Trenca
14. 10c-Paulie Colagiovanni
15. 00-Danny Varin
16. 5-Jake Karklin
17. 23-Tyler Cartier
18. 53-Shawn Donath
19. 13-Keith Granholm
20. 36-Nick Fratto
21. 51-Jeremiah Munson
22. 10h-Kelly Hebing
23. 9-Josh Pieniziak
24. 09-Clint Roehrs
25. 91-Scott Holcomb