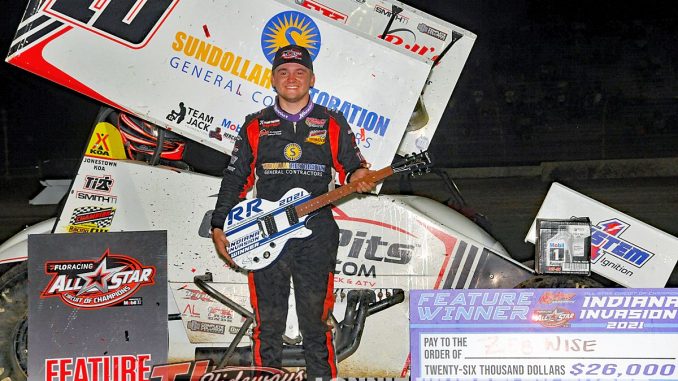 By Tyler Altmeyer
KOKOMO, Ind. (May 23, 2021) – In a showdown of epic proportions, Zeb Wise and Wise-Priddy Racing topped them all on Sunday evening at Kokomo Speedway in Kokomo, Indiana, eventually out-dueling a stacked field of 42 FloRacing All Star Circuit of Champions presented by Mobil 1 competitors and securing the largest payday of Wise's open wheel resume. Adding a little extra depth to the stat sheet, the Rayce Rudeen Foundation Race victory, which earned the recent high school graduate a $26,000 top prize, was the first All Star Circuit of Champions win of Wise's short but distinguished career.
"I've had this event highlighted on our calendar since I saw it come out on the schedule," Wise said, driver of the Sundollar Restoration General Contractors, Quikpits.com, No. 10 sprint car. "Our goal was to be in contention for a win, let alone be standing up here in front of all of you great fans. We knew it was going to be tough, but here we are. This is awesome."
Although Wise would come out on top, the 40-lap Rayce Rudeen Foundation Race was an all-out war involving four different leaders and seven different lead changes. Tyler Courtney, who ultimately secured the All Stars Indiana Invasion presented by Rayce Rudeen Foundation four-race championship for $10,000, was the first to lead at Kokomo, controlling the first nine circuits before the "Macho Man" Brady Bacon made his presence known after a restart with nine in the books.
After firing around the outside of Courtney, Bacon maintained the point until lap 18 when the Broken Arrow, Oklahoma-native pulled to a stop during a caution, eventually making his way pit-side. Bacon's surrender allowed the "Madman" Kerry Madsen to inherit the top spot. Madsen actually ripped by Bacon one lap prior, but the aforementioned caution negated his move.
The lap 19 caution and ensuing restart not only proved to be beneficial for Madsen, but also Zeb Wise, as the Angola, Indiana-native powered ahead from fifth to second in just one circuit, using the cushion to drive right by Tyler Courtney and Rico Abreu. Just four circuits later, Wise was the new man in charge, using a big slider through turns one and two to get by Madsen on lap 23. Madsen returned the favor quickly, getting back by Wise on lap 24.
The war between Wise and Madsen continued through lap 34, swapping slide jobs and battling side-by-side for several circuits while trying to negotiate a slew of slower cars. A move by Madsen to split a pair of lappers on lap 32 looked to be the winning move, but an eventual mishap with traffic cut Madsen's 40-lap contest short leaving the lead to Wise with only six laps left on the board.
From that point forward, it was all Zeb Wise at the front of the field. Tyler Courtney held strong to finish second, followed by Rico Abreu – a third consecutive podium finish for the St. Helena, California-native – a hard charging Cole Macedo from the B-Main, and Scotty Thiel.
"I just knew to hammer the heck out of it and don't screw up," Wise said of his final restart with Courtney and Abreu breathing down his neck. "I've raced with Tyler (Courtney) a lot here so I expected him to be racing around the bottom. I just wanted to hammer the top of one and two to get a gap on him, then get to the bottom of three and four. Kerry (Madsen) actually got by me on the bottom in three so I knew I wanted to change it up and get down there."
Abreu capped his Indiana Invasion with a runner-up finish in the final weekend standings, followed by Hunter Schuerenberg, Justin Peck, and Zeb Wise; second through fifth were awarded $7,000, $4,000, $3,000, and $2,000, respectively.
For those who can not witness the All Star Circuit of Champions live and in person, FloRacing.com, the official media partner and broadcast provider of the All Stars, has you covered. To access live and on-demand racing action from the All Star Circuit of Champions, visit FloRacing.com and become an annual PRO subscriber. Race fans can see all the USAC and dirt late-model action they want in addition to Eldora Speedway's slate of races and those of the All Star Circuit of Champions. The subscription unlocks access to premium content across the entire FloSports network. Watch the events across all screens by downloading the FloSports app on iOS, Android, Apple TV, Roku, Amazon Fire and Chromecast.
Contingency Awards/Results: Kokomo Speedway – Sunday, May 23, 2021
Event: All Stars Indiana Invasion presented by Rayce Rudeen Foundation | Rayce Rudeen Foundation Race
Entries: 42
C&R Racing Hot Laps: Rico Abreu | 10.956
Dixie Vodka Fast Qualifier: Brady Bacon | 11.083
Ford Performance Heat #1 Winner: Ian Madsen
All Pro Aluminum Cylinder Heads Heat #2 Winner: Kerry Madsen
Hunt Brothers Pizza Heat #3 Winner: Cap Henry
Mobil 1 Heat #4 Winner: Zeb Wise
Kistler Racing Products Heat #5 Winner: Paul Nienhiser
Kear's Speed Shop Dash #1 Winner: Buddy Kofoid
Elliott's Custom Trailers and Carts Dash #2 Winner: Tyler Courtney
Classic Ink USA Screenprinting & Embroidery B-Main Winner: Gio Scelzi
Rayce Rudeen Foundation First Non-Transfer: Tanner Thorson
FloRacing A-Main Winner: Zeb Wise
Hercules Tire A-Main Hard Charger: Cole Macedo (+18)
Indiana Invasion presented by Rayce Rudeen Foundation $26,000 to win
Floracing All Star Circuit of Champions
Kokomo Speedway
Kokomo, Indiana
Sunday, May 23, 2021
Dixie Vodka Qualifying
1. 69-Brady Bacon, 11.083[7]
2. 24-Rico Abreu, 11.110[21]
3. 13-Justin Peck, 11.137[9]
4. 7BC-Tyler Courtney, 11.149[33]
5. 55-Hunter Schuerenberg, 11.154[1]
6. 5-Paul McMahan, 11.158[31]
7. 11-Ian Madsen, 11.176[8]
8. 18-Giovanni Scelzi, 11.224[5]
9. 71-Kevin Thomas Jr, 11.245[37]
10. 26-Cory Eliason, 11.247[25]
11. 39-Michael Kofoid, 11.250[13]
12. 15H-Sam Hafertepe Jr, 11.262[10]
13. 19-Parker Price Miller, 11.264[36]
14. 14-Kerry Madsen, 11.297[15]
15. 73-Scotty Thiel, 11.303[12]
16. 4-Cap Henry, 11.303[23]
17. 21BP-Brinton Marvel, 11.309[26]
18. 17B-Bill Balog, 11.331[22]
19. 3-Ayrton Gennetten, 11.342[20]
20. 7-Zane Devault, 11.359[14]
21. 91X-Cale Thomas, 11.380[6]
22. 10-Zeb Wise, 11.384[27]
23. 48-Danny Dietrich, 11.395[40]
24. 18M-Cole Macedo, 11.440[11]
25. 91-Kyle Reinhardt, 11.442[17]
26. 5K-Paul Nienhiser, 11.498[42]
27. 00-Thomas Meseraull, 11.517[35]
28. 21-Carson Short, 11.536[30]
29. 16-DJ Foos, 11.594[24]
30. 8M-TJ Michael, 11.595[16]
31. 20G-Noah Gass, 11.613[18]
32. A79-Brandon Wimmer, 11.639[34]
33. 51B-Joe B Miller, 11.674[3]
34. 07-Zach Hampton, 11.689[38]
35. 19AZ-Tanner Thorson, 11.704[2]
36. 55M-McKenna Haase, 11.711[19]
37. 23-Chris Andrews, 11.769[28]
38. W20-Greg Wilson, 11.779[39]
39. 97-Gary Taylor, 11.785[29]
40. 98-Clinton Boyles, 11.848[41]
41. 02-Brandon Long, 12.199[4]
42. 7M-Geoff Dodge, 12.544[32]
Ford Performance Heat Race #1 (8 Laps)
1. 11-Ian Madsen[1]
2. 69-Brady Bacon[4]
3. 55-Hunter Schuerenberg[2]
4. 13-Justin Peck[3]
5. 18-Giovanni Scelzi[5]
6. 51B-Joe B Miller[7]
7. 19AZ-Tanner Thorson[8]
8. 91X-Cale Thomas[6]
9. 02-Brandon Long[9]
All Pro Aluminum Cylinder Heads Heat Race #2 (8 Laps)
1. 14-Kerry Madsen[2]
2. 73-Scotty Thiel[1]
3. 39-Michael Kofoid[4]
4. 15H-Sam Hafertepe Jr[3]
5. 20G-Noah Gass[9]
6. 18M-Cole Macedo[6]
7. 7-Zane Devault[5]
8. 8M-TJ Michael[8]
9. 91-Kyle Reinhardt[7]
Hunt Brothers Pizza Heat Race #3 (8 Laps)
1. 4-Cap Henry[2]
2. 26-Cory Eliason[3]
3. 21BP-Brinton Marvel[1]
4. 24-Rico Abreu[4]
5. 16-DJ Foos[7]
6. 17B-Bill Balog[5]
7. 55M-McKenna Haase[8]
8. 3-Ayrton Gennetten[6]
Mobil 1 Heat Race #4 (8 Laps)
1. 10-Zeb Wise[2]
2. 21-Carson Short[1]
3. 7BC-Tyler Courtney[4]
4. 5-Paul McMahan[3]
5. A79-Brandon Wimmer[5]
6. 23-Chris Andrews[6]
7. 97-Gary Taylor[7]
8. 7M-Geoff Dodge[8]
Kistler Racing Products Heat Race #5 (8 Laps)
1. 5K-Paul Nienhiser[1]
2. 71-Kevin Thomas Jr[4]
3. 07-Zach Hampton[6]
4. 48-Danny Dietrich[2]
5. 19-Parker Price Miller[3]
6. 00-Thomas Meseraull[5]
7. 98-Clinton Boyles[8]
8. W20-Greg Wilson[7]
Kears Speed Shop Dash #1 (4 Laps)
1. 39-Michael Kofoid[3]
2. 24-Rico Abreu[2]
3. 4-Cap Henry[4]
4. 10-Zeb Wise[5]
5. 13-Justin Peck[1]
6. 11-Ian Madsen[6]
Elliotts Custom Trailers and Carts Dash #2 (4 Laps)
1. 7BC-Tyler Courtney[3]
2. 14-Kerry Madsen[1]
3. 69-Brady Bacon[5]
4. 55-Hunter Schuerenberg[4]
5. 5K-Paul Nienhiser[2]
6. 71-Kevin Thomas Jr[6]
Classic Ink USA B-Main (12 Laps)
1. 18-Giovanni Scelzi[1]
2. 17B-Bill Balog[6]
3. 18M-Cole Macedo[7]
4. 19-Parker Price Miller[2]
5. 19AZ-Tanner Thorson[12]
6. 7-Zane Devault[11]
7. 98-Clinton Boyles[15]
8. A79-Brandon Wimmer[5]
9. 51B-Joe B Miller[9]
10. W20-Greg Wilson[19]
11. 3-Ayrton Gennetten[16]
12. 8M-TJ Michael[18]
13. 97-Gary Taylor[14]
14. 55M-McKenna Haase[13]
15. 02-Brandon Long[22]
16. 7M-Geoff Dodge[20]
17. 16-DJ Foos[3]
18. 23-Chris Andrews[10]
19. 91X-Cale Thomas[17]
20. 20G-Noah Gass[4]
21. 91-Kyle Reinhardt[21]
22. 00-Thomas Meseraull[8]
FloRacing A-Main (40 Laps)
1. 10-Zeb Wise[7]
2. 7BC-Tyler Courtney[2]
3. 24-Rico Abreu[3]
4. 18M-Cole Macedo[23]
5. 73-Scotty Thiel[14]
6. 13-Justin Peck[9]
7. 26-Cory Eliason[13]
8. 55-Hunter Schuerenberg[8]
9. 18-Giovanni Scelzi[21]
10. 5-Paul McMahan[18]
11. 19-Parker Price Miller[24]
12. 15H-Sam Hafertepe Jr[19]
13. 07-Zach Hampton[17]
14. 48-Danny Dietrich[20]
15. 17B-Bill Balog[22]
16. 69-Brady Bacon[6]
17. 02-Brandon Long
18. 14-Kerry Madsen[4]
19. 4-Cap Henry[5]
20. 5K-Paul Nienhiser[10]
21. 71-Kevin Thomas Jr[12]
22. 21BP-Brinton Marvel[16]
23. 39-Michael Kofoid[1]
24. 11-Ian Madsen[11]
25. 21-Carson Short[15]