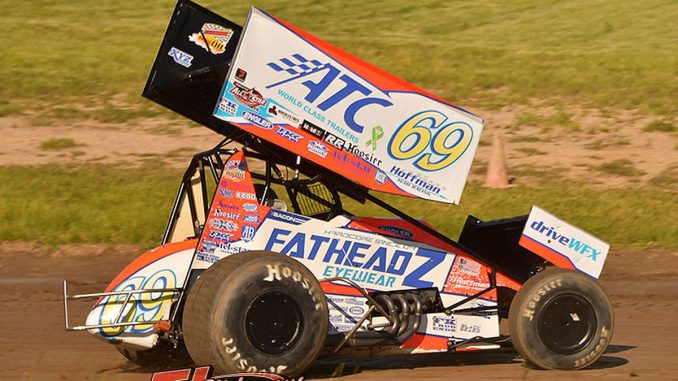 By Brian Liskai
WAYNESFIELD, Ohio – Broken Arrow, Oklahoma's Brady Bacon survived near catastrophe coming to the checkers and drove to a $12,000 pay day for the Ron Kahle Jr. Memorial at Waynesfield Raceway Park Sunday, May 30. The event pitted the K&L Ready Mix NRA Sprint Invaders against the Patriot Sprint Tour and drew a strong field of 33 360 c.i. winged sprint cars.
Bacon, the defending USAC National Sprint Car Champion, could see the checkers in the air as he exited turn four but two lapped cars ahead of him collided and starting flipping right in front of "the macho man" who took quick evasive action to avoid the melee. That set up a one lap dash to decide the huge pay day and Bacon easily drove away when the green came back out. The victory, Bacon's second ever at "The Field," came a week after he took a wild ride at Terra Haute that left him bruised and battered. Bacon also finished 9th in Saturday's Little 500 to earn Rookie of the Race honors.
"After last week this is feels fantastic. I just love Waynesfield and the first win was for $3,000 so this might make this my favorite track with a $12,000 pay day. My wife and kids are at home watching and probably had a great time but not as good as I had," joked the driver of the Hoffman Racing/Fatheadz Eyewear #69. "This is our first winged win with Hoffman's and I have to thank John Cressman for lending us a fantastic running motor."
Minster, Ohio's Paul Dues held off a late race challenge from Matt Westfall and Korbyn Hayslett to score his first career Waynesfield win with the MPD Racing Buckeye Outlaw Sprint Series (BOSS) worth $2,500.
"It feels good to finally get a win here. I can't thank my sponsors enough, Moeller Brew Barn, Car Quest…all my great sponsors and my crew and my beautiful wife, mom and dad…there's so many people that help this thing go. I didn't hear much behind me so that made me feel comfortable. I just worried about a tire going down. We didn't have a new tire to put on so it wasn't good to begin with. I didn't want to see those cautions but I felt good in the car," said Dues.
Bacon and Greg Wilson brought the field to green for the 40-lap Ron Kahle Jr. Memorial Race with Wilson gaining the upper hand over Bacon, Dustin Daggett, Jared Zimbardi, Dallas Hewitt and Randy Hannagan. In just five laps the leaders were into traffic with Wilson maintaining a three car length advantage over Bacon.
A caution on lap eight gave Wilson a clear track and he continued to lead when the green reappeared over Bacon, Daggett, Zimbardi and Hannagan. The leaders found lapped traffic again by the 14th circuit and that allowed Bacon to close and grab the lead on lap 16 as he and Wilson battled through the lapped cars.
Bacon built a sizeable lead but the second caution flag would fly with just eight laps to go. Bacon executed a great restart and pulled away from Wilson as Daggett, who won the previous night in Michigan, holding down third while a tremendous battle ensued for fourth involving Hannagan and Jared Horstman.
Coming to the checkers Tim Allison and Zane DeVault got together right in front of Bacon, as the pair flipped violently with Bacon taking quick evasive action to avoid the incident. Both drivers were uninjured. Bacon took the green and drove away to the win over Wilson, Daggett, Hannagan and Horstman.
Dues and Mike Miller brought the field to green for the 25-lap BOSS feature with Dues committing to the bottom groove to grave the lead over Westfall, Miller and Kyle Simon. Dues hit his marks perfectly and maintained his slight lead while the battle for second heated up between Westfall and Miller with Hayslett joining in the action.
Miller would bring out the first caution on lap 13 as he and Westfall got together battling for second. On the restart Westfall stayed glued to Dues' rear bumper but could not make the pass. Following another caution on lap 18. Dues again got a great restart and continued to lead Westfall, Hayslett, Simon and Steve Little.
With just two laps to go a five car incident put Westfall right on Dues' bumper. Dues didn't succumb to the pressure and continued to lead. As the field came to the white flag you could cover the top three with a blanket. Both Westfall and Hayslett made a last lap attempt at Dues who hung on for the win with Hayslett taking second at the line over Westfall.
Waynesfield Raceway Park is back in action Wednesday, June 16 for the Rick Ferkel Classic as part of the FloRacing All Star Circuit of Champions Ohio Sprint Speedweek.
Get the latest Waynesfield information online at https://waynesfieldmotorsportspark.com, on Facebook by liking Waynesfield Raceway Park or on Twitter by following @OfficialWRP.
Waynesfield Raceway Park
Sunday, May 30, 2021
NRA Sprint Invaders /Patriot Sprint Tour
Qualifying
1.17H-Hud Horton , 10.997; 2.22H-Randy Hannagan , 11.074; 3.85-Dustin Daggett, 11.119; 4.11W-Harli White, 11.134; 5.35-Jared Zimbardi, 11.202; 6.22-Conner Loeffler, 11.308; 7.18-Todd Heuerman, 11.454; 8.18J-Dean Jacobs, 11.465; 9.11-Tim Allison , 11.480; 10.5M-Max Stambaugh , 11.505; 11.16B-Zane DeVault, 11.505; 12.12G-Corbin Gurley, 11.592; 13.22M-Dan McCarron, 11.610; 14.69-Brady Bacon, 11.649; 15.24-Kobe Allison, 11.675; 16.W20-Greg Wilson, 11.677; 17.17-Jared Horstman , 11.766; 18.27-Brad Lamberson, 11.775; 19.5J-Jake Hesson, 11.781; 20.79-Jordan Thomas, 11.837; 21.2P-Ricky Peterson, 11.868; 22.28F-Davie Franek, 11.880; 23.9r-Logan Riehl, 11.892; 24.23-Devon Dobie , 11.898; 25.12-Luke Hall, 11.913; 26.46-Ryan Coniam, 11.919; 27.27W-Tyler Gunn, 11.937; 28.49-Scott Kreutter, 11.941; 29.2-Dave Axton, 12.189; 30.11N-Ed Neumeister, 12.196; 31.28M-Conner Morrell, 12.229; 32.67-Steve Glover, 12.721; 33.66-Chase Dunham, 99.000;
Heat 1 – (8 Laps, top 5 to A)
1. 35-Jared Zimbardi[3] ; 2. 17-Jared Horstman [5] ; 3. 2P-Ricky Peterson[6] ; 4. 11-Tim Allison [2] ; 5. 22M-Dan McCarron[1] ; 6. 2-Dave Axton[8] ; 7. 12-Luke Hall[7] ; 8. 17H-Hud Horton [4]
Heat 2 – (8 Laps, top 5 to A)
1. 69-Brady Bacon[1] ; 2. 22H-Randy Hannagan [4] ; 3. 22-Conner Loeffler[3] ; 4. 28F-Davie Franek[6] ; 5. 5M-Max Stambaugh [2] ; 6. 46-Ryan Coniam[7] ; 7. 27-Brad Lamberson[5] ; 8. 11N-Ed Neumeister[8]
Heat 3 – (8 Laps, top 5 to A)
1. 18-Todd Heuerman[3] ; 2. 16B-Zane DeVault[2] ; 3. 85-Dustin Daggett[4] ; 4. 24-Kobe Allison[1] ; 5. 27W-Tyler Gunn[7] ; 6. 5J-Jake Hesson[5] ; 7. 28M-Conner Morrell[8] ; 8. 9r-Logan Riehl[6]
Heat 4 – (8 Laps, top 5 to A)
1. W20-Greg Wilson[1] ; 2. 11W-Harli White[4] ; 3. 79-Jordan Thomas[5] ; 4. 18J-Dean Jacobs[3] ; 5. 23-Devon Dobie [6] ; 6. 12G-Corbin Gurley[2] ; 7. 49-Scott Kreutter[7] ; 8. 67-Steve Glover[8]
Dash – (6 Laps)
1. 69-Brady Bacon[1] ; 2. W20-Greg Wilson[3] ; 3. 18-Todd Heuerman[2] ; 4. 85-Dustin Daggett[6] ; 5. 22H-Randy Hannagan [5] ; 6. 35-Jared Zimbardi[4]
B-Main – (12 Laps, top 4 to A)
1. 2-Dave Axton[1] ; 2. 46-Ryan Coniam[2] ; 3. 27-Brad Lamberson[6] ; 4. 12G-Corbin Gurley[4] ; 5. 49-Scott Kreutter[8] ; 6. 12-Luke Hall[5] ; 7. 5J-Jake Hesson[3] ; 8. 28M-Conner Morrell[7] ; 9. 9r-Logan Riehl[11] ; 10. 17H-Hud Horton [9] ; 11. 11N-Ed Neumeister[10] ; 12. 67-Steve Glover[12] ; 13. 66-Chase Dunham[13]
A-Main – (40Laps)
1. 69-Brady Bacon[1] ; 2. W20-Greg Wilson[2] ; 3. 85-Dustin Daggett[4] ; 4. 22H-Randy Hannagan [5] ; 5. 17-Jared Horstman [9] ; 6. 35-Jared Zimbardi[6] ; 7. 22-Conner Loeffler[12] ; 8. 2P-Ricky Peterson[11] ; 9. 79-Jordan Thomas[10] ; 10. 27W-Tyler Gunn[18] ; 11. 5M-Max Stambaugh [19] ; 12. 28F-Davie Franek[15] ; 13. 46-Ryan Coniam[22] ; 14. 18J-Dean Jacobs[16] ; 15. 23-Devon Dobie [20] ; 16. 11-Tim Allison [14] ; 17. 16B-Zane DeVault[8] ; 18. 18-Todd Heuerman[3] ; 19. 2-Dave Axton[21] ; 20. 11W-Harli White[7] ; 21. 12G-Corbin Gurley[24] ; 22. 24-Kobe Allison[13] ; 23. 27-Brad Lamberson[23] ; 24. 22M-Dan McCarron[17]
BOSS
Qualifying
1.2DI-Dustin Ingle, 13.892; 2.1H-Korbyn Hayslett, 14.313; 3.33M-Matt Westfall, 14.316; 4.82-Mike Miller, 14.317; 5.53-Steve Little, 14.391; 6.24L-Lee Underwood, 14.400; 7.87-Paul Dues, 14.444; 8.24-Landon Simon, 14.507; 9.10-Saban Bibent, 14.569; 10.11-Ricky Lewis, 14.583; 11.18H-Dallas Hewitt, 14.585; 12.78-Ron Cahoe Jr., 14.604; 13.26W-Cody White, 14.607; 14.23S-Kyle Simon, 14.624; 15.74-Drew Rader, 14.638; 16.9X-Ricky Peterson, 14.681; 17.73-Blake Vermillion, 14.719; 18.14-Chad Wilson, 14.751; 19.9G-Cody Gardner, 14.758; 20.e99-Gage Etgen, 14.832; 21.9N-Luke Hall, 14.834; 22.34-Parker Fredrickson, 15.093; 23.5-Jesse Vermillion, 15.094; 24.92-Jake Beck, 15.134; 25.5A-Toby Alfrey, 15.196; 26.24W-Tayte Williamson, 15.413; 27.75-Jerry Dahms, 15.438;
Heat 1, Group A – (8 Laps, top 5 to A)
1. 23S-Kyle Simon[1] ; 2. 74-Drew Rader[5] ; 3. 9N-Luke Hall[7] ; 4. 24-Landon Simon[2] ; 5. 53-Steve Little[3] ; 6. 5-Jesse Vermillion[8] ; 7. 2DI-Dustin Ingle[4] ; 8. e99-Gage Etgen[6] ; 9. 75-Jerry Dahms[9]
Heat 2, Group B – (8 Laps, top 5 to A)
1. 1H-Korbyn Hayslett[4] ; 2. 18H-Dallas Hewitt[1] ; 3. 82-Mike Miller[3] ; 4. 73-Blake Vermillion[5] ; 5. 9G-Cody Gardner[6] ; 6. 24L-Lee Underwood[2] ; 7. 34-Parker Fredrickson[7] ; 8. 24W-Tayte Williamson[9] ; 9. 92-Jake Beck[8]
Heat 3, Group C – (8 Laps, top 5 to A)
1. 33M-Matt Westfall[4] ; 2. 11-Ricky Lewis[1] ; 3. 26W-Cody White[6] ; 4. 87-Paul Dues[3] ; 5. 78-Ron Cahoe Jr.[5] ; 6. 10-Saban Bibent[2] ; 7. 14-Chad Wilson[8] ; 8. 5A-Toby Alfrey[9] ; 9. 9X-Ricky Peterson[7]
B-Main – (12 laps, top 5 to A)
1. 2DI-Dustin Ingle[4] ; 2. 24L-Lee Underwood[2] ; 3. 9X-Ricky Peterson[12] ; 4. 10-Saban Bibent[3] ; 5. 34-Parker Fredrickson[5] ; 6. 5A-Toby Alfrey[9] ; 7. e99-Gage Etgen[7] ; 8. 92-Jake Beck[11] ; 9. 14-Chad Wilson[6] ; 10. 75-Jerry Dahms[10] ; 11. 5-Jesse Vermillion[1] ; 12. 24W-Tayte Williamson[8]
A-Main – (25 Laps)
1. 87-Paul Dues[1] ; 2. 1H-Korbyn Hayslett[5] ; 3. 33M-Matt Westfall[4] ; 4. 23S-Kyle Simon[6] ; 5. 9N-Luke Hall[10] ; 6. 74-Drew Rader[7] ; 7. 9X-Ricky Peterson[18] ; 8. 53-Steve Little[3] ; 9. 24L-Lee Underwood[17] ; 10. 82-Mike Miller[2] ; 11. 26W-Cody White[11] ; 12. 78-Ron Cahoe Jr.[15] ; 13. 11-Ricky Lewis[9] ; 14. 73-Blake Vermillion[13] ; 15. 18H-Dallas Hewitt[8] ; 16. 24-Landon Simon[12] ; 17. 10-Saban Bibent[19] ; 18. 2DI-Dustin Ingle[16] ; 19. 9G-Cody Gardner[14] ; 20. 34-Parker Fredrickson[20]