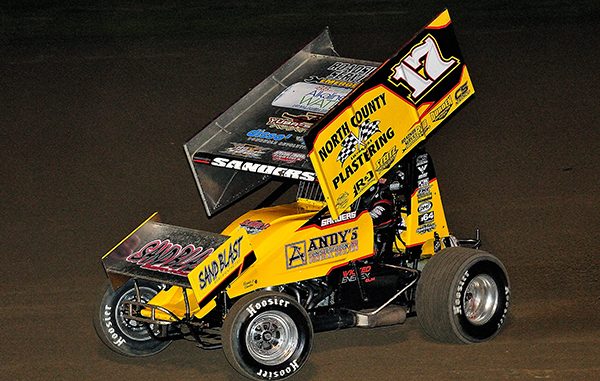 By Steven Blakesley
WATSONVILLE, CALIF. (June 5, 2021) – Justin Sanders won his sixth Ocean Sprints presented by Taco Bravo feature as the calendar rolled into the sixth month of the year, with the Aromas driver leading all 30-laps of the feature to extend his points lead on Friday night. Sanders' win was part of a four-division show at the Ocean Speedway in Watsonville at the Santa Cruz County Fairgrounds.
Salinas' Keith Day, Jr. blitzed to a new track record in time trials with an 11.122 second lap, topping the 11.183 record previously set by Brad Furr. Sanders also timed in underneath the record and ranked second in qualifying. Both drivers were unable to grab heat race wins but qualified for the dash, where Day topped Sanders to earn the pole position for the feature.
Sanders went around the outside of Day to lead the opening lap of the 30-lap contest, then encountered lapped traffic by lap four. Day battled with Concord's Joey Ancona and Sebastopol's Joey Myers, Jr. for the second position with the trio rolling the top of the racetrack through traffic. Burt Foland Jr. bounced off the backstretch wall while being lapped on lap 11. The bottleneck put Myers on the binders exiting turn four with Ancona hitting him in the right rear. Myers was able to return with a new tire but Ancona did not continue.
Hanford's Zane Blanchard passed 2019 champion James Ringo of Morgan Hill for third on the restart. Bud Kaeding had a run on the inside to potentially advance past them both, but it was nullified when Geoffrey Grimm spun in turn two on lap 17. Nick Ringo retired from the race under the caution, surrendering seventh. James Ringo went the wrong direction on the restart, falling back to eighth position. Kaeding advanced to fourth on lap 21. Day spun from second position in turn four on lap 26. Day's race then ended when he stopped in turn four for an additional yellow on lap 27.
Sanders charged ahead of Blanchard and Kaeding on the final restart, with Blanchard edging out Kaeding for second position at the stripe. 2020 Ocean Sprints champion Mitchell Faccinto finished fourth. Hanford's DJ Netto overcame a flip in the first heat race to advance from 16th to fifth in the feature.
Ocean Speedway
Watsonville, California
Friday June 4, 2021
Winged 360 Sprint Cars
Qualifying
1. 22-Keith Day Jr, 11.122[14]
2. 17-Justin Sanders, 11.128[9]
3. 88A-Joey Ancona, 11.328[2]
4. 37-Mitchell Faccinto, 11.341[17]
5. 5-Mark Chaves Jr, 11.357[18]
6. 69-Bud Kaeding, 11.370[4]
7. 88N-DJ Netto, 11.397[10]
8. 8-Jeremy Chisum, 11.403[7]
9. 3M-Adam Kaeding, 11.419[13]
10. 46JR-Joel Myers, 11.460[19]
11. 2K-JJ Ringo, 11.462[12]
12. 7Z-Zane Blanchard, 11.560[6]
13. 61-Travis Labat, 11.585[5]
14. 72W-Kurt Nelson, 11.587[1]
15. 3T-Nick Ringo, 11.631[3]
16. 01-Mitchel Moles, 11.640[11]
17. 98-Bryce Eames, 11.660[8]
18. 15T-Tristan Guardino, 11.675[15]
19. 4-Burt Foland Jr, 11.703[21]
20. 87-Ashlyn Rodriguez, 12.008[20]
21. 07-Richard Fajardo, 12.042[16]
22. 46J-Geoffrey Grimm, 12.549[22]
Heat Race #1 (8 Laps)
1. 46JR-Joel Myers[1]
2. 22-Keith Day Jr[4]
3. 37-Mitchell Faccinto[3]
4. 61-Travis Labat[5]
5. 4-Burt Foland Jr[7]
6. 46J-Geoffrey Grimm[8]
7. 88N-DJ Netto[2]
8. 01-Mitchel Moles[6]
Heat Race #2 (8 Laps)
1. 2K-JJ Ringo[1]
2. 17-Justin Sanders[4]
3. 8-Jeremy Chisum[2]
4. 72W-Kurt Nelson[5]
5. 5-Mark Chaves Jr[3]
6. 87-Ashlyn Rodriguez[7]
7. 98-Bryce Eames[6]
Heat Race #3 (8 Laps)
1. 7Z-Zane Blanchard[1]
2. 69-Bud Kaeding[3]
3. 3M-Adam Kaeding[2]
4. 88A-Joey Ancona[4]
5. 3T-Nick Ringo[5]
6. 15T-Tristan Guardino[6]
7. 07-Richard Fajardo[7]
Dash #1 (6 Laps)
1. 22-Keith Day Jr[1]
2. 17-Justin Sanders[2]
3. 88A-Joey Ancona[3]
4. 46JR-Joel Myers[4]
5. 2K-JJ Ringo[5]
6. 7Z-Zane Blanchard[6]
A-Main (30 Laps)
1. 17-Justin Sanders[2]
2. 7Z-Zane Blanchard[6]
3. 69-Bud Kaeding[9]
4. 37-Mitchell Faccinto[7]
5. 88N-DJ Netto[16]
6. 2K-JJ Ringo[5]
7. 61-Travis Labat[12]
8. 72W-Kurt Nelson[13]
9. 46JR-Joel Myers[4]
10. 8-Jeremy Chisum[10]
11. 98-Bryce Eames[18]
12. 5-Mark Chaves Jr[8]
13. 3M-Adam Kaeding[11]
14. 87-Ashlyn Rodriguez[20]
15. 07-Richard Fajardo[21]
16. 4-Burt Foland Jr[15]
17. 46J-Geoffrey Grimm[22]
18. 22-Keith Day Jr[1]
19. 3T-Nick Ringo[14]
20. 88A-Joey Ancona[3]
21. 15T-Tristan Guardino[19]
22. 01-Mitchel Moles[17]