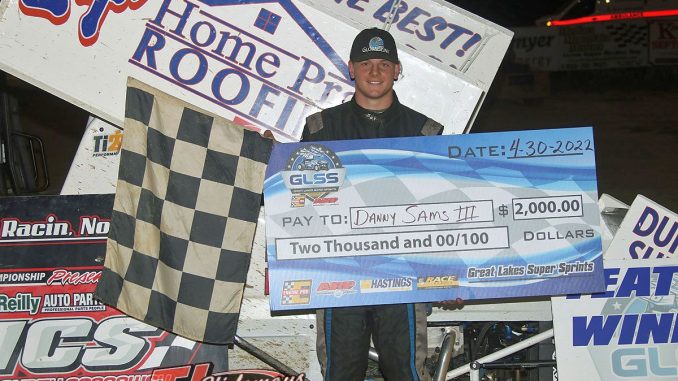 From Randy Worrell
ORRVILLE, Ohio (April 30, 2022) — Danny Sams III had the equivalent of a perfect game in baseball, 300 game in bowling, triple-double in hoops, and an ace in golf all rolled into one Saturday night at the O'Reilly Auto Parts Wayne County Speedway.
The North Port, Florida driver has now established a new benchmark in sprint car racing, too.
Sams swept the evening's festivities by leading every lap of the headlining Great Lakes Super Sprint car series and the speedway's Pine Tree Towing and Recovery 410 25-lap features at the 3-8-mile oval near Orrville.
Sams completed the feat in dominating fashion by leading from start to finish in his 360 heat race, and for good measure sat quick time in the GLSS portion of the event before stopping the clocks with a fourth-best lap during 410 qualifying. Sams collected a pair of $2,000 checks for his night's efforts.
Mansfield's Kyle Moore returned to victory lane by winning the 20-lap Elite Ammunition modified main event with Just Cranmore capturing the thrilling 12-lap JoyRide mini stock feature.
Saturday night, however, belonged to Sams in his Roofing Pro, Owens-Corning roofing materials-backed 24D entries.
Sams started the Michigan-based GLSS main from inside row two, and quickly built a commanding lead by the fifth circuit with series regulars Brad Lamberson, Tyler Rankin, Max Stambaugh, and Greg Dalman in tow.
Disaster struck both Lamberson and Rankin on lap 14, though, with mechanical issues sending both pitside, with Stambaugh inheriting second on lap 17 with Dalman, Phil Gressman, and Dustin Daggett now in the top five. Stambaugh closed to within striking distance at the stripe, but ran out of laps at the finish, giving the Floridian his first GLSS victory in a year.
"It's been a long time since we've been to victory lane, but our car was great all night long and the track was perfect," said Sams. "We fly up here every weekend to race, and l can't thank my mom and dad and all the great people enough who make this all possible."
The modifieds hit the ultra-fast "Orrville's Historic Oval" next, with Scott Peltz and and multi-time WCS winner Moore pacing the field. Although Moore built a comfortable lead early, Colton Shaw, last week's winner, and Nick Young dicing it up for second and third with Peltz, Ron Miller, Ryan Robey, and Garrett Rons following.
Shaw's night came to a halt on lap 10 with mechanical woes, as Moore stretched his advantage at the stripe to straightaway in his Larry Reed Motorsports, Ports Petroleum-backed R88 ahead of Young, Peltz, Miller, and WCS super stock ace Jimmy Humphrey.
"(Larry) called me on Sunday and asked if l wanted to run his car tonight, and here we are," Moore said. "I'm not sure what are plans are for the rest of the season, but hopefully it will be more of this (victory lane)."
The 410 sprints were up next, and you guessed it, with Sams occupying the pole and Tyler Street alongside. Sams jumped to the top spot, as WCS regular Henry Malcuit moved into second on lap four and Andrew Palker joining the fray to third a circuit later.
Although Malcuit brought his No. 70 machine to within 10 car lengths at the stripe, it was Sams picking up his second win of the night followed by Palker in the McClure No. 9, with Street, Chris Myers, Stambaugh in sixth for his second top-10 of the evening, Jordan Ryan, Danny Mumaw, GLSS regular Rankin, and Zach Ames completing the top 10.
"I try to stay in shape during the week when we are in Florida, and it paid off tonight," said Sams. "Again, l can't thank all the great people involved with our team, and especially Rocky Anderson from Michigan who makes this all happen."
For the second time in as many weeks, the mini stocks closed the night with another fantastic finish. Cranmore and Billy Parsons brought the field to the green, with Cranmore holding the top spot with last week's winner Doug Hensel grabiing second on lap five as Kyle Petit, Jordan James, and Travis Hutton rode in the top five.
Cranmore and Hensel waged a torrid battle through lapped traffic with James moving to third by lap nine. A caution with two to go again bunched the field, with Cranmore hanging on to the top spot at the stripe followed by James, Hensel, Hutton and Petit.
Wayne County Speedway returns to action next Saturday night with its regular five-division show with the Ohio Valley Sprint Car Association (OVSCA) joining the 410 sprints.
Wayne County Speedway
Orrville, Ohio
Saturday, April 30, 2022
Great Lakes Super Sprints
Qualifying (99 Laps)
1. 24D-Danny Sams III, 15.883[16]
2. 27-Brad Lamberson, 15.916[4]
3. 16C-Tyler Rankin, 15.943[12]
4. 5M-Max Stambaugh, 15.973[1]
5. 25M-Ryan Ruhl, 16.273[3]
6. 87-Logan Easterday, 16.280[2]
7. 7C-Phil Gressman, 16.340[7]
8. 85-Dustin Daggett, 16.393[5]
9. 49T-Gregg Dalman, 16.662[11]
10. 70-Eli Lakin, 16.888[10]
11. 10S-Jay Steinebach, 16.926[15]
12. 86-Keith Sheffer Jr, 16.981[6]
13. 11H-Caleb Harmon, 17.031[14]
14. 55-Matt Cogley, 17.468[9]
15. 33-RJ Payne, 17.603[8]
16. 88N-Frank Neill, 17.656[13]
17. 0-Brayton Phillips, 18.405[17]
DNS: 07-Shane Simmons, 18.405
Heat Race #1 (8 Laps)
1. 24D-Danny Sams III[4]
2. 5M-Max Stambaugh[3]
3. 7C-Phil Gressman[2]
4. 88N-Frank Neill[6]
5. 70-Eli Lakin[1]
6. 11H-Caleb Harmon[5]
Heat Race #2 (8 Laps)
1. 85-Dustin Daggett[2]
2. 27-Brad Lamberson[4]
3. 25M-Ryan Ruhl[3]
4. 10S-Jay Steinebach[1]
5. 55-Matt Cogley[5]
DNS: 07-Shane Simmons
Heat Race #3 (8 Laps)
1. 16C-Tyler Rankin[4]
2. 49T-Gregg Dalman[2]
3. 86-Keith Sheffer Jr[1]
4. 87-Logan Easterday[3]
5. 33-RJ Payne[5]
DNS: 0-Brayton Phillips
A-Main (25 Laps)
1. 24D-Danny Sams III[3]
2. 5M-Max Stambaugh[5]
3. 49T-Gregg Dalman[4]
4. 7C-Phil Gressman[7]
5. 85-Dustin Daggett[6]
6. 88N-Frank Neill[10]
7. 70-Eli Lakin[13]
8. 86-Keith Sheffer Jr[9]
9. 87-Logan Easterday[12]
10. 10S-Jay Steinebach[11]
11. 55-Matt Cogley[14]
12. 33-RJ Payne[15]
13. 27-Brad Lamberson[2]
14. 16C-Tyler Rankin[1]
15. 11H-Caleb Harmon[16]
16. 0-Brayton Phillips[18]
DNS: 25M-Ryan Ruhl
Winged 410 Sprint Cars
Feature:
1. 24D-Danny Sams III
2. 70-Henry MalcuitHen
3. 9-Andrew Palker
4. 4* Tyler Street
5. 38K-Chris Myers
6. 5M-Max Stambaugh
7. 25R-Jordan Ryan
8. 16-Danny Mumaw
9. 16C-Tyler Rankin
10. 8-Zach Ames
11. 23-Nick Patterson
12. 1-Jamie Myers
13. 91X-Aaron Middaugh
14. 7DK-Dylan Kingan
15. 2-Joe Adorjan
16. 38-Leyton Wagner
17. 83M-Broc Martin
18. D12-Jason Dolick
19. 6J-Jonah Aumend
20. 20-Danial Burkhart
21. 14Z-Wyatt Zimmerman