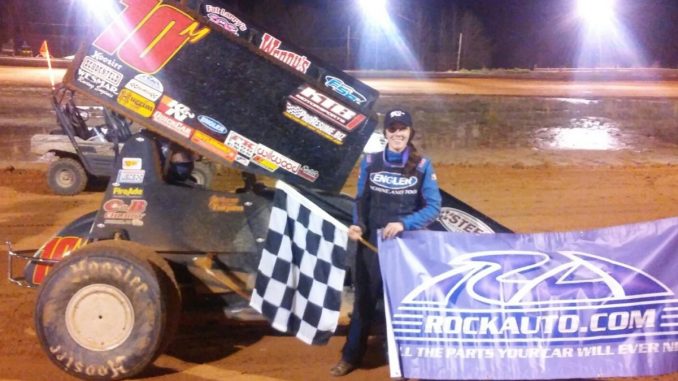 By Pete Walton
Sweetwater, TN – April 30, 2022 – Morgan Havener (formerly Morgan Turpen) from Gallatin, Tennessee charged from her outside front row starting position into the lead and wired the field on her way to winning the 30-lap USCS NRA North-South Shootout weekend finale at I-75 Raceway. It was Havener's first USCS Outlaw Thunder Tour presented by K&N Filters win if the 2022 season, but, it was also her first weekend of competition on the season.
Havener had a five-car length lead over the K&N Filters Pole Position and the previous night's winner, Jared Horstman from Cloverdale, Ohio when Horstman abruptly exited the track with an apparent engine issue to end his night and leave Havener to do battle with the balance of the twenty-one-car field.
Havener's team-mate and car owner for her entire USCS career, Terry Gray from Bartlett, Tennessee, who started inside the second row chased her the 28-lap distance to the checkers fell on the contest. Gray ran side by side with his team-mate for six laps before fading to a half straightaway behind while holding off Chase Dunham from Leipsic, Ohio for the battle for the runner-up spot.
When Havener (Turpen) raced under the checkers on lap thirty, Gray was in the runner-up spot, Devon Dobie from Wapakoneta, Ohio was third after starting fifth, Brad Bowden from Hernando, Mississippi, started eleventh and charged his way back to a fourth-place finish. The previous night's runner-up, Fostoria, Ohio's Shawn Valenti started tenth and completed the top five after starting tenth.
Liam Martin from Ontario, Canada charged all the way from a twentieth start into sixth place to lead the next group of drivers. Luke Valardi from Taylorville, Illinois followed Martin in seventh and Luke Griffin from Sandusky, Ohio was eighth followed by Leipsic, Ohio's Chase Dunham in ninth place, and Dylan Postier from Stillwater, Oklahoma rounded out the top ten.
Jeffrey West from Atoka, Tennessee made his first appearance of the weekend by winning the Engler Machine and Tool First Heat. Morgan Havener (Turpen) captured the win in the JJ Supply of NC Second Heat. Jared Horstman closed out the qualifying heat race action by winning the hero Graphics Third Heat. Jared Horstman won the all-important Hoosier Speed Dash that sets the final starting position for the top six cars from the heat races. Liam Martin was awarded the Wilwood Disc Brakes Hard Charger Award for his efforts in advancing fourteen positions in the main event to finish sixth after starting fourteenth.
The next USCS Outlaw Thunder Tour presented by K&N Filters event is the USCS Military Appreciation event at Southern Raceway in Milton, Florida on Friday and Saturday, May 13th and 14th. The USCS 600 Mini Sprints join the sprint cars on both nights for a USCS double-header.
USCS Outlaw Thunder Tour presented by K&N Filters and the Ohio Logistics NRA Sprint Invaders North-South Shootout on Saturday, April 30, 2022 at I-75 Raceway:
USCS and NRA Sprint Cars – 21 Entries
United Sprint Car Series
I-75 Raceway
Sweetwater, Tennessee
Saturday, April 30, 2022
Engler Machine & Tool Heat Race #1 (8 Laps)
1. 24W-Jeffrey West Jr[3]
2. 23-Devon Dobie[6]
3. 66-Chase Dunham[7]
4. 28V-Shawn Valenti[5]
5. 11G-Luke Griffith[2]
6. 28-Jeff Willingham[1]
7. 9M-Liam Martin[4]
JJ Supply of NC Heat Race #2 (8 Laps)
1. 10M-Morgan Turpen[3]
2. 5-Gavan Boschele[4]
3. 15-Dan Nanticoke[2]
4. 4X-Brad Bowden[5]
5. 28X-Luke Verardi[6]
6. 07T-Brandon Taylor[1]
7. 7D-Donnie Goodwin[7]
HERO Graphics Heat Race #3 (8 Laps)
1. 17-Jared Horstman[3]
2. 10-Terry Gray[7]
3. 10P-Dylan Postier[5]
4. 71M-Caden Englehart[2]
5. 7E-Eric Gunderson[1]
6. 33-Joe Larkin[6]
DNS: 24-Kobe Allison
Hoosier Speed Dash (6 Laps)
1. 17-Jared Horstman[1]
2. 10M-Morgan Turpen[5]
3. 10-Terry Gray[3]
4. 66-Chase Dunham[4]
5. 23-Devon Dobie[6]
6. 24W-Jeffrey West Jr[2]
Feature (30 Laps)
1. 10M-Morgan Turpen[2]
2. 10-Terry Gray[3]
3. 23-Devon Dobie[5]
4. 4X-Brad Bowden[11]
5. 28V-Shawn Valenti[10]
6. 9M-Liam Martin[20]
7. 28X-Luke Verardi[12]
8. 11G-Luke Griffith[14]
9. 66-Chase Dunham[4]
10. 10P-Dylan Postier[8]
11. 71M-Caden Englehart[13]
12. 7E-Eric Gunderson[15]
13. 15-Dan Nanticoke[9]
14. 07T-Brandon Taylor[19]
15. 7D-Donnie Goodwin[17]
16. 33-Joe Larkin[16]
17. 24-Kobe Allison[21]
18. 5-Gavan Boschele[7]
19. 17-Jared Horstman[1]
20. 28-Jeff Willingham[18]
DNS: 24W-Jeffrey West Jr