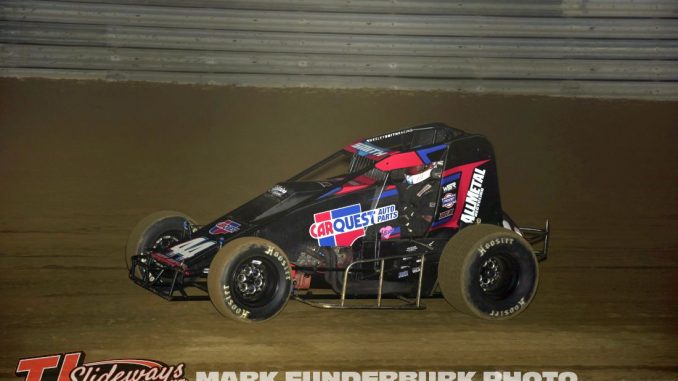 From POWRi
(May Belleville, IL. (5/29/22) Wesley Smith would fend off all challengers in an instant-classic feature event at Double X Speedway with the Lucas Oil POWRi Wingless Auto Racing Sprint League, electrifying the capacity crowd to notch his eleventh career WAR feature win in the exhilarating twenty-five lap main event.
Flying onto the tight-cornered track with twenty-two competitors entered, heat racing action would witness Jack Wagner, Wesley Smith, and Steven Russell each earn an early competition victory as Jack Wagner would gain the high-point award using a fourth-to-first run and notch a pole grid for the feature event.
Soaring into the initial green flag start would see high point qualifier and pole-sitter Wagner battle outside front-row companion Wesley Smith into the first pair of corners as Smith would gain the early racing advantage.
Intense feature racing action would ensue with Wesley Smith out front an onslaught of drivers would all flank the front-runner with Jack Wagner, Riley Kreisel, Steven Russell, Chris Morgan, and Joe B Miller all attempting to run down the leader in one of the closest races in recent POWRi WAR history.
Late race dramatics would enter the picture as Smith would hold the front of the field after restarting with five laps remaining. Riley Kreisel and Joe B Miller would close on the leader late and cross the finish line side-by-side with Kreisel earning the edge to place second leaving Miller in third by mere inches.
"My steering was knocked around after I bounced off the inside wall exiting turn four and then again on the outside wall out of turn two, but I was giving everything the car and driver had out here, this was a blast," said an excited Wesley Smith in Double X Speedway victory lane.
Staying in the hunt towards the front all feature, Chris Morgan would surge late to finish fourth as Steven Russel would slip on the final lap to round out the top-five finishers at Double X Speedway for the Lucas Oil POWRi WAR Sprint League in the Tribute to Jesse action riddled feature event.
POWRi WAR Sprint Car League
Jesse Hockett Tribute
Double-X Speedway
California, Missouri
Sunday, May 29, 2022
Advanced Racing Suspension Heat Race #1 (8 Laps)
1. 77-Jack Wagner[4]
2. 24LCR-Chris Morgan[2]
3. 16-Anthony Nicholson[3]
4. 74-Xavier Doney[5]
5. 28-Kory Schudy[7]
6. 11X-Tom Curran[1]
7. 27-Justin Johnson[6]
8. 33-Bryson Smith[8]
Auto Meter Heat Race #2 (8 Laps)
1. 12-Wesley Smith[2]
2. 44-Jason Howell[1]
3. 26-Zach Clark[3]
4. 41-Brad Wyatt[4]
5. 11W-Wyatt Burks[7]
6. 88G-Garrett Hulsey[5]
DNS: 00-Broc Elliott
Schure Built Suspensions Heat Race #3 (8 Laps)
1. 1JR-Steven Russell[1]
2. 122-Joe B Miller[2]
3. 91-Riley Kreisel[6]
4. 73-Samuel Wagner[5]
5. 8D-Terry Babb[3]
6. 15E-Dakota Earls[7]
7. 52-Dean Bowers[4]
Lucas Oil A-Main (25 Laps)
1. 12-Wesley Smith[2]
2. 91-Riley Kreisel[3]
3. 122-Joe B Miller[6]
4. 24LCR-Chris Morgan[5]
5. 1JR-Steven Russell[4]
6. 11W-Wyatt Burks[13]
7. 74-Xavier Doney[10]
8. 77-Jack Wagner[1]
9. 28-Kory Schudy[12]
10. 26-Zach Clark[9]
11. 16-Anthony Nicholson[8]
12. 44-Jason Howell[7]
13. 11X-Tom Curran[18]
14. 8D-Terry Babb[16]
15. 73-Samuel Wagner[11]
16. 88G-Garrett Hulsey[17]
17. 41-Brad Wyatt[14]
18. 27-Justin Johnson[19]
19. 52-Dean Bowers[20]
20. 15E-Dakota Earls[15]
DNS: 33-Bryson Smith
DNS: 00-Broc Elliott