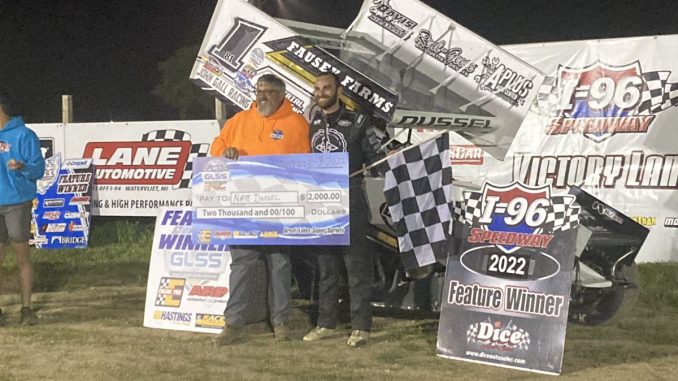 By T.J. Buffenbarger
LAKE ODESSA, Mich. (June 3, 2022) — Nate Dussel made an infrequent start with the Great Lakes Super Sprints a memorable won by winning the feature event during the opening night of the Full Throttle Nationals Friday at I-96 Speedway. Dussel raced during the early stages of the main event with the most recent GLSS winner at I-96, Gregg Dalman, trading the lead back and forth before driving away during the second half of the event. The win was Dussel's third of the 2022 season.
After the race Dussel was quick to credit his crew for a race car that wanted to handle anywhere he needed to on the racing surface.
"The guys just gave me an awesome car," said Dussel. "It stuck wherever I wanted to go. And that makes it pretty easy to pass. You know, I could kind of stick my nose in the middle and roll them out from the top wherever I needed to go."
Gregg Dalman and Devon Dobie started on the front row for the 25-lap main event. Dalman took the lead on the opening lap while Dobie raced with Tylar Rankin and Nate Dussel for second. Rankin was able to clear both drivers and move into second on lap four.
After a caution for Kyle Poortenga on lap five Dussel quickly dove by Rankin for second in turn two and Dalman for the lead in turns three and four. Dalman was able to use the bottom of the track to take the lead back one lap later. Dussel and Dalman traded the lead until Dussel secured the position on lap ten.
While Dussel pulled away Dalman was being challenged by Sams for second, trading the position until Dalman slowed on the front stretch with front end damage to bring out the caution flag. Dussel had to wait through one more caution flag to secure the victory over Sams, Dustin Daggett, Brad Lamberson, and Zane Devault.
With only one start to his credit at I-96 Speedway seven years ago, Dussel immediate felt comfortable at the 3/8 mile oval.
"I only came here at I-96 once in 2015 with a 40 car and we ran 10th with the World of Outlaws but I mean, maybe 16 cars finished so am I in the back of my mind as a driver is it you know, was it fluky, or were we actually good here and then we come out here and I felt very comfortable after you know just a few laps."
Great Lakes Super Sprints
Full Throttle Nationals
I-96 Speedway
Lake Odessa, Michigan
Friday, June 3, 2022
Qualifying
1. 27-Brad Lamberson, 14.267[5]
2. 16C-Tyler Rankin, 14.519[2]
3. 23-Devon Dobie, 14.573[13]
4. 85-Dustin Daggett, 14.593[17]
5. 84-Kyle Poortenga, 14.655[9]
6. 28-Shawn Valenti, 14.691[8]
7. 2-Ricky Peterson, 14.801[6]
8. 70-Eli Lakin, 14.873[12]
9. 66-Chase Dunham, 14.935[15]
10. 19-Jett Mann, 14.962[11]
11. 10S-Jay Steinebach, 15.190[3]
12. 0-Brayton Phillips, 15.980[7]
13. 07-Shane Simmons, 16.062[4]
14. 8-Justin Ward, 16.223[16]
15. 1-Levi Poortenga, 17.140[10]
16. 11-Joe Conway, 17.254[14]
DNS: 55-Matt Cogley, 17.254
Qualifying 2
1. 7C-Phil Gressman, 14.464[14]
2. 71H-Max Stambaugh, 14.603[10]
3. 1D-Nate Dussel, 14.621[16]
4. 24D-Danny Sams III, 14.622[13]
5. 49T-Gregg Dalman, 14.656[8]
6. 14H-Zane Devault, 14.925[7]
7. 87-Logan Easterday, 14.994[15]
8. 46-Ryan Coniam, 15.008[11]
9. 17-Jared Horstman, 15.060[2]
10. 3A-Mike Astrauskas, 15.202[1]
11. 13-Andy Teunessen, 15.243[3]
12. 86-Keith Sheffer Jr, 15.246[4]
13. 16B-Chase Ridenour, 15.350[6]
14. 21-Linden Jones, 15.414[9]
15. 20I-Kelsey Ivy, 15.808[12]
16. 38-Max Frank, 16.475[5]
17. 27K-Zac Broughman, 16.959[17]
Heat Race #1 (8 Laps)
1. 2-Ricky Peterson[1]
2. 23-Devon Dobie[3]
3. 27-Brad Lamberson[4]
4. 84-Kyle Poortenga[2]
5. 10S-Jay Steinebach[6]
6. 66-Chase Dunham[5]
7. 07-Shane Simmons[7]
8. 55-Matt Cogley[9]
9. 1-Levi Poortenga[8]
Heat Race #2 (8 Laps)
1. 85-Dustin Daggett[3]
2. 16C-Tyler Rankin[4]
3. 28-Shawn Valenti[2]
4. 70-Eli Lakin[1]
5. 0-Brayton Phillips[6]
6. 8-Justin Ward[7]
7. 19-Jett Mann[5]
8. 11-Joe Conway[8]
Heat Race #3 (8 Laps)
1. 49T-Gregg Dalman[2]
2. 1D-Nate Dussel[3]
3. 7C-Phil Gressman[4]
4. 87-Logan Easterday[1]
5. 16B-Chase Ridenour[7]
6. 13-Andy Teunessen[6]
7. 20I-Kelsey Ivy[8]
8. 27K-Zac Broughman[9]
9. 17-Jared Horstman[5]
Heat Race #4 (8 Laps)
1. 24D-Danny Sams III[3]
2. 46-Ryan Coniam[1]
3. 14H-Zane Devault[2]
4. 21-Linden Jones[7]
5. 71H-Max Stambaugh[4]
6. 86-Keith Sheffer Jr[6]
7. 3A-Mike Astrauskas[5]
8. 38-Max Frank[8]
B-Main (12 Laps)
1. 16B-Chase Ridenour[3]
2. 71H-Max Stambaugh[4]
3. 66-Chase Dunham[5]
4. 86-Keith Sheffer Jr[8]
5. 10S-Jay Steinebach[1]
6. 13-Andy Teunessen[7]
7. 20I-Kelsey Ivy[11]
8. 0-Brayton Phillips[2]
9. 8-Justin Ward[6]
10. 3A-Mike Astrauskas[12]
11. 55-Matt Cogley[13]
12. 38-Max Frank[16]
13. 19-Jett Mann[10]
14. 07-Shane Simmons[9]
15. 11-Joe Conway[14]
16. 1-Levi Poortenga[17]
DNS: 27K-Zac Broughman
DNS: 17-Jared Horstman
A-Main (25 Laps)
1. 1D-Nate Dussel[3]
2. 24D-Danny Sams III[6]
3. 85-Dustin Daggett[7]
4. 27-Brad Lamberson[9]
5. 14H-Zane Devault[12]
6. 71H-Max Stambaugh[18]
7. 16C-Tyler Rankin[4]
8. 23-Devon Dobie[2]
9. 2-Ricky Peterson[8]
10. 28-Shawn Valenti[11]
11. 16B-Chase Ridenour[17]
12. 66-Chase Dunham[19]
13. 7C-Phil Gressman[10]
14. 86-Keith Sheffer Jr[20]
15. 87-Logan Easterday[15]
16. 13-Andy Teunessen[22]
17. 10S-Jay Steinebach[21]
18. 21-Linden Jones[16]
19. 49T-Gregg Dalman[1]
20. 46-Ryan Coniam[5]
21. 70-Eli Lakin[14]
22. 84-Kyle Poortenga[13]