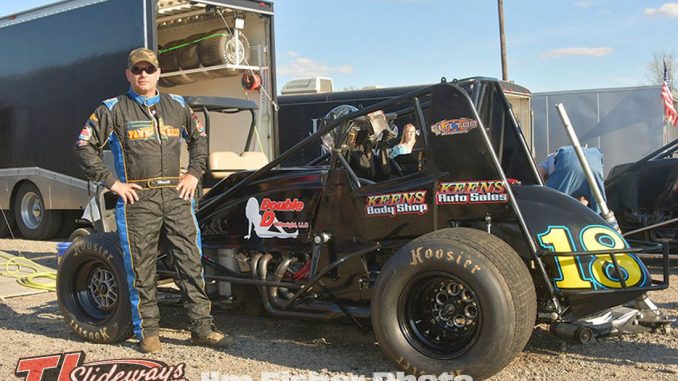 From BOSS
CHILLICOTHE, Ohio (July 10, 2022) — Almost exactly 7 years ago, Dallas Hewitt was one of three cars involved in, perhaps, the best finish in the history of Atomic Speedway. Despite being the fastest car in the closing laps, Hewitt wound up on the short of a dramatic three-car photo finish that resulted in him flipping the Chip Pearson 69 down the front straight. Emerging to a thunderous ovation did nothing to cure the disappointment of that finish. However, last night, driving the Todd Keen 18, Hewitt started from the pole position and wasted no time in establishing a commanding lead he would never relinquish, scoring the win the Atomic high banks owed him.
Twenty-one MPD Racing BOSS sprint cars were on hand. ARP Fasteners qualifying groups were led by Travis Hery, Saban Bibent and Ricky Lewis with Lewis' 13.364 being quickest overall. Heat races were won by Landon Simon, Hewitt and Lewis. The NGK Spark Plugs redraw put Hewitt on the pole with Bibent alongside. Jesse Vermillion and Simon would roll off from row 2 with Lewis and Hery pulling the dreaded 5-6 spots.
At the drop of starter Adam Brimmer's green flag, twenty-one brave pilots sailed into the Ross county night with nothing but a little chromoly tubing between themselves and the heavens. Hewitt raced ahead leaving a battle for the ages among Jesse Vermillion, Ricky Lewis, Saban Bibent and Isaac Chapple. It took just 7 minutes and 7 seconds for Hewitt and the fearless BOSS drivers to run 25 laps, green to checkers with 20 of the 21 cars finishing.
Hewitt held a commanding lead at the finish with Lewis prevailing for the runner-up spot over Jesse Vermillion who completed the podium. Isaac Chapple was able to get by Saban Bibent in a torrid battle that completed the top 5. Steve Irwin, Dustin Webber, Justin Owen, Michael Fischesser and Lee Underwood rounded out the top 10.
BOSS is off next weekend but returns to action June 22-23 with races at Lernerville Speedway near Sarver, Pennsylvania and Pittsburgh's PA Motor Speedway near Imperial, Pennsylvania. We hope you will make plans to join us at both!
Buckeye Outlaw Sprint Series
Atomic Speedway
Chillicothe, Ohio
Saturday, July 9, 2022
ARP Fasteners Qualifying
Group 1: 1. 21-Travis Hery 13.822, 2. 0-Steve Irwin 13.887, 3. 9-Dustin Webber 14.153, 4. 24-Landon Simon 14.153, 5. 24L-Lee Underwood 14.186, 6. 1B-Keith Baxter 14.835, 7. 002-Garrett Mitchell 15.960
Group 2: 1. 98-Saban Bibent 13.727, 2. 52-Isaac Chapple 13.749, 3. 4J-Justin Owen 13.947, 4. 18-Dallas Hewitt 13.971, 5. 4-Michael Fischesser 14.145, 6. 14-Chad Wilson 14.497, 7. 73-Blake Vermillion 14.645
Group 3: 1. 41-Ricky Lewis 13.364, 2. 20-Tayte Williamson 14.022, 3. 5-Jesse Vermillion 14.393, 4. 1MC-Wayne McPeek 14.487, 5. 53-Steve Little 14.659, 6. 001-Greg Mitchell 14.748, 7. 35-Nick Simon 16.312
TCB Speed Heat 1: 1. 24-Simon[1] ; 2. 9-Webber[2] ; 3. 21-Hery[4] ; 4. 0-Irwin[3] ; 5. 24L-Underwood[5] ; 6. 1B-Baxter[6] ; 7. 002-Mitchell[7]
Brave Breed Rescue – Heat 2: 1. 18-Hewitt[1] ; 2. 52-Chapple[3] ; 3. 4J-Owen[2] ; 4. 98-Bibent[4] ; 5. 4-Fischesser[5] ; 6. 73-B.Vermillion[7] ; 7. 14-Wilson[6]
The Cushion.com Heat 3: 1. 41-Lewis[4] ; 2. 5-Vermillion[2] ; 3. 1mc-Mcpeek[1] ; 4. 53-Little[5] ; 5. 001-Mitchell[6] ; 6. 35-N.Simon[7] ; 7. 20-Williamson[3]
MPD BOSS A-Main: 1. 18-Hewitt[1] ; 2. 41-Lewis[5] ; 3. 5-J.Vermillion[3] ; 4. 52-Isaas Chapple[8] ; 5. 98-Bibent[2] ; 6. 0-Irwin[11] ; 7. 9-Webber[7] ; 8. 4J-Owen[9] ; 9. 4-Fischesser[14] ; 10. 24L-Underwood[13] ; 11. 21-Hery[6] ; 12. 1B-Baxter[16] ; 13. 53-Little[12] ; 14. 73-B.Vermillion[17] ; 15. 14-Wilson[20] ; 16. 20-Williamson[21] ; 17. 001-Mitchell[15] ; 18. 1mc-Mcpeek[10] ; 19. 002-Mitchell[19] ; 20. 35-N.Simon[18] ; 21. 24-L.Simon[4]
USAC Speed2 Midwest Thunder Midget Car Series
Qualifying
1. 11H-Abby Hohlbein, 15.260[2]
2. 5M-Michael Magic, 15.306[4]
3. 11K-Kayla Roell, 15.623[3]
4. 49P-Carl Peterson IV, 15.623[7]
5. 11T-Bryce Dues, 15.900[5]
6. 33L-Luke Lemons, 15.951[1]
7. 5-Jody Paul, 16.910[6]
Qualifying 2
1. 71-Stratton Briggs, 15.013[3]
2. 18-Zach Wigal, 15.192[7]
3. 36-Ian Creager, 15.308[5]
4. 6-Isaac Chapple, 15.586[6]
5. 20X-Jon Watson, 16.017[1]
6. 4T-Cody Dye, 16.440[2]
7. 97-Jim Jones, 16.487[4]
Qualifying 3
1. 44JB-Jakeb Boxell, 15.409[5]
2. 6K-Kyle Keaton, 15.536[6]
3. 11L-Taylor Nibert, 15.715[4]
4. 5Y-Josh Yenser, 15.727[2]
5. 35-Bryce Massingill, 16.534[1]
6. 3E-Alex Watson, 16.616[3]
Heat Race #1 (8 Laps)
1. 5M-Michael Magic[3]
2. 11K-Kayla Roell[2]
3. 11H-Abby Hohlbein[4]
4. 11T-Bryce Dues[5]
5. 49P-Carl Peterson IV[1]
6. 33L-Luke Lemons[6]
7. 5-Jody Paul[7]
Heat Race #2 (8 Laps)
1. 18-Zach Wigal[3]
2. 71-Stratton Briggs[4]
3. 6-Isaac Chapple[1]
4. 36-Ian Creager[2]
5. 20X-Jon Watson[5]
6. 4T-Cody Dye[6]
7. 97-Jim Jones[7]
Heat Race #3 (8 Laps)
1. 6K-Kyle Keaton[3]
2. 44JB-Jakeb Boxell[4]
3. 5Y-Josh Yenser[1]
4. 35-Bryce Massingill[5]
5. 11L-Taylor Nibert[2]
6. 3E-Alex Watson[6]
A-Main (20 Laps)
1. 5M-Michael Magic[3]
2. 71-Stratton Briggs[1]
3. 6-Isaac Chapple[8]
4. 6K-Kyle Keaton[2]
5. 44JB-Jakeb Boxell[6]
6. 5Y-Josh Yenser[9]
7. 49P-Carl Peterson IV[13]
8. 33L-Luke Lemons[16]
9. 36-Ian Creager[11]
10. 18-Zach Wigal[5]
11. 11H-Abby Hohlbein[7]
12. 11K-Kayla Roell[4]
13. 20X-Jon Watson[14]
14. 97-Jim Jones[20]
15. 4T-Cody Dye[17]
16. 11L-Taylor Nibert[15]
17. 3E-Alex Watson[18]
18. 5-Jody Paul[19]
19. 11T-Bryce Dues[10]
20. 35-Bryce Massingill[12]
Ohio Thunder IMCA RaceSaver Sprint Car Series
Qualifying
1. 9K-Kyle Kruger, 13.600[7]
2. 78-Justin Clark, 13.691[3]
3. 4T-Dylan Troyer, 13.691[16]
4. 17P-Austin Powell, 13.696[5]
5. 14S-Jacob Stickle, 13.778[9]
6. 8C-Lewie Christian, 13.790[12]
7. 22J-Joe Allagree, 13.807[4]
8. 00H-Michael Helterbran, 13.900[6]
9. 71-Joe Coggin, 14.029[10]
10. 79-Chris Miller, 14.055[15]
11. 319-Steve Watts, 14.241[8]
12. 16E-Caleb Erwin, 14.467[1]
13. 21G-Roman Gephart, 14.614[2]
14. 97-Chad Hyatt Sr, 14.789[13]
15. A79-Ashley Tackett, 14.836[14]
16. 1H-Hunter Young, 15.954[17]
17. 12C-Tadd Clary, 16.452[11
Heat Race #1 (8 Laps)
1. 9K-Kyle Kruger[1]
2. 14S-Jacob Stickle[3]
3. 4T-Dylan Troyer[2]
4. 22J-Joe Allagree[4]
5. 71-Joe Coggin[5]
6. 319-Steve Watts[6]
7. 21G-Roman Gephart[7]
8. A79-Ashley Tackett[8]
9. 12C-Tadd Clary[9]
Heat Race #2 (8 Laps)
1. 78-Justin Clark[1]
2. 17P-Austin Powell[2]
3. 00H-Michael Helterbran[4]
4. 8C-Lewie Christian[3]
5. 79-Chris Miller[5]
6. 16E-Caleb Erwin[6]
7. 97-Chad Hyatt Sr[7]
8. 1H-Hunter Young[8]
A-Main (25 Laps)
1. 78-Justin Clark[5]
2. 14S-Jacob Stickle[2]
3. 00H-Michael Helterbran[1]
4. 17P-Austin Powell[6]
5. 22J-Joe Allagree[7]
6. 4T-Dylan Troyer[3]
7. 79-Chris Miller[10]
8. 16E-Caleb Erwin[12]
9. 8C-Lewie Christian[8]
10. A79-Ashley Tackett[15]
11. 97-Chad Hyatt Sr[14]
12. 319-Steve Watts[11]
13. 71-Joe Coggin[9]
14. 12C-Tadd Clary[17]
15. 21G-Roman Gephart[13]
16. 9K-Kyle Kruger[4]
17. 1H-Hunter Young[16]