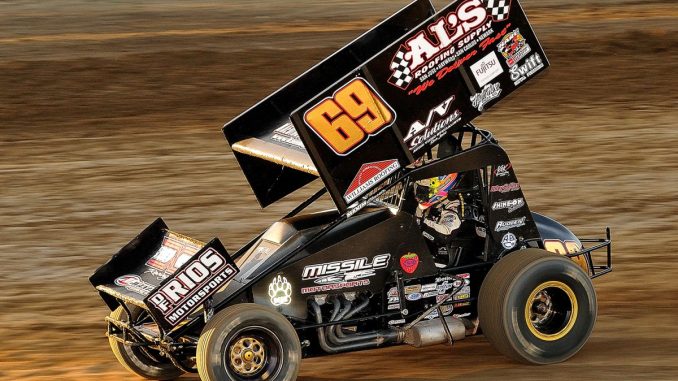 By Gary Thomas
Watsonville, CA…The Ocean Speedway in Watsonville provided several thrills on Friday night at the Key Kick-Off Race. In the end it was an epic finish between Bud Kaeding, Caeden Steele and Dominic Scelzi that got fans up on their feet during the Ocean Sprints presented by Taco Bravo feature.
Racing through heavy duty lapped traffic Kaeding got to the outside of Steele and nipped him at the line by just 0.060 seconds for the exhilarating victory. Sharing victory lane at the event were Jim Pettit II with the IMCA Modifieds, Adriane Frost with the IMCA Sport Mods, Joe Gallaher with the Hobby Stocks and Shawn Jones with the South Bay Dwarf Cars.
The 30-lap Taco Bravo Sprint Car main event began with Gizdich Ranch Dash winner Steele jumping out to the early lead. A well-groomed surface from track prep artist Tom Sagmiller lent to the some of the best racing of the season on Friday night. Following a couple early cautions things went green to checkered over the final 23 circuits. Steele sat out front and made some excellent pinpoint moves in traffic to keep the rest of the field at bay.
Things got hectic towards the end though with several lapped cars racing for position in front of the leaders. With Steele boxed in Kaeding and Scelzi closed in quickly and set up the classic finish. Rounding the final corners Kaeding charged to the high-side and battled his way past to win by inches at the checkered, with Scelzi right there as well. Justin Sanders went from 11th to fourth, with Mitchell Faccinto rounding out the top-five. Completing the top-10 were Andy Forsberg, Chase Johnson, Kaleb Montgomery, Jake Andreotti and Max Mittry.
Ocean Sprints finish: 1. 69-Bud Kaeding[2]; 2. 121-Caeden Steele[1]; 3. 41-Dominic Scelzi[9]; 4. 2X-Justin Sanders[11]; 5. 21-Mitchell Faccinto[4]; 6. 92-Andy Forsberg[5]; 7. 28-Chase Johnson[13]; 8. 2K-Kaleb Montgomery[3]; 9. 7P-Jake Andreotti[7]; 10. 2XM-Max Mittry[12]; 11. 17-Rickey Sanders[6]; 12. 88A-Joey Ancona[17]; 13. 72W-Kurt Nelson[18]; 14. 4-Jodie Robinson[14]; 15. 72S-Bradley Dillard[8]; 16. 115-Nick Parker[15]; 17. 25Z-Jason Chisum[20]; 18. 5-Mark Chaves Jr[22]; 19. 88-Koen Shaw[21]; 20. 38-Colby Johnson[10]; 21. 6C-Travis Coelho[19]; 22. 21X-Gauge Garcia[16]
Key Kick Off Race
Ocean Speedway
Watsonville, California
Friday, August 19, 2022
Winged 360 Sprint Cars
Qualifying
1. 92-Andy Forsberg, 10.968[1]
2. 21-Mitchell Faccinto, 11.035[17]
3. 69-Bud Kaeding, 11.050[11]
4. 121-Caeden Steele, 11.081[16]
5. 41-Dominic Scelzi, 11.118[23]
6. 38-Colby Johnson, 11.270[13]
7. 2X-Justin Sanders, 11.279[14]
8. 2XM-Max Mittry, 11.292[27]
9. 28-Chase Johnson, 11.314[10]
10. 4-Jodie Robinson, 11.325[28]
11. 115-Nick Parker, 11.361[6]
12. 21X-Gauge Garcia, 11.361[18]
13. 72S-Bradley Dillard, 11.387[24]
14. 2K-Kaleb Montgomery, 11.423[19]
15. 17-Rickey Sanders, 11.426[7]
16. 7P-Jake Andreotti, 11.429[30]
17. 25Z-Jason Chisum, 11.448[4]
18. 88A-Joey Ancona, 11.490[21]
19. 88-Koen Shaw, 11.522[12]
20. 29T-Ryan Timmons, 11.542[8]
21. 6C-Travis Coelho, 11.549[15]
22. 72W-Kurt Nelson, 11.562[3]
23. 19-Colby Thornhill, 11.631[2]
24. 5-Mark Chaves Jr, 11.632[9]
25. 33H-Eric Humphries, 11.655[25]
26. 61-Travis Labat, 11.718[29]
27. 63D-Jon De Wees, 12.202[26]
28. 56Z-Don Hart, 12.251[22]
29. 34B-Glenn Bryan, 12.604[20]
30. 72JR-Chris Nelson, 24.721[5]
Heat Race #1 (8 Laps)
1. 72S-Bradley Dillard[1]
2. 41-Dominic Scelzi[3]
3. 28-Chase Johnson[2]
4. 92-Andy Forsberg[4]
5. 25Z-Jason Chisum[5]
6. 6C-Travis Coelho[6]
7. 33H-Eric Humphries[7]
8. 34B-Glenn Bryan[8]
Heat Race #2 (8 Laps)
1. 2K-Kaleb Montgomery[1]
2. 4-Jodie Robinson[2]
3. 72W-Kurt Nelson[6]
4. 21-Mitchell Faccinto[4]
5. 88A-Joey Ancona[5]
6. 38-Colby Johnson[3]
7. 61-Travis Labat[7]
8. 72JR-Chris Nelson[8]
Heat Race #3 (8 Laps)
1. 17-Rickey Sanders[1]
2. 69-Bud Kaeding[4]
3. 2X-Justin Sanders[3]
4. 115-Nick Parker[2]
5. 88-Koen Shaw[5]
6. 63D-Jon De Wees[7]
7. 19-Colby Thornhill[6]
Heat Race #4 (8 Laps)
1. 7P-Jake Andreotti[1]
2. 121-Caeden Steele[4]
3. 2XM-Max Mittry[3]
4. 21X-Gauge Garcia[2]
5. 29T-Ryan Timmons[5]
6. 5-Mark Chaves Jr[6]
7. 56Z-Don Hart[7]
Dash #1 (6 Laps)
1. 121-Caeden Steele[1]
2. 69-Bud Kaeding[2]
3. 2K-Kaleb Montgomery[6]
4. 21-Mitchell Faccinto[3]
5. 92-Andy Forsberg[4]
6. 17-Rickey Sanders[7]
7. 7P-Jake Andreotti[8]
8. 72S-Bradley Dillard[5]
B-Main (12 Laps)
1. 38-Colby Johnson[1]
2. 88A-Joey Ancona[3]
3. 6C-Travis Coelho[6]
4. 25Z-Jason Chisum[2]
5. 88-Koen Shaw[4]
6. 5-Mark Chaves Jr[8]
7. 33H-Eric Humphries[9]
8. 61-Travis Labat[10]
9. 63D-Jon De Wees[11]
10. 34B-Glenn Bryan[13]
11. 29T-Ryan Timmons[5]
12. 56Z-Don Hart[12]
13. 72JR-Chris Nelson[14]
DNS: 19-Colby Thornhill
A-Main (30 Laps)
1. 69-Bud Kaeding[2]
2. 121-Caeden Steele[1]
3. 41-Dominic Scelzi[9]
4. 2X-Justin Sanders[11]
5. 21-Mitchell Faccinto[4]
6. 92-Andy Forsberg[5]
7. 28-Chase Johnson[13]
8. 2K-Kaleb Montgomery[3]
9. 7P-Jake Andreotti[7]
10. 2XM-Max Mittry[12]
11. 17-Rickey Sanders[6]
12. 88A-Joey Ancona[17]
13. 72W-Kurt Nelson[18]
14. 4-Jodie Robinson[14]
15. 72S-Bradley Dillard[8]
16. 115-Nick Parker[15]
17. 25Z-Jason Chisum[20]
18. 5-Mark Chaves Jr[22]
19. 88-Koen Shaw[21]
20. 38-Colby Johnson[10]
21. 6C-Travis Coelho[19]
22. 21X-Gauge Garcia[16]