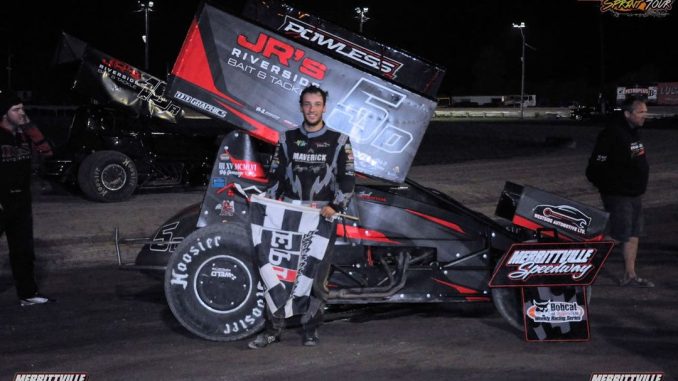 By Tommy Goudge with files from Jonathon Howe
THOROLD, Ont. (August 27, 2022) – Jacob Dykstra retook the championship points lead for the Action Sprint Tour fueled by Pinty's on Saturday night win a win at Merrittville Speedway.
Adrian Stahle and Ashton VanEvery had front row starting spots for the 25 lap A-Main, but Dykstra used the high line to take the lead on lap one. Dykstra proceeded to lap nearly half the field until a caution flag appeared on lap 22 to set up a single-file restart. This gave Mike Bowman a chance to take his fifth AST win, but Dykstra was too strong and drove off to take his third AST win of the season. Bowman took the runner-up spot, followed by Brett Stratford, Mathieu Bardier, and Darren Dryden.
The win moved Dykstra back to the Action Sprint Tour championship points lead by six markers over Bardier. The Action Sprint Tour fueled by Pinty's will next be in competition on Saturday, September 3 and Sunday, September 4 at Brighton Speedway's Labour Day Classic Weekend. Visit www.actionsprinttour.com for more information.
Action Sprint Tour Crate Sprint Car series fueled by Pinty's
Statistical Report – Saturday, August 27, 2022
Merrittville Speedway – Thorold, Ontario, Canada
A-Main [Started] 25 laps – NT
1. 5D-Jacob Dykstra[4]; 2. 71-Mike Bowman[6]; 3. BS39-Brett Stratford[7]; 4. 19-Mathieu Bardier[3]; 5. 12DD-Darren Dryden[10]; 6. 50LS-Adrian Stahle[1]; 7. 19D-Allan Downey[5]; 8. 39-Jonah Mutton[9]; 9. 77E-Ashton VanEvery[2]; 10. 16R-Seth Roy[11]; 11. 20-Johnny Miller[8]; 12. 97-Sheldon Bender[15]; 13. 9C-Brian Nanticoke[16]; 14. 3S-Austin Roes[13]; 15. 88-Lance Erskine[17]; 16. 77T-Tyeller Powless[12]; 17. 85C-Cam MacKinnon[14]
A-Main Lap Leaders – Jacob Dykstra 1-25
Margin of Victory – 1.177 seconds
Hard Charger – Darren Dryden +5
Heat Race 1 [Started] 8 laps – 1:59.450
1. 50LS-Adrian Stahle – Kitchener [1]; 2. 71-Mike Bowman – St. Catharines [6]; 3. 39-Jonah Mutton – Brighton [2]; 4. 16R-Seth Roy – Port Colborne [5]; 5. 97-Sheldon Bender – Listowel [3]; 6. 9C-Brian Nanticoke – Ohsweken [4]
Heat Race 2 [Started] 8 laps – 2:02.023
1. 19D-Allan Downey – Waterloo [1]; 2. 77E-Ashton VanEvery – Ohsweken [2]; 3. 20-Johnny Miller – Six Nations [5]; 4. 19-Mathieu Bardier – Pierreville, Quebec [6]; 5. 3S-Austin Roes – Mossley [4]; 6. 88-Lance Erskine – Brantford [3]
Heat Race 3 [Started] 8 laps – 2:01.516
1. 5D-Jacob Dykstra – Port Colborne [1]; 2. BS39-Brett Stratford – Wainfleet [3]; 3. 12DD-Darren Dryden – Freelton [2]; 4. 77T-Tyeller Powless – Ohsweken [5]; 5. 85C-Cam MacKinnon – Ridgeway [4]
Up Next:
Saturday, September 3, 2022 – Brighton Speedway – Brighton, Ontario
Sunday, September 4, 2022 – Brighton Speedway – Brighton, Ontario