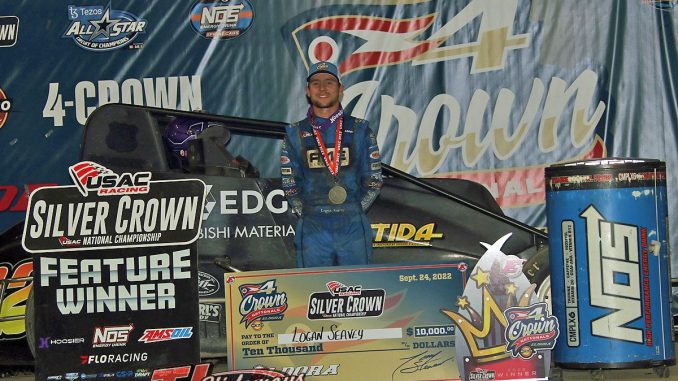 By T.J. Buffenbarger
ROSSBURG, Ohio (September 24, 2022) — ROSSBURG, Ohio (September 24, 2022) – Logan Seavey had everything go his way during the USAC Silver Crown Series portion of the 4-Crown Nationals Saturday night at Eldora Speedway. Seavey held off C.J. Leary while racing through heavy lapped traffic during the closing stages of the 50-lap main event for the victory while setting a blistering pace throughout the event.
That was 50 laps running nearly as hard as I could," said Seavey after the feature. "My spotter Ronnie did such a good job just keeping my distances with (Leary) behind me. I knew (Leary) was good and I was running hard. I didn't want to have to run that hard for 50 laps, but my car was so good that it was an easy to do. Ronnie's also my crew chief just does such a good job with this thing."
The win combined with Kody Swanson falling out on the opening lap allowed Seavey to tie Swanson in the USAC Silver Crown Series point standings with two races left on the calendar.
"If we were going to gain anything to be close this would be the race to do it," said Seavey. "I saw him get crashed there in the first lap, which is unfortunate. I started to go in the race and get as many points as I could and wasn't holding back there."
The win also came after the team had issues with their primary engine at the DuQuoin State Fairgrounds and had to obtain another one.
"We kind of melted the engine down at the DuQuoin a couple of weeks ago and AJ Felker got us an engine and made it drive really good."
The initial start of the main event was short lived when the caution appeared for an incident in turn one for Swanson bumped Carmen Perigo's left rear wheel with his right front, sending Swanson sideways with front end damage and Perigo to the work area with a flat left rear tire. Pergio's team was able to make repairs while Swanson's car suffered too much damage to continue.
Jake Swanson took the lead at the start with Leary and Seavey taking place. Leary pressured Swanson for the lead during the opening laps but could not make the pass. Behind them Matt Westfall worked his way into fourth, creating a four-car race for the lead with five laps in.
After the caution flag appeared for Chase Stockon slowing in turn four. After the caution Leary made his move to take the lead, driving by Swanson using the top of the track off turn two. Seavey moved into second and following a caution for Chase Stockon slowing in turn four, started to pressure Leary for the lead.
Exchanging slide jobs for the lead, Seavey took over the point from Leary on lap nine. At that point both drivers lined up and pulled away from the field as Westfall moved into third position around Swanson on lap 14 with Justin Grant following suit one lap later into the fourth position around Swanson.
Another caution flag appeared on lap 36 when Kyle Robbins got into the wall in turn four and suffered too much damage to continue. Seavey and Leary pulled away at the restart while Grant was able to slip by Westfall on lap 42 for third position after racing side by side for several laps.
Up front it was all Seavey picking up the victory over Leary, Grant, Westfall, and Shane Cottle.
40th 4-Crown Nationals
USAC Silver Crown Series
Eldora Speedway
Rossburg, Ohio
Saturday, September 24, 2022
FATHEADZ EYEWEAR QUALIFYING: (Held on September 23) 1. C.J. Leary, 6, Klatt-17.288; 2. Jake Swanson, 10, DMW-17.366; 3. Logan Seavey, 22, Rice-17.371; 4. Kaylee Bryson, 26, Pierce-17.377; 5. Kody Swanson, 1, Doran/Dyson-17.399; 6. Carmen Perigo, 52, Stehman-17.560; 7. Justin Grant, 91, Hemelgarn-17.612; 8. Matt Westfall, 54, Westfall-17.620; 9. Brian Ruhlman, 49, Ruhlman-17.629; 10. Nathan Moore, 48, Moore-17.651; 11. Kyle Robbins, 7, KR-17.670; 12. Buddy Kofoid, 97, Lein-17.752; 13. Emerson Axsom, 20, Nolen-17.773; 14. Mike Haggenbottom, 24, Haggenbottom-17.777; 15. Shane Cottle, 74, Hodges-17.907; 16. Brian Tyler, 81, BCR-17.972; 17. Chase Stockon, 69, Pink 69-18.049; 18. Dallas Hewitt, 57, Hewitt-18.064; 19. Travis Welpott, 18, Welpott-18.156; 20. Gregg Cory, 32, Williams-18.173; 21. Russ Gamester, 51, Gamester-18.176; 22. Casey Buckman, 110, DMW-18.280; 23. Jimmy Light, 123, Two-Three-18.333; 24. Eric Gordon, 99, Armstrong-18.395; 25. Jake Simmons, 3, Simmons-18.517; 26. Dave Berkheimer, 31, Berkheimer-18.540; 27. Tom Paterson, 11, Paterson-19.215; 28. Dave Peperak, 77, Peperak-19.801; 29. Chris Windom, 66, Rose-NT.
FEATURE: (50 laps, starting positions in parentheses, held on September 24) 1. Logan Seavey (3), 2. C.J. Leary (1), 3. Justin Grant (7), 4. Matt Westfall (8), 5. Shane Cottle (14), 6. Dallas Hewitt (17), 7. Brian Ruhlman (9), 8. Carmen Perigo (6), 9. Brian Tyler (15), 10. Mike Haggenbottom (13), 11. Jake Swanson (2), 12. Kaylee Bryson (4), 13. Jimmy Light (22), 14. Eric Gordon (27), 15. Nathan Moore (10), 16. Gregg Cory (19), 17. Travis Welpott (18), 18. Russ Gamester (20), 19. Dave Berkheimer (24), 20. Jake Simmons (23), 21. Kyle Robbins (11), 22. Emerson Axsom (12), 23. Casey Buckman (21), 24. Chase Stockon (16), 25. Tom Paterson (25), 26. Dave Peperak (26), 27. Kody Swanson (5). 34:20.563
FEATURE LAP LEADERS: Laps 1-3 Jake Swanson, Laps 4-8 C.J. Leary, Laps 9-50 Logan Seavey.
**Chris Windom flipped during practice.
USAC SILVER CROWN NATIONAL CHAMPIONSHIP POINTS: 1-Kody Swanson-540, 2-Logan Seavey-540, 3-C.J. Leary-511, 4-Justin Grant-432, 5-Brian Tyler-422, 6-Travis Welpott-324, 7-Bobby Santos-280, 8-Kyle Robbins-276, 9-Gregg Cory-269, 10-Taylor Ferns-255.
OVERALL PROSOURCE PASSING MASTER POINTS: 1-Justin Grant-158, 2-Thomas Meseraull-129, 3-Brady Bacon-113, 4-Robert Ballou-98, 5-Buddy Kofoid-97, 6-Kaylee Bryson-97, 7-Logan Seavey-93, 8-Kyle Cummins-78, 9-Matt Westfall-77, 10-C.J. Leary-76.
NEXT USAC SILVER CROWN NATIONAL CHAMPIONSHIP RACE: October 15, 2022 – Illinois State Fairgrounds – Springfield, Illinois – 1-Mile Dirt Oval – 59th Bettenhausen 100 Presented By Hunt Brothers Pizza
CONTINGENCY AWARD WINNERS:
Dirt Draft Hot Laps Fastest Driver: Kody Swanson (16.279) & Kody Swanson (17.354)
Fatheadz Eyewear Fast Qualifier: C.J. Leary (17.288)
Hard Charger: Eric Gordon (27th to 14th)
Rosewood Machine & Tool Precision Move of the Race: Eric Gordon