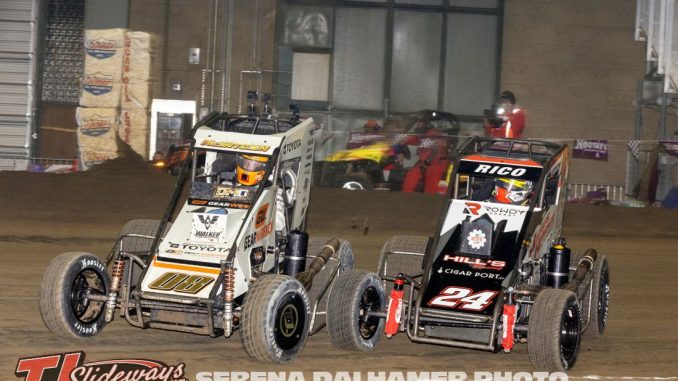 By T.J. Buffenbarger
TULSA, Okla. (January 12, 2023) — Rico Abreu continued his preliminary night magic at the Chili Bowl Nationals ending up in victory lane for the eighth time in his career Wednesday at the Tulsa Expo Raceway. Abreu used a final lap pass of Mitchel Moles to pick up the victory and lock himself into Saturday's finale.
The feature was completed after a scary incident involving Ashton Torgerson flipping down the backstretch and being ejected from the car. Chili Bowl Nationals officials indicated that Torgerson was awake and communicating with officials when he was loaded in the ambulance and transported to a local area hospital.
Moles and Torgerson started on the front row for the 30-lap main event. Moles led the opening lap as Blake Hahn rocketed into the second position. By the second lap Rico Abreu made his way up to the third position with Brent Crews in tow.
The race was stopped for the Togerson incident for an extended period. After a meeting with drivers the decision as made to continue with the main event.
Moles continued to pull away from the field while Hahn and Crews started to dice for second. Hahn and Crews trading the position allowed Abreu to close in. A caution late in the feature for Jake Andreotti was the break Abreu needed. Abreu went to the top of the racetrack and built-up momentum to get by Crews, then setup a final corner pass of Moles for the victory. Moles held on for second position and locked himself into Saturday's finale. Crews, Hahn, and Kevin Thomas Jr. rounded out the top five.
37th Lucas Oil Chili Bowl Nationals presented by General Tire
Smiley's Racing Products Qualifying Night
Tulsa Expo Raceway
Wednesday, January 11, 2023
OERB Heat Race #1 (8 Laps)
1. 57-Daniel Whitley[3]
2. 4P-Kody Swanson[2]
3. 4B-Chelby Hinton[7]
4. 56-Mitchell Davis[5]
5. 08G-Trey Gropp[9]
6. 19N-Nathan Byrd[4]
7. 99K-Robert Carson[6]
8. 7L-Jarrad Warhurst[8]
9. 57C-Adam Taylor[1]
OERB Heat Race #2 (8 Laps)
1. 1I-Ashton Torgerson[3]
2. 52-Blake Hahn[7]
3. 16C-David Camfield Jr[1]
4. 15H-Sam Hafertepe Jr[2]
5. 6A-Kalib Henry[4]
6. 55C-Angelo Cornet[9]
7. 37-Ashton Thompson[6]
8. 11C-Mike Woodruff[5]
9. 17D-Wyatt Rotz[8]
OERB Heat Race #3 (8 Laps)
1. 7X-Thomas Meseraull[2]
2. 24-Rico Abreu[3]
3. 51R-Ricky Thornton Jr[1]
4. 31H-Carson Hocevar[4]
5. 01C-Carson Sousa[9]
6. 2B-Tanner Berryhill[8]
7. 14U-Cole Schroeder[7]
8. 10M-Kort Morgan[6]
9. 8K-Jake Neal[5]
OERB Heat Race #4 (8 Laps)
1. 54-Matt Westfall[2]
2. 5T-Kevin Thomas Jr[3]
3. 67K-Cade Lewis[4]
4. 45X-Roger Crockett[8]
5. 11T-Tyler Baran[5]
6. 7S-Parker Price Miller[7]
7. 22X-Steven Shebester[9]
8. 81C-Colten Cottle[6]
9. 70-Cade Cowles[1]
OERB Heat Race #5 (8 Laps)
1. 98C-Chad Boespflug[4]
2. 25M-Jake Andreotti[6]
3. 68-Ronnie Gardner[3]
4. 07W-Corey Day[5]
5. 60-Landon Britt[1]
6. 3W-Brandon Waelti[8]
7. 73T-Tony Gomes[7]
8. 23T-Tristan Lee[9]
9. 68C-Ryder Laplante[2]
OERB Heat Race #6 (8 Laps)
1. 55A-Jake Swanson[4]
2. M1-Colby Stubblefield[2]
3. 08K-Karsyn Elledge[6]
4. 80A-Chris Schmelzle[5]
5. 06-Rylan Gray[7]
6. 9P-Kevin Cook[9]
7. 8AJ-AJ Johnson[8]
8. 25V-Billy VanInwegen Jr[1]
9. 0G-Glenn Styres[3]
OERB Heat Race #7 (8 Laps)
1. 71M-Brent Crews[4]
2. 91X-Danny Wood[6]
3. 56X-Mark Chisholm[1]
4. 2X-Landon Brooks[8]
5. 7J-Shawn Jackson[7]
6. 7JR-JD Black[9]
7. 72W-Tye Wilke[3]
8. 5H-Casey Hicks[2]
9. 77J-John Klabonde[5]
OERB Heat Race #8 (8 Laps)
1. 19Z-Hayden Reinbold[4]
2. 17-Travis Berryhill[2]
3. 80S-Kaden Honeycutt[3]
4. 71L-Charlie Louden[5]
5. 57H-Steve Hix[7]
6. 00H-John Heitzman[1]
7. 76X-Tom Savage[8]
8. 42-Patrick Prescott[6]
OERB Heat Race #9 (8 Laps)
1. 89X-Mitchel Moles[2]
2. 25K-Taylor Reimer[4]
3. 1G-Justin Peck[8]
4. 1-Sammy Swindell[3]
5. 35-Tyler Robbins[6]
6. 2Y-Dave Axton[5]
7. Z8-Max McLaughlin[7]
8. 2C-JR Ewing[1]
D-Main #1 (10 Laps)
1. 23T-Tristan Lee[2]
2. 77J-John Klabonde[8]
3. 11C-Mike Woodruff[5]
4. 68C-Ryder Laplante[9]
5. 37-Ashton Thompson[1]
6. 5H-Casey Hicks[6]
7. 2C-JR Ewing[7]
8. 81C-Colten Cottle[4]
9. 7L-Jarrad Warhurst[3]
DNS: 70-Cade Cowles
D-Main #2 (10 Laps)
1. 25V-Billy VanInwegen Jr[6]
2. 0G-Glenn Styres[8]
3. 8K-Jake Neal[7]
4. 17D-Wyatt Rotz[5]
5. 10M-Kort Morgan[3]
6. 42-Patrick Prescott[4]
7. 57C-Adam Taylor[9]
8. 72W-Tye Wilke[2]
9. Z8-Max McLaughlin[1]
C-Main #1 (12 Laps)
1. 31H-Carson Hocevar[1]
2. 3W-Brandon Waelti[3]
3. 7S-Parker Price Miller[5]
4. 15H-Sam Hafertepe Jr[2]
5. 6A-Kalib Henry[4]
6. 60-Landon Britt[6]
7. 14U-Cole Schroeder[9]
8. 19N-Nathan Byrd[8]
9. 77J-John Klabonde[12]
10. 23T-Tristan Lee[11]
11. 00H-John Heitzman[10]
12. 8AJ-AJ Johnson[7]
C-Main #2 (12 Laps)
1. 1-Sammy Swindell[1]
2. 2B-Tanner Berryhill[2]
3. 22X-Steven Shebester[5]
4. 11T-Tyler Baran[3]
5. 73T-Tony Gomes[9]
6. 25V-Billy VanInwegen Jr[11]
7. 35-Tyler Robbins[4]
8. 0G-Glenn Styres[12]
9. 76X-Tom Savage[7]
10. 99K-Robert Carson[10]
11. 2Y-Dave Axton[6]
12. 7JR-JD Black[8]
Toyota Qualifier #1 (10 Laps)
1. 4P-Kody Swanson[1]
2. 45X-Roger Crockett[2]
3. 54-Matt Westfall[3]
4. 52-Blake Hahn[6]
5. 19Z-Hayden Reinbold[5]
6. 01C-Carson Sousa[7]
7. 57-Daniel Whitley[4]
8. 7J-Shawn Jackson[10]
9. 16C-David Camfield Jr[9]
10. 56-Mitchell Davis[8]
Toyota Qualifier #2 (10 Laps)
1. 89X-Mitchel Moles[3]
2. 1I-Ashton Torgerson[4]
3. 25M-Jake Andreotti[5]
4. 07W-Corey Day[8]
5. 51R-Ricky Thornton Jr[9]
6. 67K-Cade Lewis[7]
7. 98C-Chad Boespflug[6]
8. 2X-Landon Brooks[2]
9. M1-Colby Stubblefield[1]
DNS: 57H-Steve Hix
Toyota Qualifier #3 (10 Laps)
1. 24-Rico Abreu[2]
2. 25K-Taylor Reimer[3]
3. 4B-Chelby Hinton[4]
4. 17-Travis Berryhill[1]
5. 55A-Jake Swanson[6]
6. 68-Ronnie Gardner[7]
7. 91X-Danny Wood[5]
8. 56X-Mark Chisholm[9]
9. 80A-Chris Schmelzle[8]
10. 55C-Angelo Cornet[10]
Toyota Qualifier #4 (10 Laps)
1. 5T-Kevin Thomas Jr[2]
2. 08G-Trey Gropp[1]
3. 7X-Thomas Meseraull[4]
4. 71M-Brent Crews[6]
5. 80S-Kaden Honeycutt[7]
6. 1G-Justin Peck[5]
7. 06-Rylan Gray[9]
8. 08K-Karsyn Elledge[3]
9. 9P-Kevin Cook[10]
10. 71L-Charlie Louden[8]
Davecom B-Main #1 (15 Laps)
1. 07W-Corey Day[1]
2. 17-Travis Berryhill[4]
3. 68-Ronnie Gardner[6]
4. 2X-Landon Brooks[8]
5. 91X-Danny Wood[3]
6. 15H-Sam Hafertepe Jr[15]
7. 01C-Carson Sousa[5]
8. 80A-Chris Schmelzle[10]
9. 08K-Karsyn Elledge[7]
10. 31H-Carson Hocevar[11]
11. 1G-Justin Peck[2]
12. 7S-Parker Price Miller[13]
13. 9P-Kevin Cook[9]
14. 71L-Charlie Louden[12]
15. 3W-Brandon Waelti[14]
DNS: 57H-Steve Hix
Davecom B-Main #2 (15 Laps)
1. 67K-Cade Lewis[5]
2. 80S-Kaden Honeycutt[3]
3. 51R-Ricky Thornton Jr[1]
4. 57-Daniel Whitley[4]
5. 22X-Steven Shebester[15]
6. 16C-David Camfield Jr[9]
7. 56-Mitchell Davis[11]
8. 56X-Mark Chisholm[8]
9. 06-Rylan Gray[6]
10. 1-Sammy Swindell[13]
11. 2B-Tanner Berryhill[14]
12. 7J-Shawn Jackson[7]
13. 11T-Tyler Baran[16]
14. 98C-Chad Boespflug[2]
15. 55C-Angelo Cornet[12]
DNS: M1-Colby Stubblefield
Smileys Racing Products A-Main (30 Laps)
1. 24-Rico Abreu[6]
2. 89X-Mitchel Moles[1]
3. 71M-Brent Crews[5]
4. 52-Blake Hahn[4]
5. 5T-Kevin Thomas Jr[7]
6. 51R-Ricky Thornton Jr[22]
7. 25K-Taylor Reimer[8]
8. 7X-Thomas Meseraull[10]
9. 55A-Jake Swanson[13]
10. 08G-Trey Gropp[16]
11. 54-Matt Westfall[14]
12. 57-Daniel Whitley[24]
13. 4P-Kody Swanson[11]
14. 80S-Kaden Honeycutt[20]
15. 67K-Cade Lewis[18]
16. 45X-Roger Crockett[12]
17. 19Z-Hayden Reinbold[15]
18. 2X-Landon Brooks[23]
19. 4B-Chelby Hinton[9]
20. 68-Ronnie Gardner[21]
21. 25M-Jake Andreotti[3]
22. 07W-Corey Day[17]
23. 1I-Ashton Torgerson[2]
24. 17-Travis Berryhill[19]